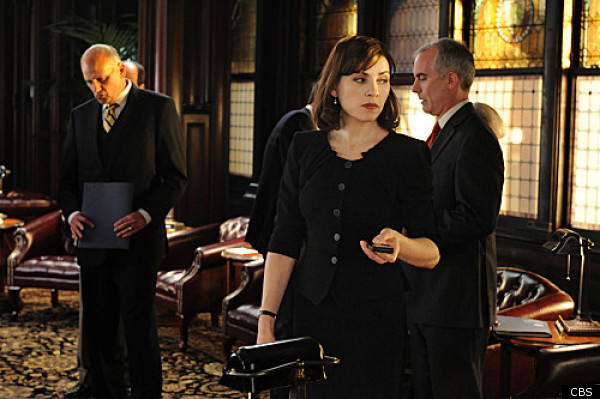 Note: The following contains spoilers if you have not seen Season 3, Episode 19 of CBS's "The Good Wife," entitled, "Blue Ribbon Panel."
For those hankering for a solid Alicia episode, "Blue Ribbon Panel" was written for you. Not only does Alicia get a new nemesis in Matthew Perry's scummy Mike Kresteva, but she also gets fierce with the IRS and FBI on Kalinda's behalf. Plus, she has a plethora of flashbacks, shakes things up on the blue ribbon panel and starts what should be one awesome showdown with monster-in-law extraordinaire Jackie Florrick.
"The Good Wife" is an excellent courtroom drama; there's no debating that fact. But some of the show's strongest episodes involve taking the lawyers out of that familiar setting, like Season 2's "Nine Hours."
"Blue Ribbon Panel" is no exception to that trend. Diane tasks Alicia with filling her spot on the blue ribbon panel that is investigating a police shooting. A lone woman amongst a sea of high-profile men, Alicia is not content with just sitting by and nodding in an agreement. In typical Alicia fashion, she starts to buck the system. She could tell something wasn't right and her desire for justice overwhelmed her, despite raising the ire of her peers. We've seen Julianna Margulies play the wounded and emotionally devastated Alicia with finesse, but the Alicia in "Blue Ribbon Panel" is the other side of the coin. She's in "take no prisoners" mode. It's Alicia at her best.

The dynamic duo takes on the FBI and IRS. "You got a little hot in there." How great was the scene where Alicia stands up to the IRS for Kalinda? "Beyond great" is the appropriate answer. As if that weren't enough, Alicia getting in the (hidden) face of the FBI nearly had me leaping with joy. This really was a great Alicia episode. Kalinda's former lady love Lana Delaney is behind the whole secret surveillance, but is she after Kalinda for personal or business reasons? She told Alicia for business, but we all saw that scene in the cafeteria. Love that Lemond Bishop came into play again. When a show has great continuity, it's really hard not to appreciate it.

Florrick vs. Kresteva. Matthew Perry is quite good at playing a dick. And Julianna Margulies is quite good at standing up to Matthew Perry's dickish character. Despite his best efforts to steamroll Alicia and the rest of the panel, Alicia didn't back down to Mike and continued to press for the truth to come out about the dropped gun and police shooting. However, he got her in the end. Mike forced her to recuse herself due to conflict of interest after it came to light that Peter's office was involved in the original questioning and investigation, which is another reason why "The Good Wife" is one of the best shows on TV: The good guys don't always win.

Florrick's house of horrors ... and joy. Alicia's quest to buy back her house continued all throughout the episode and ended with a rather nice surprise. As has been the case over the last few episodes, the prospect of moving back to her family's former home has brought back painful and happy memories. Viewers saw some intimate Florrick family moments illustrated through flashbacks, which offered a nice change of pace. With her hefty bonus in tow, Alicia made an offer on the house. But even with a passionate letter about her history with the home, it was no match for ... Jackie. Yep, Jackie bought Alicia's old house and the episode ends with Alicia waltzing into the salon and challenging Jackie to a duel ... I mean, asking to speak to her. "Where are you going?" Peter asks Alicia after she realizes Jackie bought the house. "To buy a gun." Boom, Alicia's wit still functions even when she's upset.
Some other stray thoughts on the episode:
Diane and Will have one of the best platonic/working relationships I have ever seen on TV. Josh Charles and Christine Baranski are superb week after week
I've been digging the scaled back Eli Gold so much. The pacing of the last few episodes has been tops.

Gasp count: Four.
Did you like the episode? What do you think Lana wants from Kalinda? Do you think Jackie will give Alicia the house?
"The Good Wife" airs Sundays, 9 p.m. ET on CBS.
PHOTO GALLERY
Matthew Perry on