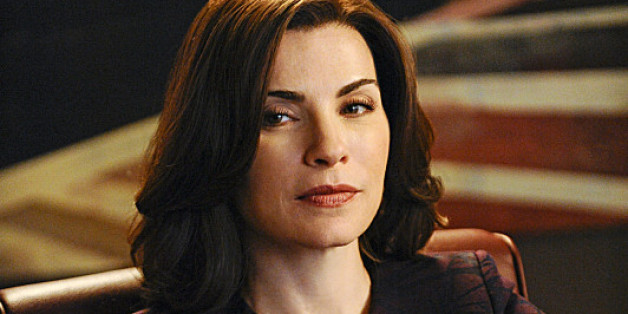 Note: Do not read on if you have not yet seen Season 5, Episode 7 of CBS' "The Good Wife," titled "The Next Week."
It's "The Next Week" on "The Good Wife" and boy is there a lot of stuff going on. Betrayal, depositions, murder charges and Internet hacking all made up the fast-paced episode.
Let's break it down, shall we?
Hunter Parrish made his "Good Wife" debut and ... will be back? His character, Jeffery Grant, was brought in on a fake DUI charge. Will attempted to come to his rescue, but, well, didn't really succeed. A familial match to Jeffery's dad's DNA was found under the nails of a murder victim. The fake DUI charge was to get Jeffery's DNA. Kalinda was sure he did it, Diane skeptical and Will believed the kid. Despite some twists -- Jeffery's uncle was his aunt at one point and Kalinda getting her investigating on -- Will couldn't get Jeffery off. He denied the deal, but his DNA was a 100 percent match. To trial they go! Expect the "Weeds" star to return.
"I want my sister to be happy." Will's case took him to the college where he ran into everybody's favorite professor, Owen. Owen is always a welcome treat. After learning Alicia left Lockhart/Gardner, Owen headed over to Florrick/Agos and Associates, you know, Alicia's apartment, and the two chatted and were great. They need more scenes together. Alicia being compared to Xena was the best touch. After chatting with Alicia: Warrior Princess -- we can all agree to call her that now, right? Goodbye Saint Alicia! -- Owen went to Will to clue him in on the real reason she left. It wasn't to do something new, it was to stop loving Will, he told him.
"She and Peter, they're not set in stone." - Owen
"No, it's over." - Will
Also, let's talk about the scene where Alicia and Will see each other for the first time since it all went down. How. About. That. Stare. Move over, "Downton Abbey," "The Good Wife" just took looks to a whole new level.
RATed! Alicia was RATed in more ways than one tonight. Yes, I looked up RATing and I feel old. Zach saw Alicia's webcam on, which made Alicia think she was being spied on by Lockhart/Gardner. In fact, it was one of Zach's friends spying on Grace. Zach put a stop to it (hopefully) with a few punches. Grace was pleased and it was a nice Florrick siblings moment. Yet, somewhat Grace was unfazed that there's apparently nude photos and video of her on the Internet. Will that be touched on again?
There was a rat at Florrick/Agos & Associates and his name is Anthony Wright Edelman. He threw Alicia under the bus for a new position at Lockhart/Gardner! Yes, Florrick/Agos isn't doing well right now, but it just started. Now they have Clarke Hayden (Nathan Lane) on their side!
Rewinding a tiny bit: Alicia returned to Lockhart/Gardner under a subpoena. The firm was being sued over an adoption case that saw the new adoptive parents lose the kid back to the birth parents. They were suing Lockhart/Gardner for $6 million over the botched case. Alicia agreed to be deposed and help Lockhart/Gardner if they finally gave her her partner capital contribution back. They did, but of course it wasn't that easy. After a series of twists -- and now primiarly thanks to Anthony Wright Edelman -- Alicia is now basically responsible for the $6 million. Maybe she'll be able to punch and kick her way out of this. Don't forget the war cry, Alicia.
"The Next Week" was an entertaining episode, but with a tad too much happening. I like where the storyline is going for Florrick/Agos & Associates and can't wait to see more.
Gasp count: 1
Some other things:
How perfect was this exchange?
"You know, sometimes I look at you and I wonder if you changed or you've always been this way." - Diane

"I had some of the best teachers in the world. I couldn't help but change." - Alicia
"Who are you?" - guy
"Kalinda." - Kalinda (it never gets old).
"The Good Wife" airs Sundays, 9 p.m. EST on CBS.
PHOTO GALLERY
The Good Wife