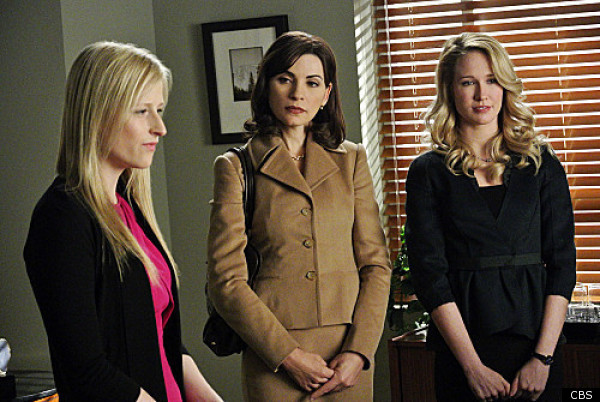 Note: The following contains spoilers if you have not seen Season 3, Episode 16 of CBS's "The Good Wife," entitled, "After The Fall."
Welcome back to "The Good Wife," Mamie Gummer! It's only appropriate for me to say -- as I always do when she's on the show -- that "The Good Wife" needs to scoop up Gummer and add her to the regular cast ASAP.
The episode title, "After The Fall," had a double meaning. It was the first episode after Will's suspension (i.e. his fall) and the case of the week involved jumpers from a bridge and a film about the suicides. Alicia faced off against Gummer's always entertaining Nancy Crozier in the case Will had to pass on to Alicia. After getting out prettied by Nancy, Alicia brings in a ringer: the very blonde Caitlin. It was a decent episode, not the best, but by far not the worst. Basically, it was another throwaway episode that sprinkled hints of what's to come.
Blonde vs. Blonde.
The usually unflappable Nancy got bested by newbie Caitlin, much to Diane's pleasure. In fact, Diane was so pleased that she promoted the green attorney. Alicia's protege is moving on up! As if Alicia's hesitant looks didn't clue you in to her concern, "The Good Wife" decided to end the episode with ominous music as Alicia watched Caitlin walk into her new office. Subtle. However, I am so ready for a confrontation.

The Vacuum. With Will hanging out with his sisters (more on that below), the Lockhart/Gardner second tiers (Julius Cain, David Lee and Eli Gold) all put in a bid to be Diane's new partner. For once, Eli's story wasn't a pace-killer! With so many egos at play, it's only a matter of time before some of the drama boils over Diane's very sturdy pot.

The Humanization of Will Gardner. Will's sisters came to town and turned Will into a human after playing it cool for years. Meeting Sara and Aubrey was refreshing. The old sibling trick worked well for Alicia -- Owen is probably the best cast addition to "The Good Wife" -- so it's no surprise the ladies brought out another side or Will.

Special Guest Star Donna Brazile. So Peter's campaign isn't dead yet, but once again, it rides on Alicia. She's fired David Lee, but is Alicia really going to try and give her marriage another try? I doubt it, the Peter/Alicia story has been treading water for a season now. It's time to wrap it up. Peter started down the slippery slope once again (I hope) and hired his friend. (About time.) Also, how many shows can count Donna Brazile as basically a recurring character?

Gasp count: None. And I didn't even gasp at the fact that I didn't gasp.
Did you like the episode? Do you want to see more Mamie Gummer? What do you think will happen between Alicia and Caitlin?
"The Good Wife" airs Sundays at 9 p.m. EST on CBS