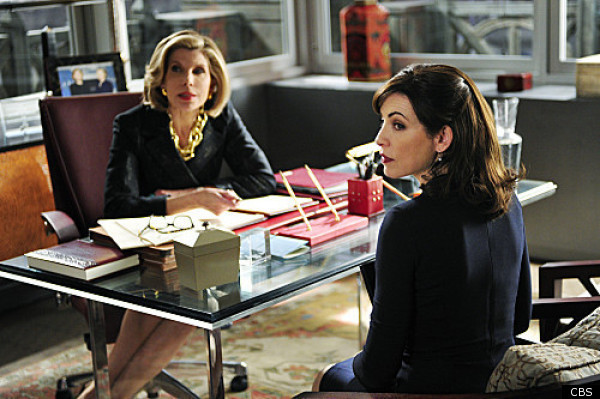 Note: The following contains spoilers if you have not seen Season 3, Episode 17 of CBS's "The Good Wife," entitled, "Long Way Home."
Like that, "The Good Wife" squashes a potentially major storyline between Alicia and Caitlin. And I'm OK with it.
In "Long Way Home" -- that title has so many meanings, it's not even funny -- Dylan Baker returned as Colin Sweeney and made for one very entertaining hour. Baker, who is so deliciously evil as Alicia's foil Colin, was joined by "Homeland" star Morena Baccarin, Bebe Neuwirth and Kate Burton. A sexual misconduct claim derails Colin's attempt to take back his company, making Alicia Colin's savior once again. And because it's Colin Sweeney, things got crazy. After both Colin and his accuser, Isobel (Baccarin), perjurer themselves, they reveal they were in it together and end the episode as one big happy family ... until the writers bring back Colin Sweeney in Season 4, that is. Is it selfish to want Dylan Baker to remain a serial guest star so he can just keep bringing brilliant performances to a variety of shows? Just compare his performance in "The Good Wife" to his season-long arc on "Damages" and handful of "Smash" appearances.

Alicia Florrick: World's Best Mentor. The Alicia vs. Caitlin story sure fizzled out fast, huh? What seemed like it could become the backbone of the remainder of Season 3 ended with a whimper ... and an Alicia sob. (Which I didn't quite understand.) The episode began with a classic Kalinda and Alicia foreshadowing convo ... Remember those!?
"Alicia, watch out for that one." - Kalinda
"I know, but I'm tired of being paranoid. She's just hungry." - Alicia
"Like a piranha. She's hiding something." - Kalinda
Fast forward to Alicia letting Caitlin get to her and bringing out the venom with "Don't ever undercut your mentor again." Boom, I was exploding with Season 2 of "The Good Wife" levels of excitement.
Then, just like that, it's over. Caitlin is pregnant and engaged. That was her secret. She's quitting because she's in love, causing Alicia to relive her own decisions. Coupled with her housing situation -- she might lose her apartment and possibly re-buy her old house (see, a "Long Way Home") -- Alicia is really thrown for a loop by Caitlin's decision. She let herself become "one of those" people. She's looking out for numero uno: herself.
As always, Julianna Margulies turned in a stellar performance ... in side looks and eye rolls alone. This woman deserves all the praise she gets. I'm glad they didn't make this whole Alicia vs. Caitlin thing into a bigger thing. What "The Good Wife" has always been good at is developing strong female characters and NOT pitting them against one another.

Cary's Mess. Peter sure is trying hard to play by the rules, but Cary should've been let go. It was his job to sniff out the sex scandals and he was right at the center of one. Writers showed a good side of Cary by having him demand consequences. His character arc has been so subtle, but so entertaining.
Overall, "Long Way Home" was a juicy drama-filled episode, it felt like when "The Good Wife" was on top of its game last year. I don't think that it's a coincidence that Eli only had one very small part in this episode. Just saying.

Gasp count: Three. Yes, gasps are back!

Did you like the episode? What did you make of the last scene with Alicia in the house? Do you think she wants Peter back to give the whole family thing another try or was she just reflecting on her perceived failures?

"The Good Wife" airs Sundays, 9 p.m. EST on CBS.