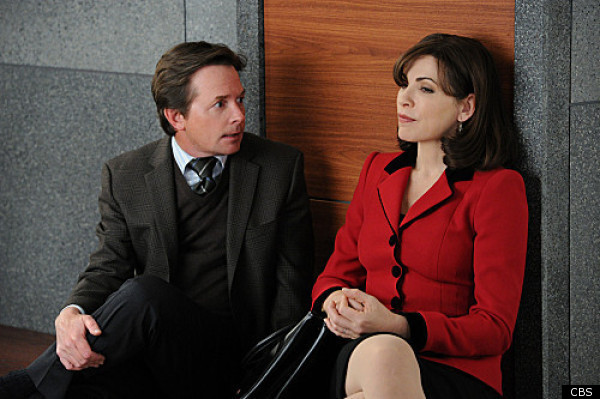 Note: The following contains spoilers if you have not seen Season 3, Episode 18 of CBS's "The Good Wife," entitled, "Gloves Come Off."
Alicia Florrick, you mess with my emotions so much ... and that's why I love you and "The Good Wife."
In "Gloves Come Off," Alicia and Lockhart/Gardner took on professional hockey and Michael J. Fox returned as Louis Canning. You know what that means? Lots of cunning and sneaky manipulation. Lockhart/Gardner ended up winning the case, but honestly I don't even care what happened because I'm too excited about the little character moments. You knew it was going to be a good episode because it started with lots of Diane. On the subject of Diane ...

Independent Woman. I loved Diane playing both Jack Copeland and Kurt McVeigh. It's been far too long since she had some out of court action ... a very welcome change of pace. It's especially refreshing because she's not being branded anything but normal, albeit powerful woman. She's just living her life. More of that, please! "It's me missing you and hoping you feel likewise."

"Yup. Everybody changes." While we're all still giddy over Diane's blossoming personal life, let's talk about her interaction with Alicia. I gasped, of course. The look Alicia gave Diane at the start of the episode was disdainful, something the Alicia of two years ago would never do. Then, when she took the offer to Diane, trying to strong-arm her into more money, it became a standout character moment, one to remember for the rest of the series. Of course, Diane didn't back down ... she's helped Alicia become the woman she is today. "End of the week Alicia, or you can clean out your desk right now."

The ballad of two beers. I yelled at the TV for Alicia to take the beer from Kalinda. Maybe she would have if she wasn't looking at her old house, bringing back all the memories. The two of them were both visibly upset by the interaction, which made their interaction at the end incredibly moving.
Will they go from warm beer to tequila shots? One can only hope.
Some other stray thoughts:
Alicia playing Louis Canning -- only to have him play her back -- was cute.
Alicia's meeting with Cary was sweet. Their relationship has been one of the finer, low-key ones of the show. From his scarf-petting to his questioning of Wendy Scott-Carr's tactics while Alicia was on the stand, the two have come such a nice, long way.
She may have gotten her bonus, but the real prize of the night for viewers was that final scene.
Gasp count: Three.

Did you like the episode? Do you think Alicia and Kalinda will repair their friendship? What do you think of Diane's comments to Alicia?
"The Good Wife" airs Sundays, 9 p.m. ET on CBS.