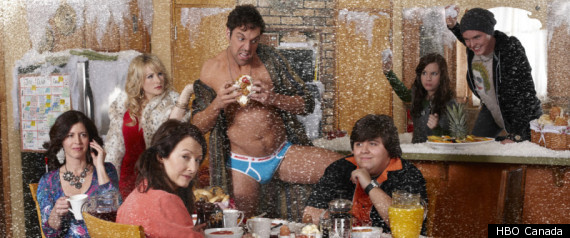 Canadians have the TV comedy market cornered. That's not me being a smug Canadian, it's just fact.
Think about it. In addition to the obvious "Second City" alumni, we've produced some serious comedic talent in this country. Maybe it's in the water. Whatever the case, this Sunday we're bidding farewell (perhaps forever) to one of the best -- if not the best -- Canadian-made TV comedies. "Less Than Kind" is finishing up its three-season run in what some are speculating might be the last-ever episode (titled 'March Fourth').
No one thought "Less Than Kind" could do it. When the patriarch of the show, Maury Chaykin, passed away in July 2010, many asked how it could possibly survive without its comedic lynchpin. The answer is simple, and has been made very clear during the season 3 run: other members of the cast, especially young Jesse Camacho, pulled it all together and put on the show as they always did. It seems that Chaykin, while obviously being a strong element to "Less Than Kind," was only a part of a very talented ensemble.
Let's talk about Camacho for a moment, though, shall we? Part of a comedy duo for the first two seasons of this show, he's taken remarkable strides on his own. Toronto-based TV critic Rob Salem once described Camacho as "a young John Candy," and he couldn't be more spot-on. The physical resemblance is uncanny for sure, but there are the occasional smirks, shrugs and one-liners that are dead ringers for Candy. Camacho's charisma practically oozes off the screen, and he probably has a storied comedy career ahead of him -- with or without "Less Than Kind."
The final episode of the third season has several nods to people dealing with separation, unity and big decisions (perhaps a hint that the end approacheth?). Josh (Benjamin Arthur) and Shandra (Lisa Durupt) are deciding whether or not to get married after numerous false starts; Sheldon (Camacho), his pal Danny (Tyler B. Johnston) and his not-quite-girlfriend Miriam (Brooke Palsson) are choosing what university to attend, if at all; and widow Anne (Wendel Meldrum) is dealing -- sorta -- with her first-ever wedding anniversary without Sam. Guest stars Nicholas Campbell and Kevin McDonald bring the house down with hilarious cameos. (Best quote of the episode comes courtesy of Campbell: "Mazel tov, motherf***ers!")
This episode -- and let's face it, the whole series -- is about choice, and that's something we can all identify with. Judging by the stellar material of this season of "Less Than Kind," the creators and producers behind the show made the correct call to proceed despite the death of Chaykin. His presence is felt like a drop of food colouring in water: it seeps throughout, but never fully saturates. Chaykin's spirit lives on, especially through Camacho, and will never dissipate.
Humour, when done well, never dies.
Catch the final episode of the third season of "Less Than Kind" on Sunday, March 25 at 8:30 p.m. on HBO Canada.