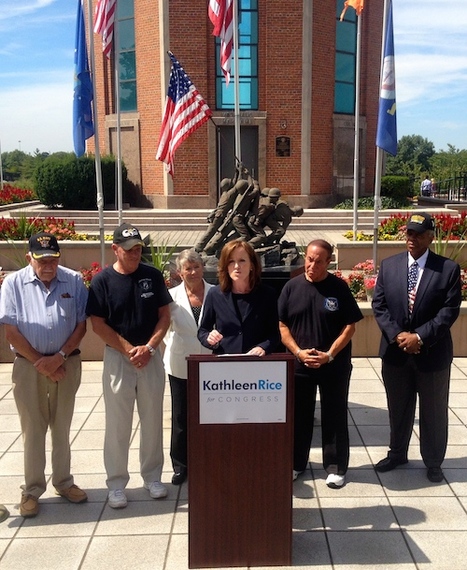 The push is on now during the remaining 60 days of the race to represent New York State's Fourth Congressional District in our nation's Capital. When Representative Carolyn McCarthy announced her decision not to seek reelection, she wasted no time in endorsing Nassau County District Attorney Kathleen Rice.
And Kathleen Rice has her fingers on the pulse of constituents.
Yet the votes haven't been cast. Midterm elections, in particular, are a challenge and the pundits are concerned that voter turnout around the country will be thin.
What's clear is that Kathleen has the momentum. She is used to running marathons and tackling tough issues. Over the past eight years she has earned great respect for her approach as the District Attorney - arguing for smarter laws, aggressively prosecuting drunk and drugged drivers, and pushing for a better understanding of the social and human rights issues that present themselves in the justice system.
At a luncheon meeting last week, it became clear to me that Kathleen is a candidate of the people. She doesn't stand for election hype and cheap tricks. She listens intently to what is on the minds of constituents. With a strong family background - she's one of 10 children - she is well grounded in simple values and principles that resonate across the demographics of the district.
She relates to individuals in a special way.
However, politics is a tough battle. Nothing is simple and nothing is really clear until the results are in. Early polls do not always represent the results when the polls close.

In spite of what seems today to be an early lead, any analysis of her campaign will say the same thing: the remaining days are the real test.

For Kathleen to clinch the win in November, three groups will make the difference.

First - and very important in our digital age of smartphones and social media - are the Millennials. The challenge here is that this group of young voters in their 20s and 30s, even though they largely voted Democratic in the 2008 and 2012 presidential election, have little or no allegiance to political parties.

The latest Pew Research report calls Millennials "unmoored from institutions."

"They are relatively unattached to organized politics ... distrustful of people...."

"Half of Millennials (50 percent) now describe themselves as political independents... These are at or near the highest levels of political and religious disaffiliation recorded for any generation in the quarter-century that the Pew Research Center has been polling on these topics."
During these remaining weeks, Millennials will be looking to connect and match candidate words with action. Smartphones at the ready, they are very savvy and quick to share their views, influencing others with just one click. After all, it is the Millennials who have "taken the lead in seizing on the new platforms of the digital era - the internet, mobile technology, social media - to construct personalized networks of friends, colleagues and affinity groups."

Second - In this midterm election cycle, getting to voters and making it worthwhile for traditional Democrats to weigh in with their vote means making sure that they know they will have a voice in Washington. You can never meet and have serious discussions with too many constituents. And, as in all aspects of life, listening is much more important than talking.

"Most of the people I speak with know what I stand for. What they want to know is whether I stand for them and their concerns," Kathleen told me.
Throughout the district, I've met with groups from nurses to firefighters, from those in senior citizen residences to veterans and from moms to teachers. They are always articulate about what's on their minds and they are calling out loudly for us to carry their voices to Congress.

Kathleen's been listening. Meeting with groups throughout the district in informal settings, she understands. Moreover, she has been initiating action on behalf of constituents, most recently announcing a Veterans Advisory Committee and publishing a white paper on health priorities, "Supporting Our Heroes."

And Third - The crossover vote can make a difference. In any election, we always hope that voters look at the candidate and their views before anything else. Kathleen will earn the support of many Republican voters equally impressed by her record of independence.

I am in that category. And, as a Nassau County resident of 25 years -- and a combat veteran -- Kathleen has my vote.