This article is not about the 2016 election, even though the headline might indicate otherwise. It is, though, about the importance of trust and reputation in our lives from every perspective ... personal, professional and political.
And the question "Would you buy a used car from ... ?" might very well be a great question to ask about anyone in a position of authority or anyone asking for your support and loyalty.
The used car business certainly serves as a dramatic starting point when talking about trust and reputation. The most recent political polls do seem to tell a story. "Hillary Clinton's numbers on honesty and trust may border on the abysmal," according to Tim Malloy, assistant director of the Quinnipiac University Poll, in his press release of July 22.
Add to that the speculation this weekend that Vice President Joe Biden is exploring a presidential bid, giving some weight to the escalating trust factor.
Back to used cars. Remember Danny Devito as the used car salesman and the dad of sweet Matilda Wormwood, made memorable in the movie and now running on Broadway. Or Robin Williams in the film Cadillac Man.
Distrustful characters, or maybe just laughable. Eventually discovered for what they really were.
For my own rude awakening about the used car business and a life-lesson on trust, it was a used, blue 1958 Chevrolet Bel Air. Nothing but trouble and my hard-earned summer wages from mowing lawns down the drain. A tough lesson for anyone, let alone a college student.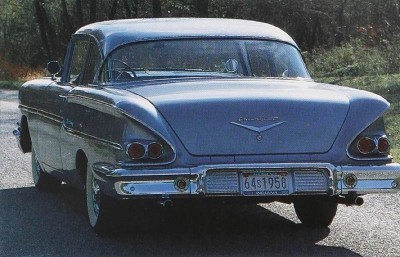 What about your used car experience?
Whether in our personal relationships or our business ones, there isn't anything more important than trust and reputation.
When trust is lost, it's a long haul over a hard road to earn it back.
For business today, social media and everything digital have made it impossible to sidestep the truth. Everyone with a cell phone or digital device will have something to say and very quickly. There's no forgiveness there.
It is in this mix that Millennials -- the group fast becoming the most important force in business -- play an important role. They will cut you no slack. They are not only employees and customers, but, with cell phones nearby night and day, they are a major force in determining the success of a brand or product. Objective or not, they are editors in a digital age, influencing public opinion.
Social media have put a clear spotlight on the behavior of business and on those who make decisions. There is no hiding.
Even though the techniques for calling out those who violate trust have changed dramatically of late, the importance of trust has been the central point of economic and free enterprise business reality for ages. Retired Fed Chairman Alan Greenspan captured it best when speaking to the graduating class of Harvard at commencement in 1999:
"Trust is at the root of any economic system based on mutually beneficial exchange. In virtually all transactions, we rely on the word of those with whom we do business. ... If a significant number of business people violated the trust upon which our interactions are based, our courts system and our economy would be swamped into immobility."
Trust is a critical component of reputation. In my book -- The Power of Reputation, published by the American Management Association -- I point to two other factors: character and communication. What are your underlying values? And how well do you share them since, at their simplest, those values underlie what you think and what you do?
In both our personal and our professional lives, reputation is both an asset and a risk management tool. A strong reputation permits people and organizations to build support for brands and products. It also builds the good will that permits a second chance when something goes wrong. And something will invariably go wrong ... that's just the way it is in life. The best of efforts certainly get clouded by mistakes, including very innocent ones.
When I put it all together, I invariably return to the admonition penned by Albert Einstein only days before his death on April 18, 1955:
"Anyone who doesn't take truth seriously in small matters cannot be trusted in large ones either."
So, the used car business or not, your reputation depends on trust. And that reputation will determine success in all you do.