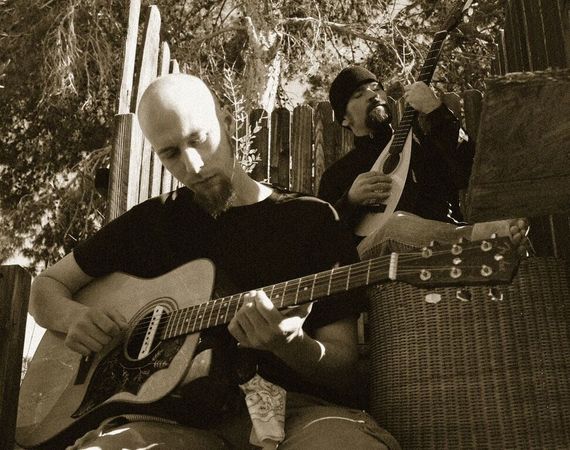 Midwest Soul Xchange, photo by Michael Patrick Neary
Midwest Soul Xchange have an alternative Americana vibe that's reminiscent of The Decemberists - big twangy folk that appears to have emerged from a time capsule. Their newly released album, New American Century, sounds like it was created by a band of musicians, but the Wisconsin-bred duo of Ryan Summers and Nate Cherrier are the sole members of this exciting new project that blends banjos, acoustic guitars and other rootsy instruments with an array of synth sounds. There are moments when the vocals creep to a James Hetfield roar, and this feels like a stylistic misstep, but the majority of the album benefits from a wide influence of genres. "Revolt of the Guards" is the most overtly political track, bringing to mind Tom Morello's Woody Guthrie odes. "The terror of poverty is now a crime," Summers and Cherrier croon blatantly on it. "Four Score and Seven to Go" is their most anthemic song on an impressive debut that skews towards the memorable.
The album cover of Joseph Sant's upcoming EP, "Sea White Salt," is a beachscape that bleeds into the endless expanse of the ocean. It was recorded in the bleak winter in a soon-to-be-evicted Williamsburg studio. His voice has an ethereal lilt that is nearly overpowered by guitars that alternately punch out shoe gazer-tinged melodies and linger on the edges of a dreamlike soundscape. The result is an intergalactic love child of Jeff Buckley and Beach House, understated but with a distinct presence. Sant's airy falsetto is particularly on display on the title track, which caps off this brief group of slight but pleasant songs.
Delta Deep is a high-octane dive into the rich depths of blues-rock with occasional detours into soul and '80s rock nods. I could do without some of the power chords, but mainly because the gritty blues lines elicit such a visceral response. The opening track "Bang the Lid" pulses with furious energy that reverberates through the far reaches of your soul long after it's finished and into the slow-burning "Whiskey", which begins as a ballad before giving into one of Phil Collen's many soul-wrenching guitar solos. Debbie Blackwell-Cook's sultry jazz-inflected voice provides the perfect counterpart. She formerly sang background vocals for Michael Buble but shows here that she's very comfortable in the spotlight. Collen (known as one of Def Leppard's guitarists) has assembled an impressive group of musicians for this passion project, including Stone Temple Pilots bassist Rob DeLeo and drummer Forrest Robinson who make up the rhythmic backbone. DeLeo can be heard most prominently delivering a rolling blues lick on "Burnt Sally". He also drives the upbeat soul-pop track "Feelit". After a couple shows in London and a short West Coast tour, Collen will take off to play with Def Leppard, but I wish he was bringing Delta Deep to the east coast.
Chrystyna Marie flits between blues and pop on her upcoming EP, Loaded Gun. Its title track's verses are rooted firmly in the former while its chorus bleeds heavily into the later. Her voice moves effortlessly between methodic guttural phrasing and an expansive pop belt, and I love the contrast. While the other three songs don't feel as fully formed, this stylistic touch reverberates throughout the EP. "No More" begins as a moody ballad but soon accelerates into a declarative cry. The final track "The Tower" is a pop lullaby that explores what comes in the aftermath of destruction. Comparisons to Adele and Amy Winehouse could be made, but the Toronto songstress feels like an artist in search of her own sound. I look forward to hearing her further explorations on a full-length album.
Bitter's Kiss is the moniker for the emerging talent of Chloe Baker. It's also the name of her well-produced smooth indie pop debut album and its title track on which she croons in a discordant high pitch. This actually provides a nice counterpoint for an otherwise archetypal break-up song. Baker's still in high school, so she can be forgiven if her lyrics don't plum as deeply as one would hope. They do feel organic and not like arbitrary constructions that fell victim to a rhyming plaque. "Love Won't Make You Cry" might give adults a good laugh though. What long-term relationships aren't tinged with moments of heartbreak and disappointment or at the very least an occasional tear? If you read the lyrics as a knowingly unrealistic yet still optimistic plea along the lines of Bob Dylan's "Forever Young", then the eerily beautiful soundscape emerges. I don't think this is what she intended but it's an interesting thought. "The Rope" plunges a little deeper when Baker pointedly asks, "are you thankful for the pain?" in a sharp critique of organized religion. Baker's father, Michael, produced and accompanies his daughter on piano, bass, drums, and guitar. They have a solid interplay through the mostly moody tracks, but the few upbeat ones like "Lovin' Life" don't feel as authentic.