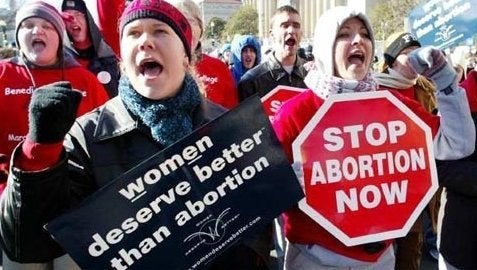 A radical arm of the pro-life movement attacked the Catholic Church this week. As the U.S. Conference of Catholic Bishops (USCCB) gathered in Orlando for its bi-annual meeting, a group called the "Society for Truth and Justice" launched an ad campaign encouraging the bishops to deny Communion to "pro-abortion politicians," and even to condemn Catholics who vote for those same politicians. Others planned a protest outside the bishops' meeting on Friday.
The far right's attempt to use Catholic teaching to malign progressive candidates and drive wedges between voters is nothing new. In 2004, right wing "Catholic" groups worked hand in hand with the Republican Party on a well-funded and well-organized campaign to cast Kerry as a bad Catholic -- an effort that may in fact have made the difference in Ohio. Contrary to conventional wisdom, only a handful of the hundreds of U.S. Catholic bishops subscribed to this theologically inaccurate mode of political engagement.
The experience of the past eight years should be pushing even the most ardent antiabortion political activists to reconsider the wisdom of the far right's scorched earth strategies. How can they continue to stomach direct threats to human life like torture, poverty, the climate crisis, and lack of healthcare -- never mind the economic disaster of the Iraq War Recession, which bears heavily on the decisions of most women who consider an abortion?
Moreover, America seems ready to unify behind practical and effective ways of addressing the abortion issue that validate the concerns of both the pro-life and pro-choice communities. Indeed, while most Americans do have moral concerns with the practice of abortion, most are also not comfortable with a solution that includes criminalization. But Americans will support expanding economic supports for women and families, which -- as a Catholics United study using data from Kansas shows -- are proven effective ways of lowering the abortion rate. (For more on this, see Wednesday's piece by Cristina Page.)
It's likely that most of the individuals who support the Society for Truth and Justice and its affiliated organization Operation Rescue do so because of profound concern for human life -- and these individuals should be commended for their conviction and dedication. But in continuing to use Catholic teaching to strongarm Catholic leaders and voters into supporting a political agenda largely at odds with the common good, the organizations' leadership is doing little to advance its stated goals. Intervening in yet another presidential election contest risks perpetuating the tired policies of the past, which have, by just about every reasonable measure, proven a disaster for our nation.