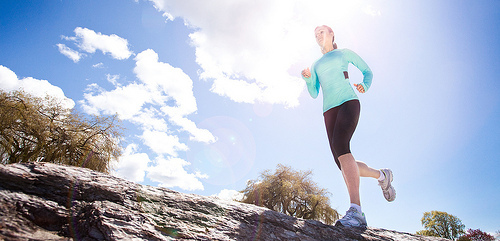 This summer's shaping up to be an excellent one for both Selena Gomez and remixes. The former wizard of Waverly Place pulls off a rare feat -- logging two songs in this month's top 10. Meanwhile, Kendrick Lamar adds a little grit to Emeli Sande's breakthrough hit, and Tiesto layers both atmosphere and beats under a Calvin Harris and Florence Welch collaboration.
Here's the full list, according to a poll on Run Hundred -- the web's most popular workout music blog.
Selena Gomez -- "Slow Down" -- 128 BPM
Mika -- "Live Your Life" -- 104 BPM
Mike Posner -- "The Way It Used to Be" -- 128 BPM
Sean Paul -- "Other Side of Love" -- 120 BPM
Kelly Clarkson -- "People Like Us" -- 128 BPM
Emeli Sande & Kendrick Lamar -- "Next to Me (Remix)" -- 97 BPM
Calvin Harris & Florence Welch -- "Sweet Nothing (Tiesto Remix)" -- 128 BPM
Krewella -- "Alive (Cash Cash & Kalkutta Remix)" -- 129 BPM
2 Chainz & Wiz Khalifa -- "We Own It (Fast & Furious)" -- 86 BPM
Selena Gomez -- "Come & Get It (Dave Aude Club Remix)" -- 130 BPM
Check out this month's top 10 workout songs on Run Hundred: www.RunHundred.com.
For more by Chris Lawhorn, click here.
For more by HuffPost Workouts, click here.