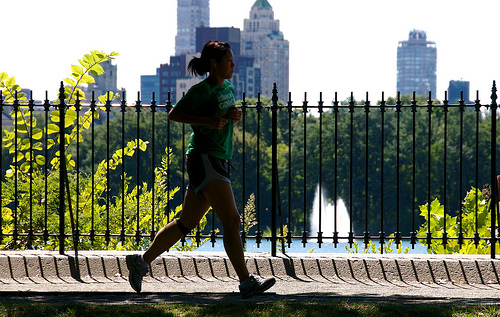 Remixes abound in this month's top 10 list. Half the songs below are chart favorites that have been given a makeover -- including hits by Zedd, One Direction, and Ellie Goulding. Beyond the valley of the remixes, you'll find uptempo folk from The Fray, the latest single from Flo Rida, and a new collaboration between Eminem and Rihanna.
Whatever your tastes, there should be something in here that'll make you want to break a sweat.
Here's the full list, according to a poll on Run Hundred -- the web's most popular workout music blog.

Gavin DeGraw -- "Best I Ever Had" -- 136 BPM
Demi Lovato -- "Neon Lights (Betty Who Remix)" -- 126 BPM
Zendaya -- "Replay (Riddler Remix)" -- 130 BPM
Zedd & Hayley Williams -- "Stay the Night (Henry Fong Remix)" -- 129 BPM
The Fray -- "Love Don't Die" -- 116 BPM
One Direction -- "Best Song Ever (Kat Krazy Remix)" -- 127 BPM
Eminem & Rihanna -- "The Monster" -- 111 BPM
Ellie Goulding -- "Burn (Magic Man Remix)" -- 87 BPM
Flo Rida -- "How I Feel" -- 128 BPM
Avicii -- "Wake Me Up (Avicii Speed Remix)" -- 126 BPM
Check out this month's top 10 workout songs on Run Hundred: www.RunHundred.com.
For more by Chris Lawhorn, click here.
For more by HuffPost Workouts, click here.