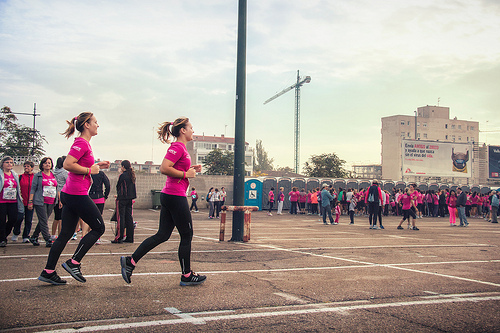 This month's top 10 list is as eclectic as they come. From the Top 40, you'll find a trio of collaborations featuring Enrique Iglesias, Macklemore, and Shakira. Beyond the pop charts, you'll find a college radio hit from Grouplove, a country anthem from Jerrod Niemann, and a club rocker from Martin Garrix. No matter what kind of music you like, there should be something below to get your pulse (and feet) racing.
Here's the full list, according to a poll on Run Hundred -- the web's most popular workout music blog.
Enrique Iglesias & Pitbull -- "I'm a Freak" -- 128 BPM
Neon Trees -- "Sleeping with a Friend" -- 107 BPM
Jerrod Niemann -- "Drink to That All Night" -- 116 BPM
Martin Garrix -- "Animals" -- 127 BPM
Macklemore, Ryan Lewis, Schoolboy Q & Hollis -- "White Walls" -- 116 BPM
Fitz & The Tantrums -- "Out of My League" -- 85 BPM
Shakira & Rihanna -- "Can't Remember to Forget You" -- 139 BPM
Lea Michele -- "Louder" -- 126 BPM
Grouplove -- "Ways to Go" -- 101 BPM
Lady GaGa, R. Kelly & Rick Ross -- "Do What U Want (DJWS Remix)" -- 99 BPM
("Louder" is not currently available on Spotify)
Check out this month's top 10 workout songs on Run Hundred: www.RunHundred.com.
For more by Chris Lawhorn, click here.
For more from HuffPost Workouts, click here.