If you live in the northeast, like I do, it's super convenient to take a cruise holiday to Bermuda from one of the three major cruise ports located in New York and New Jersey. There are amenities, entertainment and activities that cater to a wide range of ages and interests. The best part is, you can do things together with family and friends... or not!
We recently sent one of our staff bloggers to checkout this nearby archipelago and, despite some anxiety about surviving the Devil's Triangle, she set sail for Bermuda from Bayonne, New Jersey's port of Cape Liberty. Looking forward to tales of pink sand, Bermuda onions and endless supplies of long shorts, we were intrigued by a long list of attractions, charming natives and natural beauty that made me want to take the next ship out of Dodge.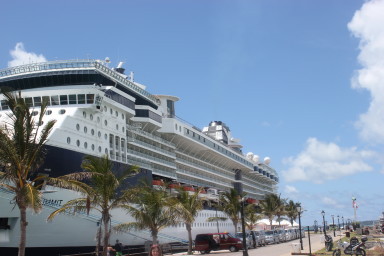 (The Royal Navy Dockyard; photo: Lisa Kaslyn)
The Royal Navy Dockyard
If you are disembarking at the Royal Navy Yard, take advantage of the low cost WiFi. Island Outfitters charges $15 for a three-day package on one device. While it was significantly cheaper than the ship's Wi-Fi, signals were in and out while onboard, but our writer made do.
Things worth checking out, include the National Museum of Bermuda, which features a visually appealing and well-documented history of the island. Adjoining the museum is Dolphin Quest where visitors can enjoy a dolphin encounter. Not for the budget-conscious, a five-minute "experience" is about $60(US). The Bone Fish Grill is a tiny little bar with big personality and ice cold beer - just what you need after a long hot day of loafing on the beach and shopping.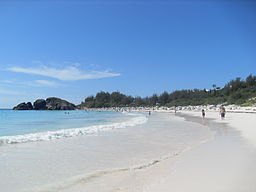 (Horseshoe Bay Beach; Photo: (cc) By Ekem via Wikimedia Commons)
Horseshoe Bay Beach
After seeing many photos of the famous beach, this destination was a priority. About a 30-minute bus trip from the Royal Navy Yard, the ride to Horseshoe Bay is an adventure in itself with lovely views, and narrow winding roads. Roundtrip bus fare is $8/adult; children under 10 are free.
The beach is lovely, but quite crowded -- at least when our writer arrived at 1p.m. Renting an umbrella ($13) is a must, as the sun is blistering during the summer months. The beach features interesting rock formations that jut from the water, and it's tempting to swim out to see them up close. A word of caution: swim at your own risk at Horseshoe Bay. Only one lifeguard was on duty when our writer made the trip, and there were hundreds of people on the beach. The riptide near the rocks can be dangerous for little kids and folks who are not strong swimmers.
That said, the water was reportedly warm, crystal clear and relaxing -- not to mention beautiful.
Hamilton
With about 3,500 people, Bermuda's capital is anything but overpopulated. Still, this charming city packs some hustle and bustle. About a 20 minute ferry ride from the Royal Navy Dock, Front Street is brimming with upscale shopping and nearby attractions.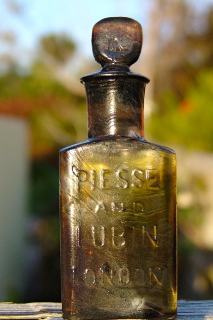 Lili Bermuda, the island's own perfumer, features more than exclusive designer fragrances. There, you may sniff a 150-year old perfume that was discovered in a shipwreck off Bermuda. Apparently, it reeks, but all is not lost; some of the world's foremost fragrance industry experts have analyzed the perfume and have created a replica of the scent, making 19th century perfume available to the public for the first time. According to our sniffer, the "fresh" batch is exquisite!
Isabelle Ramsay-Brackstone, Director of The Bermuda Perfumery, and Dr. Philippe Rouja, Bermuda's Custodian of Historic Wrecks, say the intact "Piesse & Lubin" perfume was discovered - almost miraculously - among hidden cargo inside the shipwrecked Civil War Blockade Runner called Mary Celestia, which sank in the waters off Bermuda in 1864 on her way to America's South.
Lili Bermuda's retail store is located on Front Street and check out the perfumery in St. George where they concoct unique scents for men and women.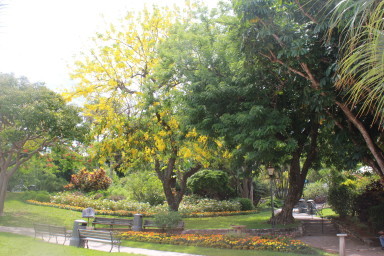 (Queen Elizabeth Park; photo: Lisa Kaslyn)
The Hamilton Tourist Center is right by the Ferry Terminal, where you can stop by and pick up maps and other brochures about Bermuda. You can head up to Queen Street, thereafter, where the picturesque Queen Elizabeth Park is located. If you need a break from the heat, sneak into the Bermuda National Library - you can use their Wi-Fi, too! And next door to the library is the Bermuda Historical Society.
St. George
Founded in 1612, St. George boasts UNESCO World Heritage site status as the oldest surviving and outstanding example of English urban settlement in the New World. While you're there, a visit to St. Peter's Church, the oldest continuously used Protestant Church in the Western Hemisphere, is a must see. Services are still held there every Sunday, since c. 1620.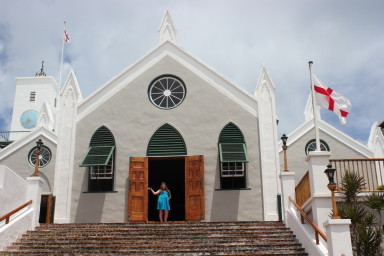 (St. Peter's Church; Photo: Lisa Kaslyn)
For a cooling sweet treat, step into Temptations, where they offer delicious homemade ice cream and snacks. While you're in the neighborhood, stop by All About Eve. If you like hats and unusual fashions, this is worth a visit.
Our writer's only complaint about her trip to Bermuda: It was too short.