 American culture today is in awe of veterans, but not inspired by them. Society reveres those who sacrifice for us. Yet, somewhere between reverence and motivation there is a division, and even ten years of war has not led most civilians to significantly change their lives. The role of service in our society is at stake.
It is time to change this conversation. This week in Aspen, leaders from multiple sectors gathered to talk about increasing opportunities for all Americans in national service. In Philadelphia in July, the Bipartisan Policy Center will lead a national town hall to explore motivations and avenues toward greater public service. And for the past year, ServiceNation, The Mission Continues, and America Forward have been working to create a way for veterans to use their GI Bill benefits for continued service here at home.
There was a time when the military inspired broad civilian service, but there are many differences between the civilian-military relations in the 1940s and today. World War II lasted four years; 12 years have passed since 9/11, and we're are still fighting. Fewer Americans serve today, and our civilian population knows less about the military and returning veterans than previous wartime populations.
My family has passed down two photographs that represent the sacrifice made by Americans in wartime. One is my grandfather, standing in front of his parents' Iowa farmhouse in his Army Air Corps uniform just before shipping off to Europe. The other is of my skirt-clad grandmother perched atop a desk holding a sign promoting war bonds. These photos embody not only their generation's military service, but also the service at home that was so important to the war efforts.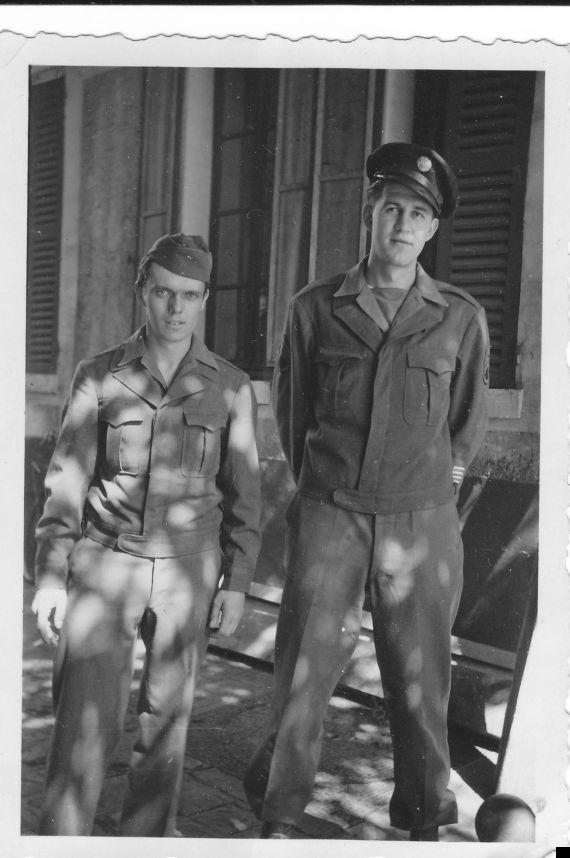 Charles Nordstrom (right) in Mediapolis, Iowa in 1942, prior to his departure for service in the Army Air Corps.
When my grandfather returned from Europe, he shed the uniform, married my grandmother, bought a home, started his family, and took a risk to open a business. Along with the other 15 million returning veterans, the country expected him to do great things. Lo and behold, these high expectations gave birth to "The Greatest Generation."
The country was inspired by military service, and so during wartime and after, civilians and veterans came together to serve the nation and to usher us into an era of prosperity. The Greatest Generation was not made up exclusively of veterans. Civilians made up a majority of that cohort. There was a shared sense of duty, regardless of whether one wore the uniform or not.
While a small portion of my generation has served overseas in combat, civilians at home have not been asked to buy war bonds, to work on bomber assembly lines, or to recycle tin cans to be made into weapons. No one has been conscripted into service; the modern fighting force is all-volunteer.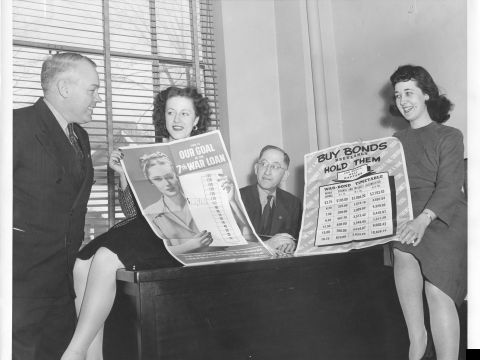 Dolores Arndorfer (second from left) in 1945, supporting the war effort from Algona, Iowa.
Today, it's "Welcome home," "Thanks for your service," and "Good luck getting a job." We assume that all veterans are suffering. We hope that they can normalize. We stand back and wait for them to find some help, and maybe, eventually, catch back up to civilian life.
So, while we "hope", we are generally not inspired to action by the service they have given. Why not? Did they not face the same mortal dangers and peril in Central Asia as our grandfathers did in Europe and the Pacific? Did they not receive the same training to lead and problem solve that troops did two generations ago? As a country, are we not as grateful for their service as our forebears were?
My generation is not the same as my grandfathers'. Our wars are vastly different. But my service and that of the near five million post-9/11 veterans is valuable and should be inspirational. We can be a great generation too, but we will need to do it with veterans and civilians serving together.
It is time for civilians to stand shoulder-to-shoulder with those who have served in the military and take up the challenge of public and national service. Inspired by my grandparents and by my brothers and sisters in arms, we all have a civic obligation. There are ways for all of us to serve, and we will create more. But we must be motivated. We must be inspired.
Chris Marvin is the Managing Director of the Got Your 6 campaign, which provides distinct calls to action for civilians who wish to share in the service and sacrifice of those in the military. He sits on the Bipartisan Policy Council's Committee for Political Reform and was a guest at the Aspen Institute's Franklin Project gathering. He served more than seven years in the Army as a Blackhawk helicopter pilot.
This post is part of a collaboration between The Huffington Post and The Aspen Institute, in which a variety of thinkers, writers and experts will explore the most pressing issues of our time. For more posts from this partnership, click here. For more information on The Aspen Institute, click here.