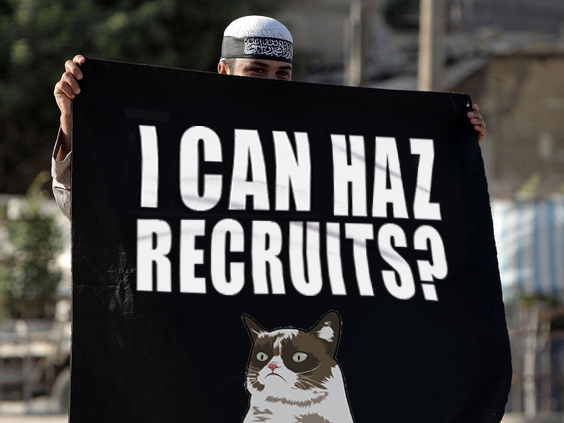 DAMASCUS -- After dominating international headlines for more than a decade, al Qaeda is struggling to remain relevant to a new generation of rosy-cheeked, fundamentalist jihadis smitten with ISIS.
Once the only game in town, al Qaeda is finding it hard to compete with the sexy allure of a tech-savvy Islamic State. In a recent video, al Qaeda leader Ayman al-Zawahiri said he blames the easily-distracted attention spans of millennial jihadis.
"In my day, we'd wait hours for a crappy video condemning the West to download," said al-Zawahiri. "Pfff. Good luck nowadays recruiting anyone born after 1995 if you're not streaming your executions in HD."
Since taking power in Iraq and parts of Syria, ISIS's numbers have steadily risen, largely because of its ability to engage with the hip, young terrorist demographic through catchy videos and social platforms like Instagram and Snapchat.
"Al Qaeda's a joke," said one 20-year-old jihadi. "Asking me to like them on Facebook? What terrorist network is on Facebook anymore? My mom's on Facebook."
As with any brand in the digital age, al Qaeda is being forced to reinvent itself or face extinction. Luckily, in Syria, they've found an unlikely ally to help them do just that: the United States.
"Of course the minute I ordered 2,000 new business cards, the American media started calling us the Rebel Army," said a Nusra Front deputy, al Qaeda's Syrian branch. "But it's growing on me. It sounds like Star Wars. And I'm already getting way more profile views on LinkedIn."
But the world's most famous terrorist organization refuses to lose any more of the spotlight to rockstar newcomer ISIS, and al Qaeda now says it's in talks with director Brett Ratner for a quirky jihadi web series due early 2016.
Note: This post is a work of satire and all quotations within are fabricated.