SAN FRANCISCO -- Apple has confirmed their new iPhone 5 will feature Schmiri, the Yiddish personal assistant, which the tech giant says is the result of better understanding natural speech.
The new feature is just one of many improvements made possible by the phone's iOS 6 mobile operating system, allowing Schmiri to respond to language as well as subtler elements like sarcasm and guilt. And the new A6 processor allows Schmiri to nag twice as fast, using half the battery life.
"Schmiri doesn't just help you send messages and schedule meetings," said Apple SVP Jony Ive. "It processes important information like the last time you went on a date, how much food you have in front of you, and how quickly you respond to voicemail messages from your mother. Schmiri can even auto-schedule reminders to let you know that you still don't have any grandchildren."
Best of all, Schmiri has been seamlessly integrated into other iPhone 5 features like missed-turn-by-turn navigation, as well as tagging Facebook photos with its revolutionary single-status recognition.
While still unconfirmed, Samsung is rumored to be in development of its own personal assistant, which sources say will pressure users with unreasonably high expectations to perform better in school.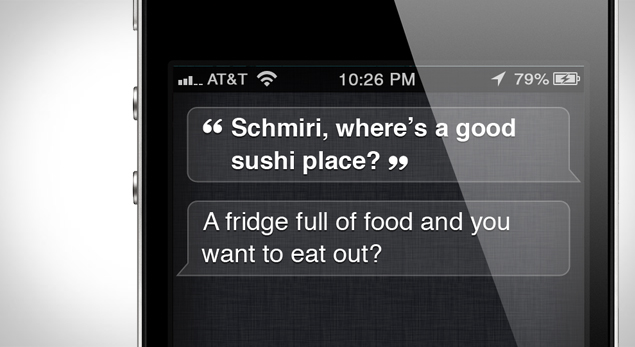 A screenshot from Schmiri's intuitive feature, iKvetch.