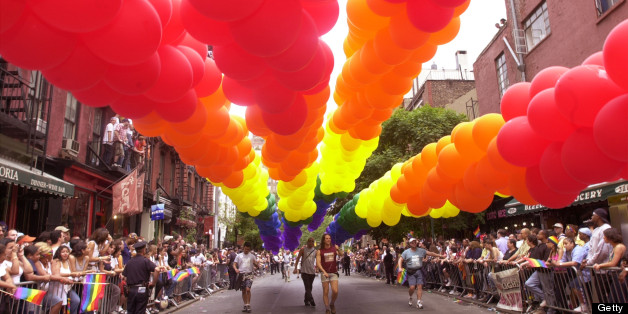 NEW YORK -- In response to the overwhelming success of recent gay-pride parades, many cities across the U.S. are now considering turning the festivities into a two-day event to give gay people the opportunity to join in.
"The marcher turnout was so great this year, we couldn't fit everyone in," said New York mayor Michael Bloomberg. "Jeez, we had four car companies, eight banks, a new energy drink, six skin-care companies, two television networks, and eighteen people running for public office. It was incredible!"
Last week in San Francisco, the city celebrated an equally successful turnout. "I really loved the Wells Fargo stagecoach," said Sequin B. DeMille, a long-time activist and local drag queen who had admired the parade from the sidelines. "And the branded beads that Nivea and Time Warner Cable threw into the crowd I can really use in my act." Then she stopped, as if to hold back tears. "But what really got me was the Toyota float, offering LGBT individuals an additional one-percent off MSRP of all 2013 models if they show their marriage licenses at the register." The drag queen tapped at her heart, "It gets you right here, you know?"
Some cities, like Las Vegas, have yet to have their gay-pride parade, and many locals can hardly wait. Nadine McCormack, a member of the lesbian showgirl troupe, the Sapphic Sapphires, says she dreams of one day showing her pride. "It's amazing how far we've come. I remember when the parade was just a few floats. This year, I hear Windows 8 is going all-out. There are just so many marchers now. That's why we need two days instead of one." She smoothed the feathers on her helmet. "And who knows? Maybe one day, I can march, too."