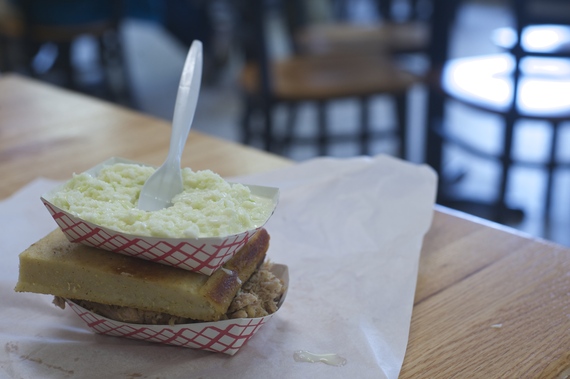 Photography by Chris Osburn © 2015
A 2,500-mile, three-week road trip across the American South in search of this vast and varied region's best BBQ turned out to be one of the smartest -- and tastiest -- travel ideas I've ever had. A heaping helping of delectable local culture at every stop was all but ensured alongside the opportunity to enjoy some of the most deeply satisfying meals of my life -- usually presented with warm reception at independent, family-owned establishments.
The journey is chronicled in a series of "BBQ Bound" posts published on my personal blog, tikichris. Have a look at the complete series here:
tikichris.com/category/bbq-bound
But for those preferring to cut to the chase and get to the meat of the matter, listed below are the 25 best BBQ eateries visited during my trip. Each one of these independent and mostly family-owned establishments astounded my palate profoundly with authentic and traditionally made American food.
The list is in alphabetical order and is one of a series of other "best of" posts published on my blog including Best London Restaurants, Best Restaurants (Excluding London), Best London Cheap Eats, Best London Bars, and more.
To view the original Best BBQ post with detailed notes about each restaurant listed, go to tikichris.com/2015/12/19/best-bbq-of-2015.
And to check out all my 'best of' lists go to tikichris.com/category/best-of-2015.
Best BBQ in the American South
B"s Barbecue
751 Bs Barbecue Road, Greenville, North Carolina 27858
Barbecue Center
900 North Main Street, Lexington, North Carolina 27292
Bum"s Restaurant
566 3rd Street, Ayden, North Carolina 28513
Central BBQ
2249 Central Avenue, Memphis, Tennessee 38104
Fiery Ron's Home Team BBQ
1205 Ashley River Rd, Charleston, South Carolina 29407
Fincher"s Barbecue
3947 Houston Ave, Macon, Georgia 31206
Fox Bros Bar-B-Q
1238 DeKalb Avenue NE, Atlanta, Georgia 30307
Franklin Barbecue
900 East 11th Street, Austin, Texas 78702
Fresh Air Barbecue
3076 Riverside Drive, Macon, Georgia 31210
Grand Champion BBQ
Krog Street Market, 99 Krog Street NE, Atlanta, Georgia 30307

Helen"s Bar B Q
1016 North Washington Avenue, Brownsville, Tennessee 38012

Hillsborough BBQ Company
236 S Nash Street, Hillsborough, North Carolina 27278
Hot Thomas BBQ
3753 Greensboro Highway, Watkinsville, Georgia 30677
Lexington Barbecue
100 Smokehouse Lane, Lexington, North Carolina 27295
Lockhart Smokehouse BBQ
400 West Davis Street, Dallas, Texas 75208
Martin"s Bar-B-Que Joint
7238 Nolensville Road, Nolensville, Tennessee 37135
Micklethwait Craft Meats
1309 Rosewood Avenue, Austin, Texas 78702
Pecan Lodge
2702 Main Street, Dallas, Texas 75226
Pulaski Heights BBQ
The Leathers Building, 675 Pulaski Street, Suite 100, Athens, Georgia 30601
Salt Lick
18300 Farm to Market Road 1826, Driftwood, Texas, 78619
Skylight Inn
4618 S Lee Street, Ayden, North Carolina 28513
Smoke
901 Fort Worth Avenue, Dallas, Texas 75208
Smoke Ring
309 Nelson Street SW, Atlanta, Georgia 30313
Southern Soul Barbeque
2020 Demere Rd, St Simons Island, Georgia 31522
Swig and Swine
1217 Savannah Highway, Charleston, South Carolina 29407
Wiley"s Championship BBQ
4700 US Highway 80 East, Savannah, Georgia 31410
The original version of this post was published at tikichris.com.