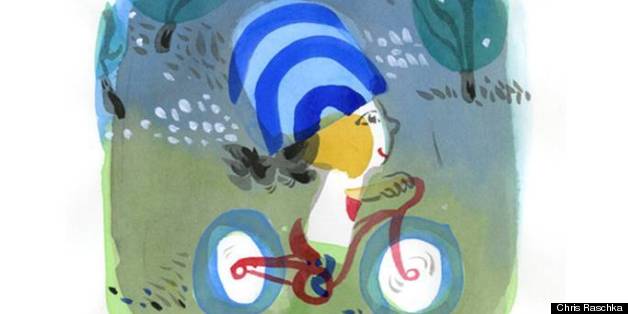 Is it silly to write about screen-free week online in a blog? Yes, probably. Tell you what. Print this out. Fold it twice and put it in your pocket. Then go outside and teach someone how to ride a bicycle.
For the continued survival of our planet and humanity, it is crucial that certain discoveries and skills and inventions made by people over the years be passed on from one human generation to the next, from one person, face-to-face, to another. How to swim is an obvious contender. I might add kite-flying, skiing, surfing, how to boil an egg, pie-making, clothes-folding, bed-making, shoelace-tying, singing, knitting and, of course, bicycle riding. The list, obviously, could be a long one. One thing these activities share is that they are generally taught by one person, often older, often a relative, friend or neighbor, to another person, often younger; a niece, a little brother, a granddaughter, a buddy. And they're taught by hand. Hands on! Can you really learn to knit from a diagram? Try it. Do you want to learn to ski or surf by yourself? You could drown or run into a tree.
I know what you're saying. Have I never looked at an instructional video on YouTube? Of course I have. How do you think I managed to regrout my bathroom? But regrouting your bathroom and learning to ride a bike are different things entirely.
To learn to ride a bicycle, as with the other great noble human inventions, is a hugely complex activity. Generally, it requires three things: the learner, the teacher and the bicycle, all in the same place at the same time, most often outside someplace. The dynamics between rider (learner) and bicycle alone are almost infinitely convoluted involving, as they do, forces going every which way. Gravity, momentum, laws of conservation of energy, of entropy, gyroscopic vectors -- it's all happening at once, and the learner, who might be a 6-year-old person, has to manage to juggle them all. Wow! Add to this the further ramifications -- psychological, linguistic and kinetic -- between learner and teacher, and the mind boggles. Fear, doubt, desire, pride, humiliation, triumph and joy; they're all there to be found on the sidewalk, or the driveway, or the blacktop playground in front of you, in the space of about ten minutes.
So get out there and learn to ride a bicycle or teach someone how. The planet depends on it!
This column was written for The Huffington Post to coincide with Random House's Screen-Free Week (April 29-May 5, 2013) and in honor of Chris Raschka's latest picture book Everyone Can Learn to Ride a Bicycle. Raschka has written and/or illustrated over 30 books for children, including the 2012 Caldecott Medal winner A Ball for Daisy; the 2006 Caldecott Medal winner, The Hello, Goodbye Window by Norton Juster; and the Caldecott Honor Book Yo? Yes!.