Want to unplug from the grid and go exploring, but don't want to leave the tech behind? Now it's possible with myFC's PowerTrekk, a water-powered fuel cell charger, that's actually portable.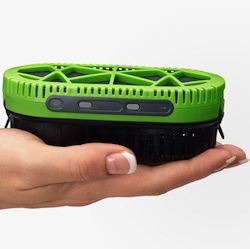 Each year, new devices get released to market that require even more power to function throughout a full day. A rising number of the population have started to collect multiple devices; like GPS navigational units for the car, tablets for reading or surfing the web and smartphones with multiple CPU cores and large bright screens.
Having all of that technology at hand is great, but keeping them charged takes work. That's where external batteries and alternative charging solutions come into play. The Powertrekk hybrid fuel cell system can definitely be defined as an alternative way to make and take power virtually anywhere. It has a fuel generation system on the bottom and a removable battery on top. Combined, they offer the flexibility to have power available nearly on demand.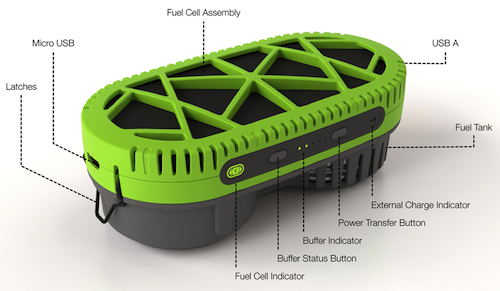 All together, it's about the size of a few smartphones stacked on top of each other. The small form factor device creates energy from FuelCellSticker technology made of foils and adhesives that convert hydrogen into electricity. The chemistry behind how this type of fuel cell works is somewhat complex.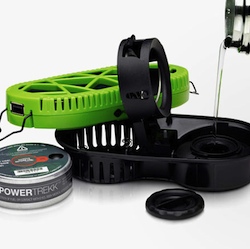 Fortunately, it's user-friendly enough to create near instantaneously available power. To create energy with the fuel cell, one side is filled up with about a tablespoon of fresh water. The other side is where the powerpukk with sodium silicide is installed. That's definitely straightforward, simple and can be performed in less than a minute.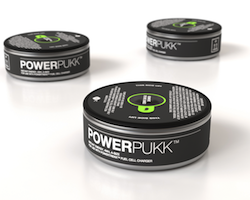 There are no moving parts, just a chemical reaction that drives the creation of energy. The ease at which everything operates is what attracted me to it during a CES 2013 demo.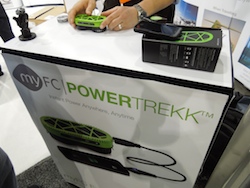 Photo by Bill Cody @VegasBiLL on Twitter
This 2-in-1 solution can be used in a few practical ways. The lithium polymer battery atop the water well and fuel compartment is rated at 1,500mAh and it acts as an energy buffer for the fuel cell and as a simple backup battery.
Like most external battery packs, it can be charged by a USB cable connected to a computer or wall outlet. It also acts as a buffer for the fuel cell system, where the battery regulates power sent to devices plugged into its USB port. The package comes with I-Go connector tips for mini and micro USB, and a 30pin module for Apple compatible devices. For those with an iPhone 5, a Lightning to 30-pin adapter will be needed to charge.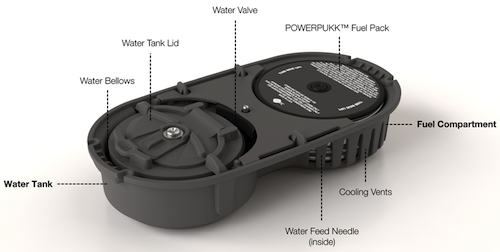 Most of the gadgets made today utilize a micro USB port for charging. While there are some devices that can be powered by USB, some may not be universally USB compatible. The fuel cell charging system produces 2.5 watts at 5 volts up to 1 Amp of continuous power, and runs for a little more than two hours. It can charge USB standard 5V devices and can also "trickle" charge higher wattage gadgets like the Kindle Fire and iPad.
The fuel cell system is safe to bring onto airplanes, according to Industrial Revolution, its US distributor. The Powertrekk and powerpukks are both IEC approved for carry-on luggage. However, making energy with the fuel cell system is not approved for operation while flying.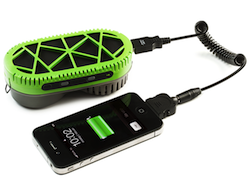 Having the ability to create energy at nearly any moment is worth the price of the fuel cell system and pucks. It can create energy day or night, rain or shine. Its ability to generate power when solar-powered chargers are ineffective is key. While other battery solutions might be less expensive, this hybrid system gives people the freedom to go out, explore and unplug from the grid whenever.
Once the PowerTrekk and powerpukks start shipping in the US, you can find them from the myFC US distributor Industrial Revolution for $229.99 and $11.99 for a three pack of pucks. Thanks to them for the live demo during the International Consumer Electronics Show 2013.
My recap of the biggest and most attended International Consumer Electronics Show ever, in Las Vegas.
More 2013 CES Videos By 24kMedia.
Disclosure: I received a review unit from Industrial Revolution. Opinions expressed here are my own.
All but one photo are courtesy of myFC.