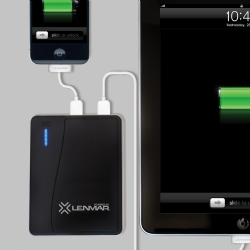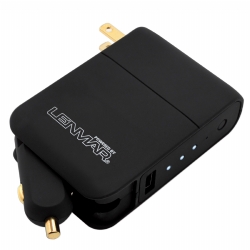 Wading through a plethora of chargers on the market today for smartphones and tablets is tough, but Lenmar's recent offerings have made it easier to choose. Their external batteries have both style and dependable functionality.
The All-in-One PowerPort Gold charger is most unique, combining a flip out AC wall plug and DC car adapter, with gold hardware, a rubberized coating and white LEDs indicating charge level. The PowerPort Wave 7000 builds on the design of the All-in-One Gold with the capability of charging a tablet and smartphone simultaneously.
Gold is known for being a top tier conductive metal mostly used on the inside of electronics, but Lenmar has now taken their compact smartphone charger to another level. All of the connectors on the small PowerPort charger are made with gold. It has a nice rubberized casing that helps with grip when plugging it into the wall or unplugging it from a car's power socket.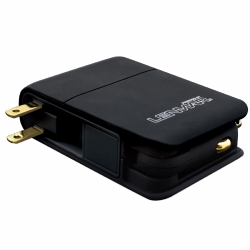 Once plugged into the car or home, the gadget charger indicates its internal 1,500 mAh 5V battery charge state via a single green light. When the PPUGold is charging a device, its triple white LED display shows how much energy remains.
A single button on the external battery near the top activates the white LED display. During tests, it charged an iPhone 4S up to about 70% when all cellular, WiFi and Bluetooth connections were turned off. However, this battery was not designed to charge higher energy powered tablets like the iPad. To charge iPads and other devices that might require additional juice, Lenmar's PowerPort Wave 7000 should be considered instead.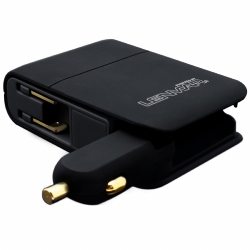 The Wave 7000 also has the same rubberized case, but that's where the similarities between it and the PowerPort Gold end. Four blue LEDs near the top display its internal charge level. It lights up when being charged and stops blinking when full.
To power up a smartphone or tablet after the cables are set, tap the external button on the battery once to initiate charging. It has two USB ports that are capable of energizing multiple devices simultaneously, including an iPad and a smartphone. An inner USB port can accommodate a 5V 1 amp gadget, while the other can handle a 5V 2.1 amp tablet.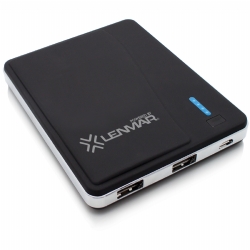 With an internal 7,000 mAh 5V lithium polymer battery, the PowerPort Wave 7000 charged an iPhone 4S three times. On a fourth charge attempt, the external battery took an iPhone 4S up to 20%. When charging higher energy devices like both of the new iPads, this battery could charge them up to about 60%. That's impressive for a thin and compact battery.
Both of the external batteries tested from Lenmar fit nicely in a back pocket and in a small tablet travel bag. The PowerPort Gold charger worked well on light mobile days when an extra boost was needed to finish off important tasks. Having the ability to charge it in the car en route to meetings was very helpful. Both of the integrated charging plugs fit flush inside of the battery case. While the PowerPort Wave 7000 doesn't have external plugs, its capability to charge multiple gadgets with varying energy requirements simultaneously makes up for it many times over.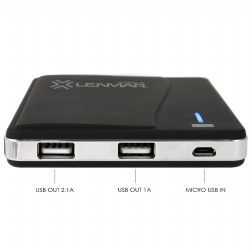 Multiple tests later and these Lenmar batteries were found to be dependable portable chargers that kept many of my gadgets powered. They can do the same for yours, across town or wherever your travels may take you. I'm excited to see what the company will release later 2013 in the consumer battery space.
Disclaimer: I received review units from Lenmar. Opinions expressed here are my own.
Photos and videos are courtesy of Lenmar.