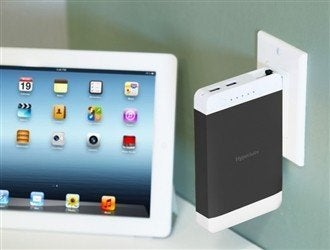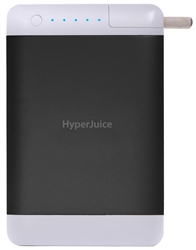 Designed in Silicon Valley, the HyperJuice Plug from Sanho is a well-engineered backup battery that looks good and performs great. There may be a few batteries that can charge multiple iPads and smartphones simultaneously, but this offers quite a geek statement whether being used or not.
In addition to having the ability to charge multiple tablets at once, it's designed with an easy to see charge indicator. A button on the side will display up to five blue lights, which means it's fully charged. To power up the battery, a wall plug extends from the top corner. When not charging, the plug is retractable and is flush to the battery casing.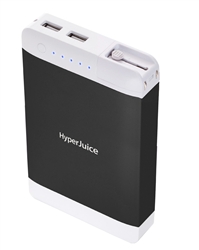 The casing for the extended backup battery contains a consumer market busting 15,600mAh or 58Wh of Lithium Ion power. To put that into perspective, the new iPad 4 has an 11,666 mAh internal battery. This means that the HyperJuice Plug has enough power to completely charge the new iPad and have some juice remaining for an Android smartphone, iPhone or another gadget that charges via USB.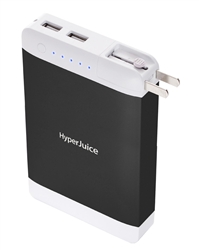 During the testing period, the HyperJuice Plug more than adequately charged an iPad mini, original iPad, iPad 2, iPad 3, iPhone 4S, several Android devices and a 4G mobile hotspot. Many gadgets require a power pack capable enough to handle this kind of charging load on a consistent basis. Some of the smartphones were powered many times over.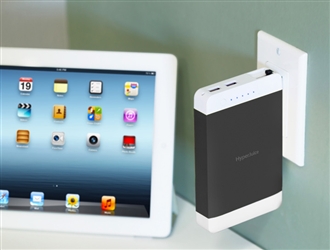 Charging multiple devices can be tricky with one USB port located in an awkward angle. The rectangle design of this backup battery has several upward facing USB ports. Charging while located in a bag, two USB cables can be routed through the top for convenience. Top features of this unit over the majority of the competition include a military grade battery with a Linear chipset and rated AA cells.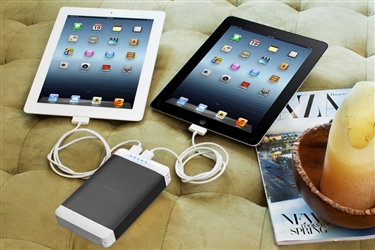 The advanced battery housing, combined with built-in short circuit, overcharging and temperature protection kept everything cool while powering two high power tablets. It features 15W of power shared between the two USB ports. While charging two tablets, it will output 7.5W, 5V 1.5A per port. It also recognizes when a tablet and a smartphone are charging at the same time. Then it will output 10W, 5V 2.1A to an iPad, a high power device and 5W, 5V 1A to the iPhone, a low power device. Finally, if two iPhones are plugged in, it will output 5W, 5V 1A to each USB port.
Sanho HyperShop GetMore 2013 CES Booth
With such a smart device, you can power any combination of devices and you're all set. Most of the backup batteries today have a dedicated 2.1A port and 1A port. Unlike Sanho's HyperJuice Plug, battery manufactures haven't yet created battery packs with smart circuits. Sanho gets it right from the start with these circuits.
For ease of use and the capability of charging an iPad 3 for an extra 13 hours, or an iPhone up to a rated 11 times, the 15,600mAh HyperJuice Plug at $159.99 is a top pick for road warriors and gadget enthusiasts. It should provide enough juice for long road trips and international flights. When deciding between the 10,400mAh or 15,600mAh power packs, keep in mind that being prepared with a few thousand extra milliamps is highly recommended. Always be ready to view the latest viral cat videos.
All Photos Courtesy of Sanho.