"There's Army ROTC. Then There's Wheaton Army ROTC." That's the slogan used by Wheaton College, a well-known Christian college in Illinois, to promote its Army ROTC program. It turns out that the slogan couldn't be more true. Wheaton Army ROTC certainly is different -- in an egregiously unconstitutional way. As Army lieutenant and Wheaton graduate James Greene comes right out and says in a recruiting video shown at the school's freshman orientation: "Wheaton College ROTC is unique in that it is the only Christian run ROTC program in the entire nation." (See video below)
Before getting into just how blatantly Christian and incredibly unconstitutional this "Christian run ROTC program" is, I need to back up for a minute and explain why I was looking at Wheaton's ROTC program in the first place.
Last week, a very shocked U.S. Army officer contacted the Military Religious Freedom Foundation (MRFF). This officer had been looking at a list of assignments currently available for Army captains. The assignments on this list, referred to as "broadening assignments," are assignments available to captains who have completed their required career course and subsequent stint as a company commander. Lists of available assignments are issued quarterly for captains nearing this stage of their career, with instructions for captains who are interested in any of the assignments on the list to contact their Assignment Officer.
Among the various "broadening assignments" for Army captains is the position of Assistant Professor of Military Science at an ROTC college or university. Of the thirty-one available assignments on the current list sent to MRFF by the shocked Army officer, four are Assistant Professor of Military Science assignments at various ROTC schools. One of the four leapt off the page. Why? Because in parentheses next to it was a special requirement: "MUST BE OF CHRISTIAN FAITH."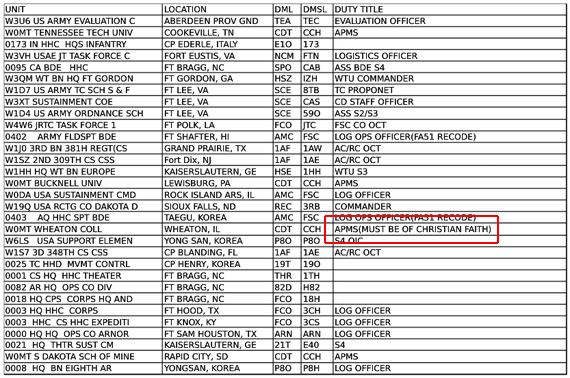 Yes, the U.S. Army apparently allows Wheaton College to custom order Christian officers to teach in its ROTC program, not just by secretly excluding non-Christian officers from assignments at this school, but by very openly and unabashedly specifying Christian faith as a requirement on the official list of available assignments. What part of the Constitution's "no religious test shall ever be required as a qualification to any office or public trust under the United States" does the Army not understand?
An ROTC unit is a U.S. military unit. The job of an ROTC instructor, whether at a secular school or a religious school, does not and cannot involve religious instruction, so why would the religious beliefs of its ROTC faculty matter to Wheaton College? Well, the answer to that question quickly became obvious when MRFF took a look at Wheaton's ROTC program.
Wheaton's Rolling Thunder Battalion, which is comprised of cadets from Wheaton and six other private colleges and universities, all of which are overtly Christian or historically Christian, makes no secret of how much it thoroughly -- and thoroughly unconstitutionally -- integrates Christian education and evangelism into its ROTC military training.
Wheaton ROTC's current Professor of Military Science, Assistant Professor of Military Science, and Scholarship and Enrollment Officer all also seem to have been custom ordered by Wheaton for their Christian faith. The bios on the school's website for all three boast their Christian credentials. The current Professor of Military Science, Lieutenant Colonel James D. Hoyman, was "active in the Navigators ministry" while a cadet at West Point. The current Assistant Professor of Military Science, Captain W. Matthew Hills, "grew up as a missionary kid in the countries of Costa Rica, Colombia and Ecuador" and "attended Wheaton College." The current Scholarship and Enrollment Officer, Nathaniel LaLone, "grew up as a pastor's kid in Cadillac, Michigan where he attended a private Christian high school and received his college degree from Olivet Nazarene University."
Prior to coming to Wheaton, LaLone, an officer in the Illinois National Guard, was the recruiting operations officer for his alma mater Olivet Nazarene University, whose ROTC cadets were part of Wheaton's Rolling Thunder Battalion until 2007, when Olivet had enough cadets to form its own Roaring Tiger Battalion. Although now operating as a separate battalion, Olivet's ROTC is still as Christian as Wheaton's, with its ROTC webpage telling prospective cadets they'll "Learn leadership skills from a Christian perspective to help you succeed in the military and in life," and "From the moment you take on the challenges of our high commitment program, you are learning what the U.S. Army believes in and requires of leaders, what Olivet requires, and what Jesus requires. As an Army ROTC cadet, you will learn and practice principles and skills of military leadership, management, Christian values, and selfless service to others."
Is it just a coincidence that all three of Wheaton ROTC's current officers happen to not only be Christians, but Christians who are uncannily suited to the school's religious mission? Absolutely not. Wheaton's ROTC program has had an unbroken history of being a "Christian run ROTC program" whose mission is melded with the school's mission from the time it began over sixty years ago in 1952 right up until today. To quote an article from the Spring 2012 issue of Thunder Rolls, the Rolling Thunder Battalion's newsletter, on the celebration of the 60th anniversary of Wheaton's ROTC program:
It was in 1952 that ROTC began at Wheaton College, and it was strongly supported by President Edman and President Armerding, both of whom where [sic] veterans. It was President Edman who famously said in 1952, "There is a call today for a Joshua, a Gideon, a David, as well as for an Elijah and a Paul. ROTC at Wheaton is the answer."
And the Christian mission of ROTC at Wheaton hasn't changed, as is abundantly clear not only from its "MUST BE OF CHRISTIAN FAITH" requirement for its ROTC faculty, but from its recent battalion newsletters, its videos, and the Christian credentials of its previous ROTC faculty members.
The above quoted article on the 60th anniversary celebration, written by a cadet from the class of 2014, ended:
From the support shown by former graduate [sic] and alumni, it is apparent that the Rolling Thunder Battalion is a program that lives Leadership Excellence For Christ and His Kingdom.
"For Christ and His Kingdom." That's not just the motto of Wheaton College itself, but also the motto of its Rolling Thunder ROTC battalion.
When the last Professor of Military Science, LTC Colin Wooten, was leaving at the end of the 2012-2013 school year, his message in the battalion"s newsletter ended with "For Christ and His Kingdom," as do all messages from the school's Professors of Military Science. In his message itself, Wooten proclaimed that the appointment of his replacement, current Professor of Military Science Lieutenant Colonel James D. Hoyman, was "of the Lord," writing:
The battalion is left in the very capable hands of Major Jim Hoyman -- the new Professor of Military Science. MAJ Hoyman is an officer of character and excellence who I have known his entire life and served with at West Point. (yes, and he's the younger brother of '92 RTB alum MAJ John Hoyman!). Praise God for the way He moves his people; I am convinced that MAJ Hoyman's appointment here is of the Lord!
No, it wasn't "of the Lord" that yet another evangelical Christian was taking over; it was of the U.S. Army's unconstitutional religious test for this school's ROTC professors!
Prior to Wooten, who just happened to be a Wheaton alum himself, there was Lieutenant Colonel Steve Anderson, whose bio on the Wheaton ROTC webpage began: "Steve Anderson entered the world as the fourth of four boys, part of a missionary family serving in Venezuela. He spent most of his first 18 years in Venezuela during which he attended a boarding school for missionaries' kids. At a very early age, he gave his life to Jesus Christ and developed a love for sports and adventure. A series of miraculous events lead him to a career in the US Army ..."
And, when you have an ROTC faculty whose appointments were "of the Lord," and who are "truly excited about what God is doing here as we continue to build leaders eager to make a lasting impact," as Lieutenant Colonel Hoyman wrote in the battalion's Fall 2013 newsletter, the cadets in leadership positions follow suit.
As Cadet Battalion Commander Gayle Foote wrote, also in the Fall 2013 newsletter: "The RTB not only produces competent and driven officers but also strong Christ-followers," and Cadet Lieutenant Colonel Benjamin Dagg wrote in the battalion's Fall 2012 newsletter: "I am proud of this battalion, and I pray that our performance as a unit will continue to nurture and perfect those characteristics that will make us great leaders and witnesses for Christ in America's Army."
Also in the Fall 2012 newsletter, Cadet Captain Garret Henderson wrote about a visit from COL (Ret.) Steve Banach, who delivered a speech to the "140 cadets of the combined RTB" that "focused on Christian leadership, and how one can be successful at pursuing the goal of being an excellent Christian officer in the Army today." So, what exactly would the message of a speech by Steve Banach on "Christian leadership" be? Well, probably something along the lines of the "Christ-Like Leadership in Combat" speech he delivered at an Officers' Christian Fellowship Discipleship Training Breakfast, in which he covered his "First Principals [sic] as a Christian Combat Leader," such as "Understand who we are serving: (The Almighty Warrior King!!!)," and explained that "Your soldiers are spiritual beings -- They want to know that their leader is a Christian man or women [sic]," and "That is why God selected you to be their leader."
It's no coincidence that Steve Banach would be involved with both Wheaton ROTC and the Officers' Christian Fellowship (OCF), a fundamentalist Christian parachurch ministry whose goal is "a spiritually transformed military with ambassadors for Christ in uniform." While there are OCF chapters at most ROTC schools, as well as at the U.S. military's service academies, the relationship between Wheaton's ROTC program and OCF goes much further than that. In the Rolling Thunder Battalion's official Cadet Handbook, OCF is listed in the "Extracurricular Training" section right along with all the official U.S. Army training courses and events. And, as you can see in the third image below from Wheaton ROTC's 60th anniversary event -- an event whose purpose was to "Celebrate the many ways God has used RTB and its alumni in the profession of arms" -- "OCF and Spiritual Development" was one of the topics in the cadets' presentation on the history of Wheaton ROTC.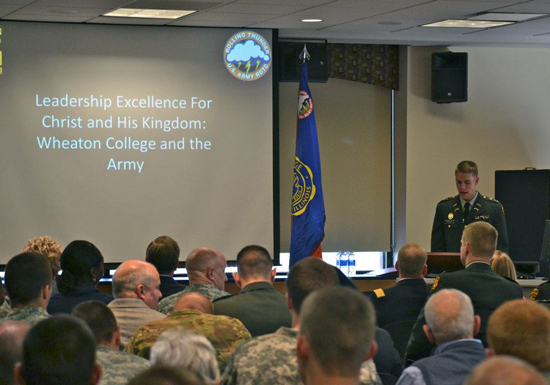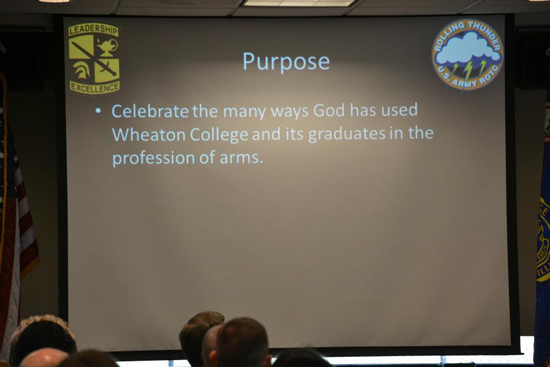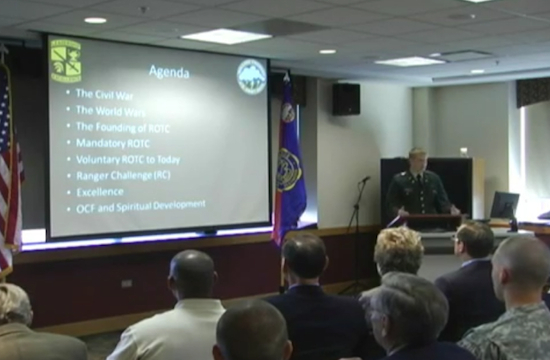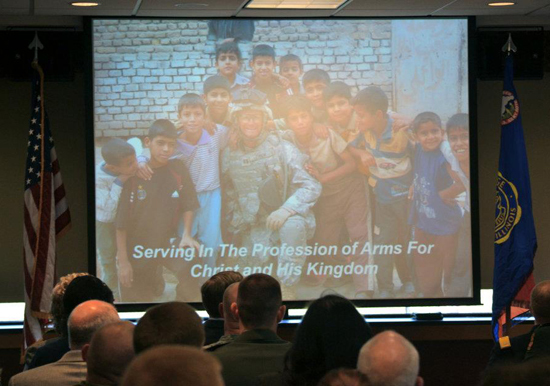 Describing the 60th anniversary event in the Spring 2012 battalion newsletter, then Professor of Military Science Lieutenant Colonel Wooten wrote:
Over thirty ROTC alums and a few PMS Ancients joined Wheaton College President Dr. Ryken, Lewis University Associate Provost Dr. Krahl, Wheaton College faculty and friends, and the RTB to celebrate how God has used Wheaton College, the Army, and our partner and affiliate schools for His glory.
Videos of this 60th anniversary event, including most of the cadets' history presentation, titled "Leadership Excellence For Christ and His Kingdom: Wheaton College and the Army," can be found here.
And here's that recruiting video starring former Wheaton ROTC cadet and now U.S. Army lieutenant James Greene, proudly proclaiming that Wheaton's ROTC program is "the only Christian run ROTC program in the entire nation," and explaining to incoming freshmen that this "has massive ramifications of what your time here at ROTC would look like. You see, you're going to be learning the art of leadership and the science of warfare under the application of a life set out and completely sold to Jesus Christ."
According to MRFF founder and president Mikey Weinstein:
Wheaton College and its ROTC program seem to earnestly believe that the acronym "ROTC" stands for "Religious Officer Training for Christ." Wheaton and its fundamentalist Christian ROTC unit are to the United States Constitution what a dog with a full bladder is to a curbside fire hydrant. In MRFF's nearly 10 years of fighting this precise, illicit version of Christian extremism in the U.S. military, this Wheaton College/ROTC travesty is one of the most disgustingly blatant, appallingly bold, and mercilessly atrocious attacks on the foundational principles of our U.S. Constitution that we have EVER witnessed!
Yes, "There's Army ROTC. Then There's Wheaton Army ROTC," and the Military Religious Freedom Foundation demands that the U.S. Army do something about that, starting with removing the completely unconstitutional religious test requiring that Wheaton's ROTC faculty "MUST BE OF CHRISTIAN FAITH." Why does Wheaton need the Army's help anyway, when appointments of its Professors of Military Science are "of the Lord?"