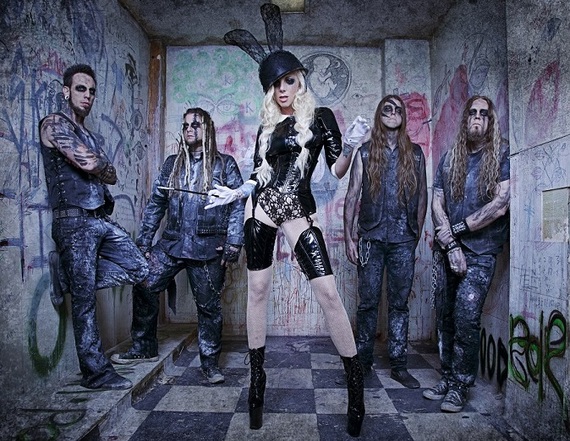 Metal represents a curious faction of rock culture. While traditional rock music challenges notions of polite society, metal antagonizes cornerstone institutions of social life. From the sacred nature of religion to the underlying corruption of political systems, this is a genre that delights in the destruction of hypocrisy.
Metal's problem of sexism is strange given such a propensity for cultural challenge. From Metallica to Slipknot, testosterone has been a key component of successful metal music to a degree that's become innate. Gender is rarely challenged in any meaningful way as the artists who perform metal music are becoming even more aggressively masculine. Bands like Five Finger Death Punch take masculinity to a level that's unintentionally comical.
This is what sets In This Moment apart from their contemporaries. Maria Brink has one of the most powerful voices on the scene today. And she doesn't give a damn about convention. As Brink ascends to her graveyard-style platform in a flamboyant bodysuit, often with political iconography, she's flanked by dancers. Choreography is tight and intentional. Maria regularly changes costumes throughout the band's live show. They suggestively grind through songs like "Whore," a challenge to male dominance. Brink described the meaning of the song:
It is about taking the power from a disgusting and degrading word and turning it back around on the accuser. It's about self empowerment, love, and liberation.
Interestingly, she leads an all-male band. Like their counterparts, these band members embody an extreme masculinity. But Brink complicates this by maintaining her leadership of the stage, their gendered power irrelevant to the proceedings. This isn't to say they're disparaged. Quite the opposite: The effect is symbiotic. The band performs with a tight precision that rivals the professional sound of studio recording while maintaining an engaging stage presence. The contrasting gender polarity between the band and Brink adds symbolic depth to the proceedings.
Their presentation has raised more than a few eyebrows, with some genre fans inclined to dismiss the band as Lady Gaga's "metal side project," as one commenter opined. The common comparison to Lady Gaga isn't unwarranted. As Brink pulls a masked female into her space and kisses her amidst aggressive choreography, the parallel is apparent. Perhaps even more comparable is Brink's theatrical balladeering. She often appears to cry while performing "Into the Light." While Brink may be tapping into some of the same cultural issues Gaga addresses, Brink's performance is anything but a ripoff. In This Moment's first album was released before Gaga had even entered the scene.
The band's impressive and controversial visual presentation is only half the equation. Songs like "Blood" and "Adrenalize" mark a genuine defiance that avoids genre tropes. They're headbangers that sound sexy, combining masculine and feminine elements to create an instantly recognizable sound. Brink's lyrics evoke challenges to normative roles in both their language and narrative. When In This Moment covers Nine Inch Nail's "Closer," the musical kinship to Reznor's provocation is instantly recognizable.
In This Moment develops their image with increasing clarity on each release. The current Blood era represents their most defiant presentation. But this band has only scratched the surface of its capability. One can hope In This Moment's nature of challenge will extend far into the future with a positive impact on the entire state of mainstream metal music.
In This Moment is currently touring the United States.
Watch "Adrenalize":