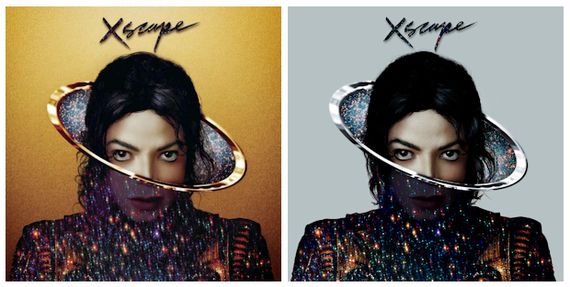 After Michael Jackson's untimely passing, producers scrambled to put together a posthumous album, resulting in Michael. It was a tacky, cash-driven effort marred by controversy. Jackson's family questioned whether an impersonator was performing on the album. Critics gave it a lukewarm reception, and the public was too off-put by the brazenness of it all to bother listening.
This time, the approach is radically different. L.A. Reid, who knew Jackson personally, put together a team of individuals who understood the singer and respected his legacy. Most notably, Rodney "Darkchild" Jerkins produced Jackson's last hit in life: "You Rock My World" from Invincible.
For Xscape (*** out of ****), producers worked from verified, high-quality song demos. They stripped everything aside from the vocals and acoustic noises picked up from Jackson's microphone, like his trademark finger snaps, and built entirely new songs. One could dismiss the effort as a glorified remix project, but the result is something quite a bit more complicated.
When Jackson's voice opens the album with "Love Never Felt So Good," the difference from the first posthumous effort is stunning. This is the one and only Michael Jackson, without a smidgen of doubt. Lest anyone try to stir up controversy, the complete set of fantastic demos is even included with the deluxe edition of the album. We won't talk about Justin Timberlake inserting himself onto a bonus track.
The project's authenticity creates a new problem: How does one intuit the melodic decisions Jackson would have made if he were alive? The answer: It's clearly impossible, and die-hard fans will notice the deviance. "Slave to the Rhythm" is a fun, stuttering dance track, but it's never going to convince a conscious listener that Jackson put it together. This is Michael Jackson as interpreted by Timbaland.
Thankfully, there isn't a bad track to be found on Xscape. The producers consistently make respectful, interesting choices. Some may quibble that "A Place with No Name" was altered too much, or the title track is unnecessarily busy. But the care put into the project results in an enjoyable listen that never veers into the exploitative territory of Michael.
Perhaps the most disconcerting part of Xscape is the omnipresent reminder of Jackson's death. His essence is so alive in the vocals on these songs, it often feels as though the producers have performed a musical seance and wrestled the ghost of Michael Jackson into an album. His presence isn't reborn, it's re-animated. The result is undeniably creepy. Think Tupac's hologram.
But when the funky stomp of "Blue Gangta" drives into the chorus, or Jackson wails in paranoid urgency about the plight of abused children ("Do You Know Where Your Children Are"), listeners are reminded that re-animated Michael Jackson is still more emotive and interesting than anyone on the radio right now.
On the title track, Jackson sings, "When I go, this problem world won't bother me no more." If you had forgotten the King of Pop is deceased, his voice is there to remind you from beyond the grave. "Got to get away," he repeatedly insists.
For better or worse, we're obviously not letting him go anywhere.