For many artists, the crowning achievement of a successful career is to represent their country at the Venice Biennale, the bi-annual Oscars of the art world.

Adel Abidin represented Finland in 2007 with a memorable installation entitled 'Abidin Travels', a fictive travel agency promoting exotic adventure vacations to Baghdad.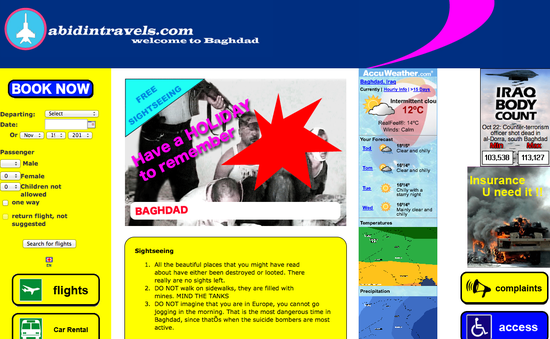 [Adel Abidin, Abidin Travels, 2007]

In 2011, the artist came back to Venice, this time representing his native Iraq, which had returned to the Biennale after a thirty-five year absence. This work, "Consumption of War," features a video of two generic corporate types fighting an absurd battle with tubes from office light fixtures ala Star Wars. The cartoonish virtual space of the office in the film is coupled with the desolate reality of brick exposed wall, which brings to mind abandoned or bombed-out buildings. Abidin's work is both "local"—particular to his experience in U.S. occupied Iraq—and "networked"—it relies upon and subverts globally recognized media codes such as advertisements, websites, and Hollywood movies.

This is a defining moment in the history of a region long characterized by repression and strife. The Arab Spring has not only radically altered the political landscape but promises to produce a blossoming of artistic production. These nascent art scenes, enlivened by social networks, have been embraced by the West and cautiously encouraged by rulers across the region. Graffiti art in Cairo, distributed on Facebook, becomes a symbol of dissent in Damascus while an Afghani art collective has gained global visibility for its visually stunning—and politically provocative—murals painted on blast walls throughout Kabul.

Western-based Arab artists such as Mona Hatoum, Walid Raad and Ghada Amer, among others, have long given voice to issues around gender, domesticity, sexual identity and political oppression.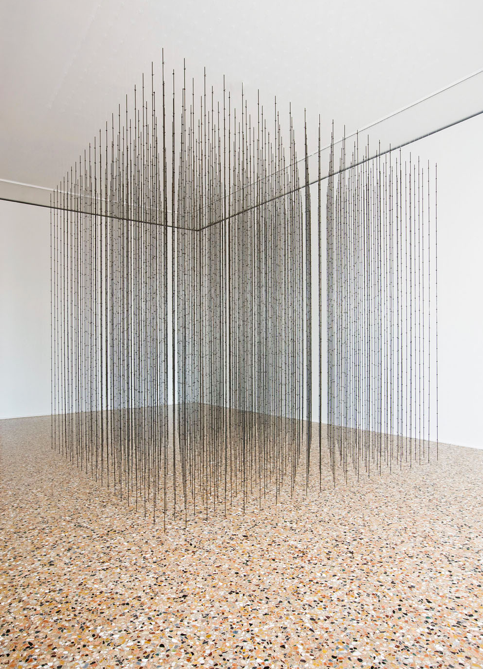 [Mona Hatoum, Impenetrable, 2009]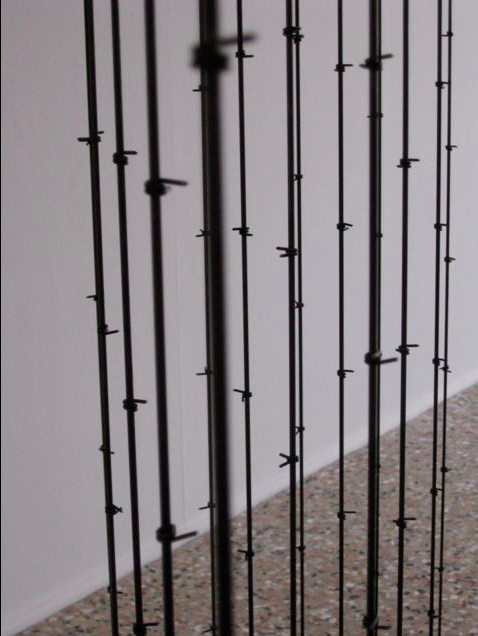 [Mona Hatoum, Impenetrable, 2009 DETAIL]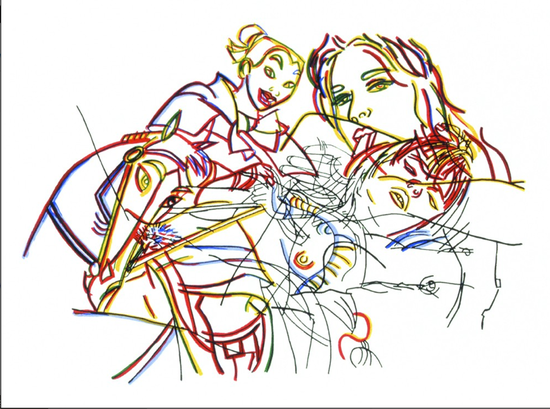 [Ghada Amer, Sleeping Beauty Without the Castles, 2002]

Emerging artistic practice confronts issues specific to the region even more directly. Ahmed Alsoudani left his native Iraq at the beginning of the first Gulf War; his paintings depicting the horrors of war draw comparisons to the work of Georg Grosz. Emily Jacir's interventions and photographic documentation reveal the complexity of the Arab relationship with the West.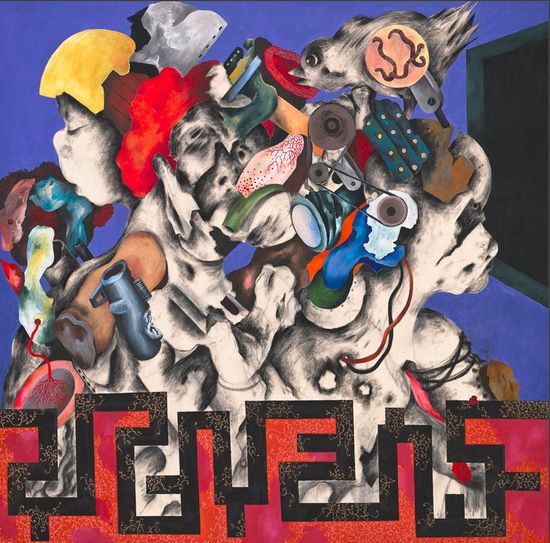 [Ahmed Alsoudani. Untitled. 2011]

As might be expected, some of the work inspired by recent events is immature. And while democratic processes are in motion, the foundational elements necessary to sustain creative production—art schools, patrons, museums—are just getting off the ground. New museums are set to open in Tunisia and Morocco, art fairs and biennials showcasing contemporary art have been launched in Marrakesh, Abu Dhabi, Sharjah and Dubai, and the first Pan-Arab exhibition debuted at the 54th Venice Biennale this past June.

Although these changes are exciting, censorship remains widespread and artists in these countries still risk harassment and imprisonment for their artistic practice; leaders throughout the region are at once attracted to the international prestige associated with contemporary art and fearful of the socio-political ramifications of freer artistic expression. As the Syrian-born sculptor Diana al-Hadid told me, "I could not make this work in Aleppo".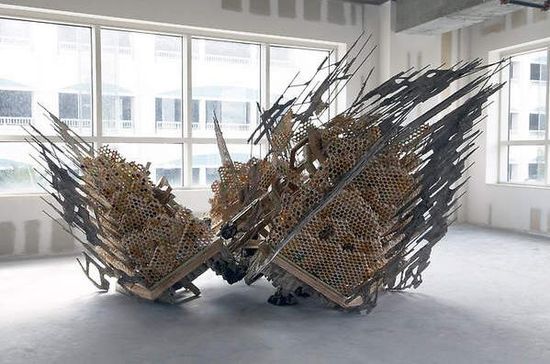 [Diana al-Hadid. Built from our Tallest Tales. 2008]

Let us hope that the international art system, by embracing these opportunities, does not unwittingly become complicit in this repression but works instead to nurture artistic innovation across the region.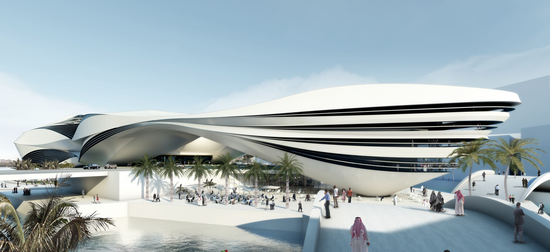 [Architectural Rendering: Museum of Middle Eastern Modern Art by UNStudio, Amsterdam]

The Abu Dhabi Art Fair. November 16th - 19th, 2011
The Indian Art Fair. January 25th - 29th, 2012
The Dubai Art Fair. March 21st - 24th, 2012