A Chorus Line opened on Broadway in 1975 to unprecedented box office success, receiving 12 Tony award nominations and winning nine of them, in addition to the 1976 Pulitzer Prize for Drama. It became the longest-running production in Broadway history up to that time.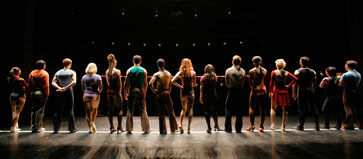 The musical is based on audio tapes recorded for 12 hours straight on a cold winter night in New York City. Fueled by wine and weed, several young Broadway hopefuls bared their souls to talk about the joys and pains of being "gypsy" performers; always auditioning and constantly rejected . Most of the show is taken verbatim from these tapes with music by the famed Marvin Hamlisch.
The show was revived in 2006. For the first time in the history of the great white way, an outside camera crew was granted access to the extensive audition process for the show about an audition process. 3000 auditions, and 450 hours of tape later, the directors of the documentary
Every Little Step
had their work cut out for them. They were also given unprecedented access to the original audio recordings that launched the show. Glimpses of this audio and archival footage from the original production are woven together with reminiscences from members of the original cast and the show's creators, along with footage from the more recent round of auditions and many fervent expressions of hopefulness from an new generation of Broadway baby wanna-bes . For a "singular sensation," the show sure is getting it's time in the spotlight. James D. Stern and Adam Del Deo, co-producers and co-directors of the documentary, talked to me recently about how the revival of a show within a show about a show easily lent itself to a documentary format.
James Stern: I felt that A Chorus Line itself is a form of documentary. The idea for the show came from watching the Watergate hearings when America put a mirror to itself to tell the truth just as what was recorded with the 19 singers and dancers verbatim became the show. We thought our film within a film was the perfect opportunity to follow thousands of dancers struggling and sacrificing knowing that 99.9 percent wouldn't make it. And the tapes could help us stitch past and present together.
Adam Del Deo: When we played the tapes the first thing you hear is Michael Bennett (the original director and choreographer) say, "It's 1974 and I want to work on something and I don't know yet if it's a show and I don't know where it starts,or ends, I just know it's called A Chorus Line." It gave us the chills just to hear that.



As you weave the past with present you are ultimately telling the story of the most recent casting....but why not follow them until opening night?
JS: It's always about following the process of who makes the show and at some point we had a discussion about following the rehearsals and the process all the way to opening night but ultimately [we realized] it's not what the show is about, and the documentary is just about what mirrors the show.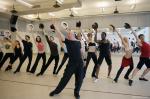 Nicely put, since, of course, mirrors are another recurring theme in the show....Why did you think the show originally became so popular?
JS: This type of exposing yourself --the confessional-- this was before Oprah. It was the first time a group of performers talked about who they were as people, and it wasn't sugar coated. It's the first real confessional in a commercial setting.
Seeing the actors this time made me realize how young they all are. When I saw the show as a little girl they all seemed to me much older, but really they are all in their early 20s.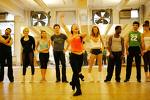 JS: Dancers have lives like athletes --they are old men when they are getting to be 28 or 29. When Kelly Bishop, the original Sheila, talks about the "other children"...she's 30 and that's the tail end of a dancer's life.

I loved the behind-the-scenes glimpses into the details that went into the show and how it evolved, long after most shows would be considered finalized and written. They completely changed the ending with Cassie getting the job instead of being dismissed.
JS: Exactly. The theme of sacrifice, of working hard and rolling sleeves to get something you want to achieve; this is what it's all about in American theater and we wanted that theme to be heavily present I love the parts when Bennett makes a small change with a big impact. It's also a great lesson for filmmakers today--he doesn't feel if he changes the end or a character he has lost his vision. He was able to re-imagine and still get his point across, which is a great lesson for us all.
Talk about the scene where a tryout for the role of Paul brings tears to the eyes of the producers.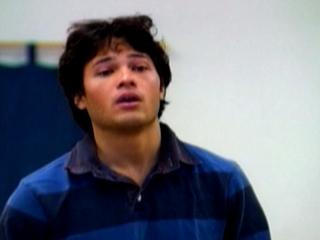 JS: That he could take those words that they all knew by heart and could finish every sentence [and make them cry]--it captures something about Broadway and acting that you can revisit over and over. Sometimes people and language are more important than the visuals and special effects.
ADD: It's just a moment you will never forget --it's lightning in a bottle. You have to shoot and shoot to capture a moment like this, but that's beauty of shooting a documentary-it's days of nothing then a moment like that.
JS: It replicates what you go through in theater and in life. There is a strong through line: things get bad to worse to better and worse again. We live in a world where what is in front of you becomes how it's always going to be. Look at Wall Street, the environment, and entertainment-- there's a cycle to it. It's a perfect metaphor for last the year.
Visually I was tickled when you went back and forth between past and present auditions-- the dancers' bodies are so different.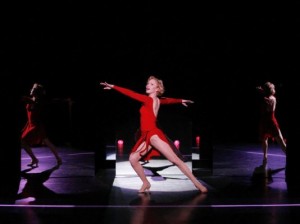 JS: Dancers are like athletes: look at the NBA in 1975. Those skinny bodies. These guys are so built today. What's unique here is that the performers have to be able to dance and sing and act. Now you have to have the triple threat to make it as a performer.
ADD: It's a matter of the economy too. Casts have to be half the size, so if you want to perform on Broadway it's got to be all three (singing, dancing and acting). And that takes lots of money [to train for] so they have to work and sacrifice and put every penny towards their goal. Just like in the song: What I Did for Love.

What do you think accounts for the unexpected success of the new TV show Glee (about a group of high school geeks who perform musicals)?
JS: I'm amused that musicals are their own brand of entertainment [now]. All I heard growing up was that it was a dying art form. So anything that gets the art into our mainstream--it's great. The show seems to be about embracing the nerdiness head on which goes back to what the [performers] talked about in their monologues.
I understand the film did well, even with audiences that weren't familiar with the original show.
ADD: The most touching moment was in Abu Dhabi. there were probably 6 people at the screening and they didn't know what a musical was: they had no point of reference. But they came up to us after the film just sobbing; they had never seen anything like it. It was amazing that you could touch people in such a different culture in this way.
The revival opened on October 5th, 2006 at the Gerald Schoenfeld Theater.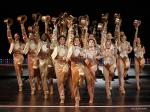 As of May 6th, the revival of A CHORUS LINE has had 245 performances
in seven months and grossed $16 million.
UPDATE 11/21: Every Little Step appears on the short list for the documentary film Academy award