"Glamping" is what I am told by my closet friends that I did this past weekend. Apparently, it is camping glamorously! If that is what it is, then that is indeed what I did!
A few weeks ago I watched a hilarious movie with my children, RV with Robin Williams (rest his soul). I LOL'd (laughed out loud for all of you non-urban dictionary people) so many times during that movie. It highlighted a busy businessman taking his family on a trip in a RV. The movie depicted many stereotypical assumptions but also got me thinking...
Later on that evening on my iPad I researched RV's. WOW! Who knew? At GORVing.com I found tons of dealers, places to go, tips, campgrounds, RV Resorts and even recipes. I have to admit I chuckled at first. I felt as if I opened the door to a whole underground world! The next day I suggested to my husband that we take a RV trip.
He looked at me with that look of "God woman what are you thinking now?" rolling his eyes and leaning against the counter knowing that he better get comfortable because I was about to go into a monologue of all the reasons why it was an AMAZING idea! It wasn't an easy sell BUT it was only for the weekend, I had laid out all of the details and even mapped out our route. So there was no rebuttal.
We found El Monte from the hub of everything RV at GORVing.com. I mean this site is the bible to RVers. Not only did we find El Monte and book a plush ride that slept 9, had a flat screen TV, pop outs on each side and all the bells and whistles. We also were able to book our overnight stays at Danforth Bay in Freedom, NH. This alone told me the stars were aligning! Freedom, NH is the very first trip Ryan and I ever took back in 2005 and WE-WERE-GOING-BACK!
Ryan picked up the RV late Thursday. While he was stuck in traffic getting the wheels home, I was stuck in traffic headed to an event at Boch's Ferrari in Norwood to unveil the new 1.5 mil hybrid. At this point, Ryan wanted to kill me. I was sending him pics of Ferrari's while he was sending me pics of the RV. I was so excited to wake the next morning and check out our home on wheels for the weekend. Truth be told, it was AWESOME! I never expected an RV to look like this. I was pumped! Food and clothes were packed, kids were all set with blankets, pillows and toys. Ryan and I had our iPads, music, him some magazines, me a book, and some adult beverages and we were ready to hit the road! I hung my clothes in the closet and put all of my belongings in the armoire. The dresser was nicer than my own! Everything was in its place and we were off!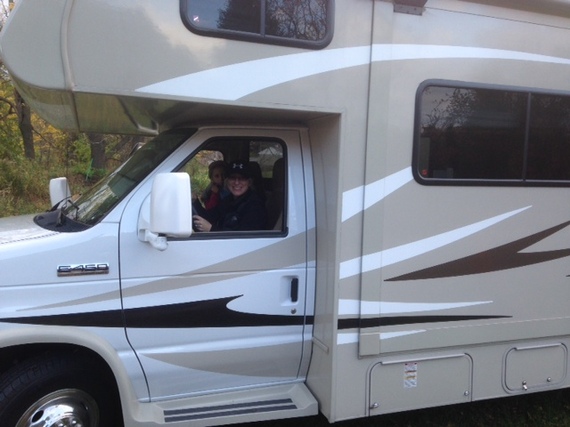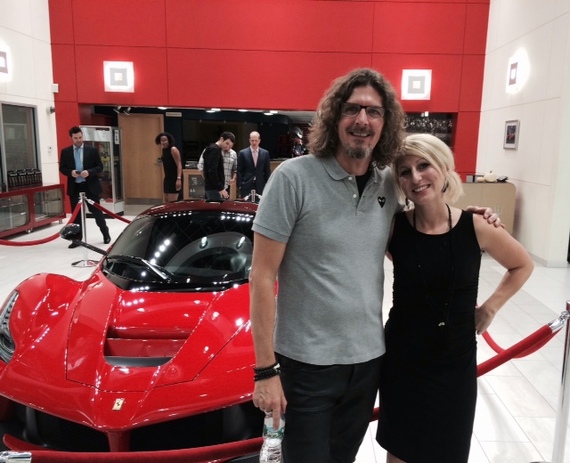 Being a mother of three kids under six I was overly excited several times to be in an RV. Potty breaks, were no problem! They went while daddy drove. When they got hungry, I made them lunch. They played, watched movies and slept. The few hour trip was a piece of cake! I could see Ryan was starting to take to this. There was no crying, yelling, stress about where to pull over before someone had an accident. We were headed to Freedom with the freedom to enjoy our experience without the ties that bind you to the little interruptions and circumstances of life.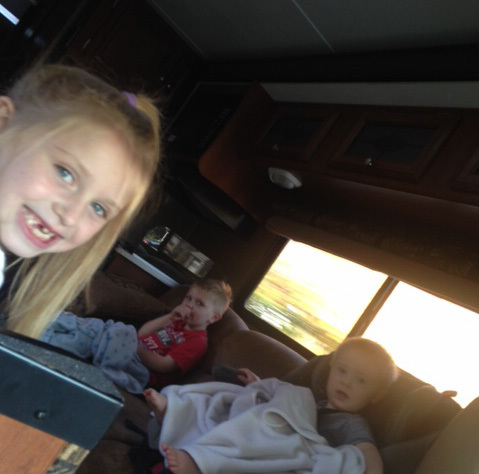 GORVing.com said Danforth Bay was a RV Resort and I was really quite curious as to what that meant. Low and behold, I had entered the underground world of camping! Everyone was friendly. There were pools, tennis courts, playgrounds, family game/lounge rooms. People had what appeared to be homes on their assigned sites. These RV's had decks, outdoor rooms, crazy sound systems for music and more! Coincidentally, Danforth Bay was hosting The RV Expo that particular weekend.
What I saw still blows my mind. Fireplaces in a RV? Come on! Central air, private bedrooms. All I could do was laugh at my own ignorance. The weekend carried on and we had a memorable weekend with our children, even with one day of rain and missing Santa's Village by one day. The RV allowed us to spend real time cuddling, playing games and talking. There was no stress about what was next on the agenda or what to do with the kids because just being in the RV at their ages was something great in itself!
On the ride home Ryan looked at me smirking, nodding his head and asked, "Are we RVers now?" Laughing, I told him I was going to go home and blow the roof off of this underground world of RVing! The freedom it gives people to just spontaneously pick up and go anywhere at any time! No need to use vacation time when you can have vacations every other weekend!
It is more economical and less hassle! There is so much beauty to be discovered in our own country but yet we pay to travel outside of our home or better yet pay to have second homes that keep us going to the same place leaving so much left undiscovered. So much experiences to be had. The places on my bucket list never looked so attainable as they do now! Not to mention that the cost to rent the RV was insanely cheaper than renting a van or a limo for football games or concerts. This was another mental note taken!! I will never, ever, EVER wait in line at a porta-potty again! HALLELUJAH! Kenny Chesney, The Patriots, whatever it may be I am going in a RV baby! I feel a girl's weekend coming on!
If you don't trust that a five foot fashion stylist that wears stilettos can convert to a five foot fashion stylist that wears stilettos, drives a RV and camps, then check out www.gorving.com
Everybody's working for the weekend and Life is a highway so just ride it all night long!