My Husband and I have taking retreats up north for the past nine years. The 2.5 hour drive from Dracut, Ma has always been a nice way to escape life's craziness. It has always been a way for us to regroup, reconnect and reenergize. Over the nine years we excitedly would load the car and head north stopping at all of "our" stops. Our Favorite Things Collectibles, the little cabin in the woods on Rt 16, has always been our first stop. The moment we discovered the place it was magical. Charlie and Mary were always so pleasant. We would be bop in and make a few purchases that tugged at our heart strings. Always leaving with a story in tow that was filed into our minds memory box. Over the years memory's grew and the importance of The Little Cabin made its way to the top of the list as to why to head north. Last year, having our three children with us we were reluctant to stop in with a 5-year-old, 2-year-old and newborn. But we could not resist. We knew this visit would be a quick one and were pleasantly surprised when it turned out to be our longest yet. Charlie had Ryan's ear as he usually did about stories of the new items the store had to offer. Ryan was always happy to chat with Charlie letting the "old-timer" re-tell his stories with such life. Mary was quick to chat with the kids and I and offer up teddy bears and other fun stuff to add magic to the little cabin for the kids. We left feeling that our bond with this special place was now shared with our children.
Words cannot explain the sadness my heart felt when we stopped by this year. We happily were greeted by Carole, the stores owner. Yay! It had been awhile, always missing her. Carole Cotton was famous for her hippie heart and her "before I die I want to... " board that she had on the front of her store. For 32 days patron made their voyage to the magical little cabin to write their dream. It became a mecca to many for that momentous month. Unfortunately, the town fined her because the board was against the town's sign ordinance and it was taken down. But the spirit that Carole, the board, Charlie, the woodworker and his wife Mary evoked was one of simplicity. A freeness that allowed one to dream without limits.
On this particular journey, Carole shared with us that Charlie had passed on. We both cried. Even Ryan shed a tear as she began telling us a story of how she had gone out to the shed to unload some more valuables and could not get the old antique deadbolt unlocked. She tried and tried, almost giving up. She quietly heard Charlie whisper in her ear, "Turn the deadbolt upside down". Sure enough the latch let open and She knew from that moment that Charlie would always be at the cabin.
The store closes up for the winter every October 1st and Carole leaves her wings in the mountains and goes back to her roots in Florida. This year I know her heart will be full driving back with 10 years of memories lighting her way. There is something amazing there on Rt 16 Conway, NH. Is it the people, the cabin, the vintage items that secretly all have a story to tell? The patrons, perhaps? Personally I know it is a combination of all of these things adding their energy to create a beautiful recipe of love and kindness that can be felt and taken away from the little cabin in the woods and that has always been our greatest purchase there... Getting something for free that is priceless!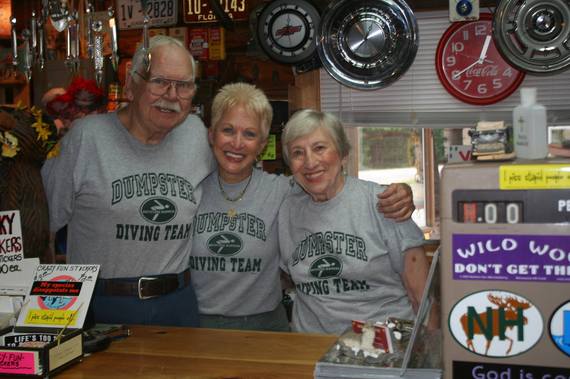 Charlie, Carole and Mary