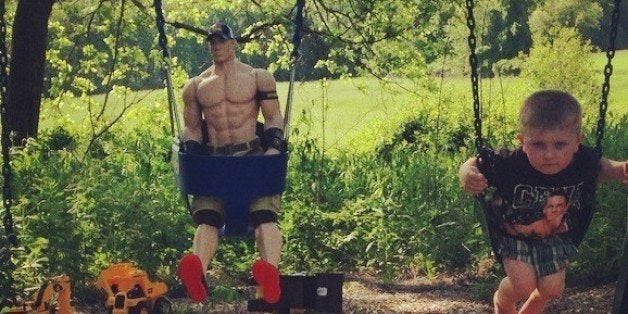 As a parent of three children under age 6 and a multi-business owner with a personal addiction to the high that charity work gives me, my life is crazy. Crazy might be the understatement of the year. My life is more like an experiment of juggling that should be documented. What keeps me inspired and calm is that I am always trying to stay in the now rather than projecting my mind to "all of the things" coming! Being in the now keeps me grounded. It allows me to enjoy special moments with my children that disappear all too soon. I am a very hands on parent who wants to raise my children to be amazing people. I am always listening to what message is being delivered to their minds through television, books and music. When my 3-year-old started singing John Cena's song "You Can't See Me" and acting out his wrestling moves while throwing up signs that at the time seemed like a gang signal, I was curious. It was hysterical to see a toddler having the know-how to portray another person's attitude and demeanor, but as a mom, I wanted to investigate on my own. Who was this John Cena and what is he all about? Was my son looking up to a person that delivered a positive message? Where is this all going? Was it just play?
Over the next few weeks I found myself watching wrestling with Mack. Never did I imagine that I would enjoy these moments so thoroughly. Listening to Mack tell me all about each character with such excitement was amazing! The information that he had retained from this one sport wowed me, but I was still feeling uneasy because of the violence that the sport promoted. As the weeks passed and Mack's love continued to grow, I continued to watch it without feeding into it positively or negatively, mainly because I want my children to develop into their own true selves without my leading them to who I think they should be. I am always there to guide but even at an early age their likes and dislikes are important and I am wise enough to know that this like was deeply-rooted. Watching it more and more Mack would highlight the matches, saying things like "Don't worry, mom, they are not really punching each other." OK! That made me happy that he was able to distinguish that. The love for John Cena continued to grow. Every morning Mack would wake up and immediately get into character. He would change out of his pajamas and put on his army or khaki shorts with a Cena shirt to only head down stairs to rip it off throwing the signs up as he entered the room as if a crowd was cheering on his attendance at the breakfast table. I started to enjoy using this as a parenting tool because it held so much weight.
"Mack, eat your veggies! John Cena eats his veggies!"
"Mack go to sleep. You need to get rest so you can be strong like John Cena!"
It worked every time! Not only was John Cena an awesome tool to use to get Mack to make healthy decisions, but John's message was/is why I personally have grown to love him. His arm bands, T-shirts and hats say things like Stop The Hate!, Rise Above, Even Stronger!, & that signal that my family has come to know so well represents Hustle, Loyalty & Respect -- my personal favorite.
My husband, Ryan, and I have learned to utilize our children's likes and dislikes as learning tools for some of life's important lessons. Through Cena's actions as a wrestler in the WWE and motivating messages, instead of saying "Let's go" and repeating ourselves 1,000 times we simply say "Hustle!, Hustle! Hustle!" There is no time like the now! Why wait? Hustle! Get to it! As they get older, I will teach them about staying loyal to who they are and not selling out! That there will always be people for you and against you. You may not always agree with people, but you respect that everyone has their own thoughts and opinions and is on their own journey. You don't have to jump your own ship and become some one you are not, as in Cena's case. There is a reason why people dislike Cena, he is the good guy! He is a 15x Champion, has given the most Wishes to Make a Wish Foundation. He hustles year after year dedicated to his dream, He is loyal to his true self and his family and he respects the authority of it all (in and out of the ring). John Cena is not only bright when it comes to being, as represented in his song "You Can't See me" with lyrics like "A man's measured by the way he thinks," and "I got my soul straight... I spent 20 years seekin' knowledge of self," but he is a brilliant businessman and that is why "He is what's good for business!"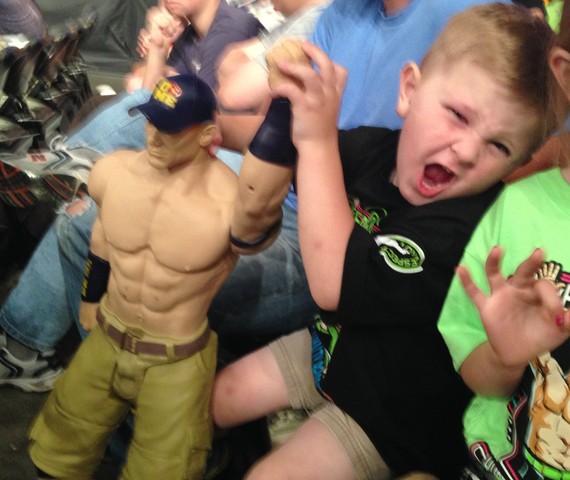 We recently had the opportunity to attend The Money In The Bank Show in Boston, Ma. As a women that grew up with no brothers I had no idea what to expect. I was extremely surprised! I left with respect for the wrestlers. They are amazing stuntmen, athletes of the arena that put on a nail biting show. t was as if I was watching The Superbowl and Broadway all at once. It was charged, motivating & engaging. Priceless moments for a mom watching her children's eyes light up as they realize dreams do come true! Thank you, John!