I like challenges. I like solving problems. I want to make a difference in the world. As the leader of Christian HELP and the Central Florida Employment Council, I have a unique platform to talk about the jobs crisis with employers and job seekers. I enjoy the conversations and we, as an organization, strive to do all we can to make the employment process work on both sides of the fence, for the employer and the employee.
Often times, I shake my head as I attend numerous meetings with many well-intentioned people that produce either little results. Or I look back at how money is being spent and I just can't make sense of it. It is time for us to become more strategic. It is time to let down our guard and share ideas. It is time for us to work together for change.
As Christian HELP, we took a look at programs nationwide and their best practices as we tried to fill the gap between what employers want and what job seekers have. Many of the organizations we looked at are part of the JobRaising challenge. (See out page and help us out at http://www.crowdrise.com/cfec-jr).
Through many conversations and surveys, it was determined that many job seekers are not getting through to employers because of their lack of preparation and job search skills. This even translates to some professionals. I do understand that on the flip side, some employers are not well prepared either. I have heard many cases of job seekers who felt the interviewer was not knowledgeable or even professional.
We as an organization can help many job seekers. In our 21 years, we have connected more than 91,000 people with jobs. We offer a variety of employment services including coaching and counseling, jobs skills classes, job fairs, resume assistance, an online job board, and a food pantry. We can't do this alone.
As a community, we need leaders to respond to the need. We need to understand that it is crucial to ensure that our communities are thriving and wonderful places for families to live, work, and raise their children, but at the same time we need to not dismiss the poverty and reality of what unemployment and underemployment do to our economy.
Two years ago, a team from CBS 60 Minutes came to Seminole County, Fla., to film what was being billed as "the new face of homelessness." You can see the video here. A group of community leaders came together at the urging of the Edyth Bush Charitable Foundation to solve the issue of hunger in the school that is just two miles from my office. Seven churches, Jewish Family Services, Casselberry Elementary, and civic clubs came together. They mayor of Casselberry came in as a volunteer rather than a government representative. The first meeting of the minds started with a discussion that ego, politics, and agenda needed to be laid aside so we could achieve the goal of helping the kids.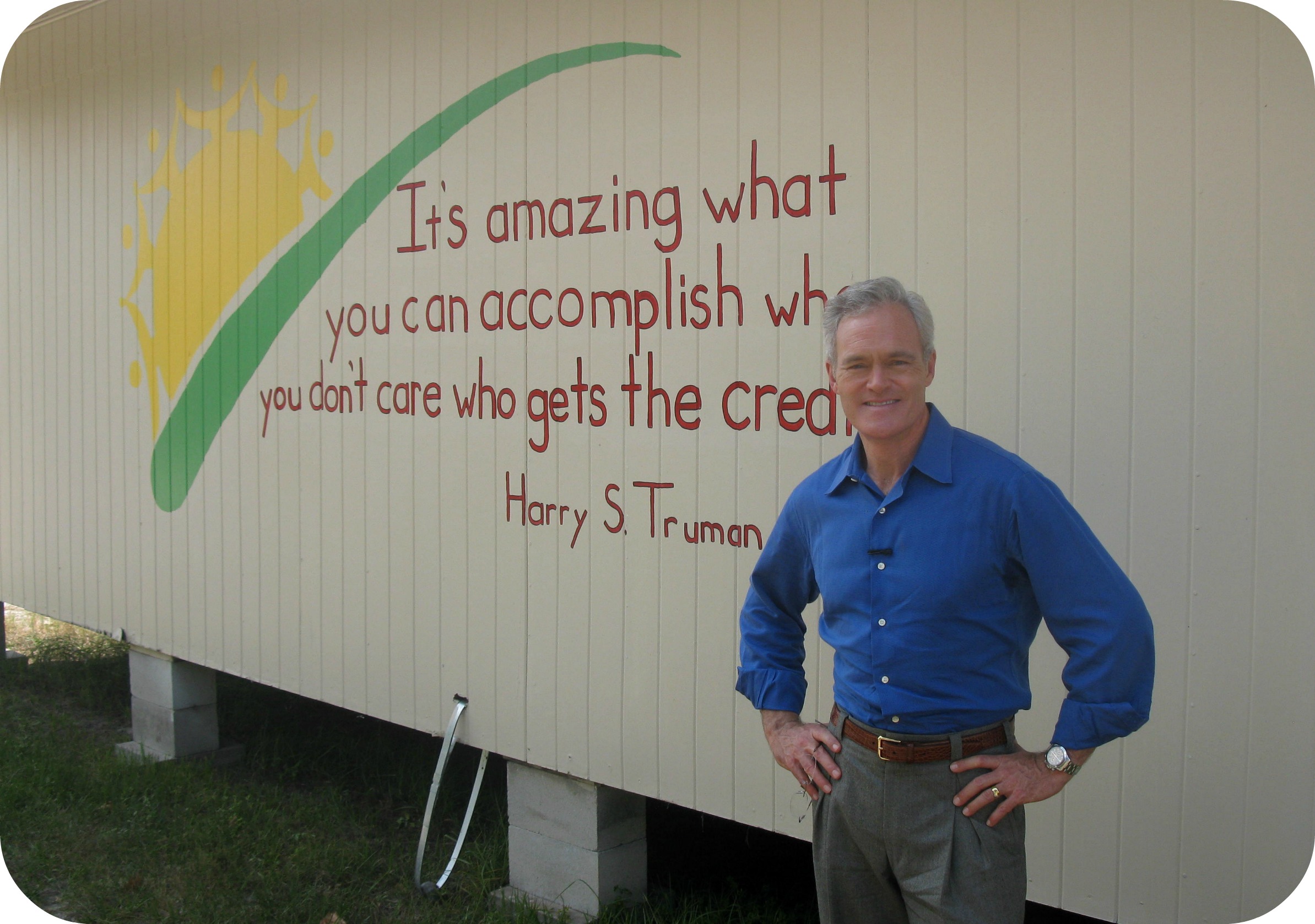 Scott Pelly, CBS 60 Minutes, outside the Care Cabin at Casselberry Elementary ' Photo by Andy Searles
Fast forward two years, and the Casselberry Community Task Force has seen many positive results toward the goal of making sure no child is hungry and homelessness is prevented. The school board generously allowed us to renovate an old portable and run a "Care Cabin." The community stepped in to help renovate it. Home Depot, Target, and others have helped establish a community garden, and churches provide community dinners. Christian HELP serves families for their employment needs and runs the pantry at the Care Cabin. AmeriCorps VISTA is helping to build capacity by hosting a VISTA at the site.
The results are profound. The school, very transient, and with a high poverty rate (67 percent free and reduced lunch), has seen an impact in the ability for students to learn with their bellies full. Additionally, the mentor program the task force established has helped the school move from a C school to a B. Parents have food assistance as well as many other resources available.
This is just an example of how a community can work together to solve problems. The lack of jobs produces stress for families which translates into stress for their children. Helping families to find jobs, helps them to contribute to the economy which in turn helps the government and organizations to spread their resources to others who still need help.
It is time for more people to come to the table. It is time for good discussions to take place that include the working poor and the unemployed. Instead of making it more difficult for people to find help, we need to invest in what works. (I just saw that Arizona is talking about drug testing the unemployed -- that is not a solution! In Florida we were wasting taxpayer dollars drug testing welfare recipient and it was not shown to be a good use of dollars.)
If you would like to invest in a resource that is working, please donate to Christian HELP at http://www.crowdrise.com/cfec-jr.
Visit us on facebook https://www.facebook.com/ChristianHELP
Follow us on twitter http://twitter.com/Christian_HELP