Most people I know have, over the course of their lives, come upon a place here on Earth where they just feel like they belong more than anywhere else. Where a spa day is not needed to soothe the soul and nothing beyond a simple stroll is needed to kick one's imagination and wonder into hyperdrive. Where the food and drink suits perfectly and one naps and sleeps like an infant just because the air there is "their air."
My place is the one square mile artist's colony of Auvers-sur-Oise, France. Just about 20 miles outside of Paris, it is one of the most beautiful and historic places in a country jam packed with beautiful and historic places.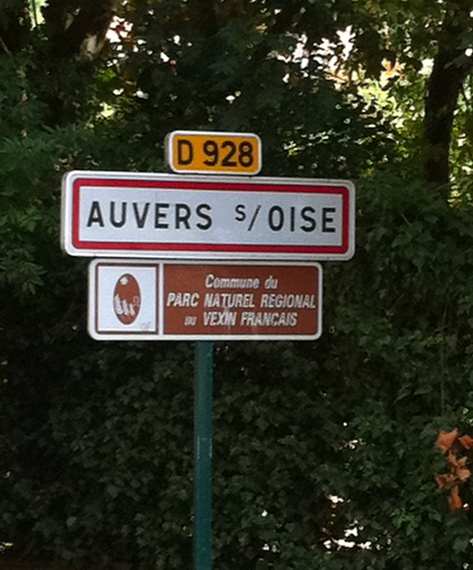 Auvers (as it is generally referred to) is famous for the fact that it inspired a legendary series of artists, most notably, Daubigny, Corot, Cᅢᄅzanne, Pissarro and of course, one Vincent van Gogh (I'm particularly fond of that last fellow, as we know).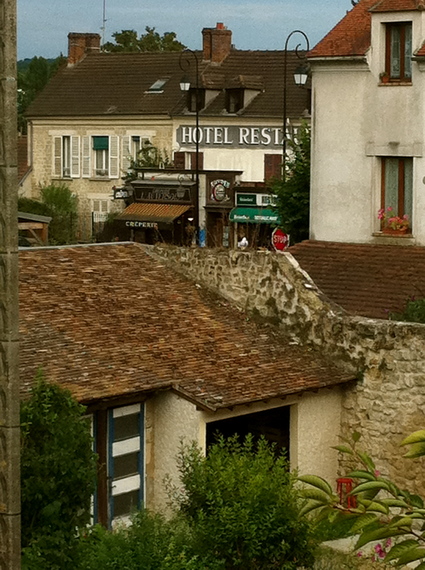 On the surface -- especially on generally lousy tourism websites and what have you -- Auvers doesn't seem all that special. It appears to be a very common and a very average small town, with two bakeries, some restaurants, a couple of hotels, a church and a castle. (Some -- but not all -- mention that there's some sort of connection to Van Gogh and others). All quite nice to see, but not amazingly different from what can be seen elsewhere in the French countryside.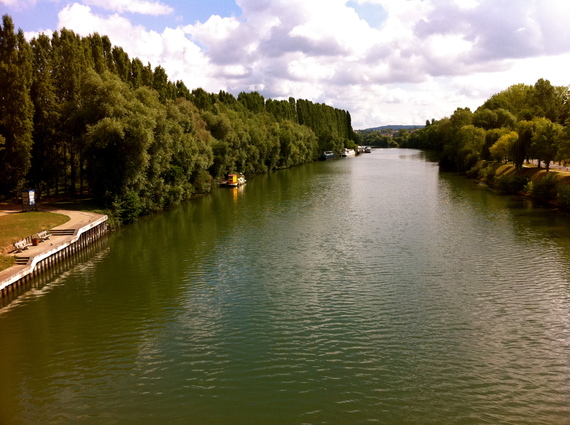 But upon setting foot in Auvers -- as I first did several years ago -- it becomes very clear that the experience there is not so much about seeing as it is about feeling. The sound of the wind in the historic, and now protected wheat fields where Vincent painted and ultimately took his life. The River Oise and its green water reflecting the crowded banks on sunny Saturdays. The numerous pilgrims on their way to the Van Gogh tombs with handheld devices at the ready (Vincent's beloved brother Theo rests alongside him in one of the most simple but beautiful cemeteries I have ever seen). And of course the generous weekly outdoor market and its fresh fruit, vegetables, fish and game. It all combines harmoniously to form a warm and picturesque whole, that has kept its authenticity whilst embracing modernity throughout the century of fame that Van Gogh gave to the village when it unexpectedly became the final destination of his earthly journey.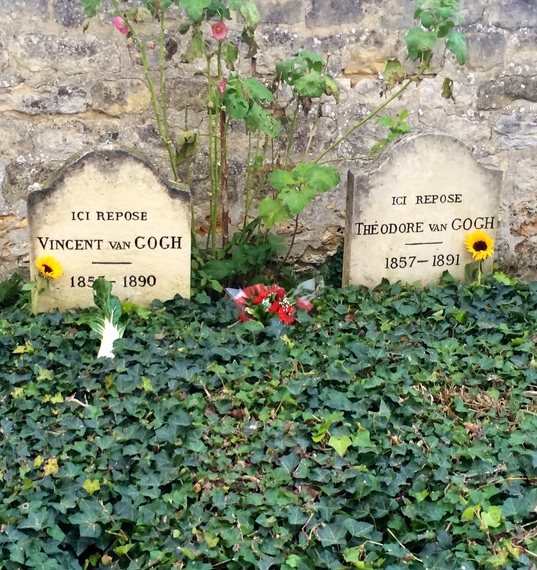 The 2014 tourist season is a particularly important year for the Van Gogh legacy in Auvers. The Paris Region Tourist Board (representing the top international tourist destination with 14.3 million annual arrivals, including more than 1.3 million Americans), supporting the Institut Van Gogh and all of Auvers, has just launched a special program, "In the Footsteps of Van Gogh" to direct more of these tourists the little town. Joint entrance tickets allow the visitors to discover great locations such as the Absinthe Museum, the famed house of Dr Gachet, Daubigny's studio and of course the Auberge Ravoux, where the Dutch painter lived, worked and eventually died. Not to mention the locations where Vincent painted his last 80 or so paintings, most all of which appear exactly today as they did to him.
So if you want to go, there is no better time than now.
Of all the places of interest that Auvers has to offer, the Auberge Ravoux, locally known as "the House of Van Gogh", is by far the most moving and authentic to me. It still is as it was back in 1890, when the Ravoux family welcomed a peculiar man who would go on to become its most famous guest, Vincent van Gogh. The dining room, the staircase and the 70 square foot room where he stayed are in their original condition and allow visitors to experience what the artist saw, touched, heard, smelled and tasted. The place is frozen in time, and deeply moves those who visit. The menu serves the same fare that Vincent dined on and it is, in the estimation of many, one of the great kitchens outside of Paris.
Far from being a mausoleum (even though Vincent's funeral was hastily held in the dining room), the inn is a place of life. As Paul Betts wrote in the Financial Times, "The little attic room where Van Gogh died is so dingy, so tragic, so poignant that it leaves you slightly drunk at the thought of finally beginning to understand the inner torment of an extraordinary artist."
Dominique Charles Janssens, the Chairman of the Institut Van Gogh, who has dedicated more than 25 years of his life to the patient restoration, preservation and development of Van Gogh's last abode, dreams of turning Van Gogh's room into the smallest museum in the world by bringing back 'home' one of the Auvers paintings to hang forevermore in the very room where it once dried. Janssens indicates that by doing so, he will be fulfilling a dream which Vincent never realized during his life.
"One day or another, I believe I will find a way to have my own exhibition in a cafᅢᄅ."
-Letter from Vincent van Gogh to his brother Theo, Auvers-sur-Oise, June 10th, 1890
Folks close to the Institut Van Gogh, housed at the Auberge Ravoux, seem quite positive that they will be able to hang a Van Gogh painting in Vincent's room for the 125th anniversary of the painter's death in 2015, likely with the support of an American patron (most French treasures outside of Paris owe their survival to American philanthropy -- the Monet House perhaps being the best known among them but that's another column altogether).
I asked Janssens about it and he was surprisingly candid. "In fact, there is more than one patron wishing to associate forever with Van Gogh's dream, but there is only one wish to fulfill. We're considering our options and taking our time to decide with whom we want to build the future of this wonderful place -- the opportunity is truly once in a lifetime because a smart benefactor can leave a legacy here that will live forever -- in importance on par with the Frick or the Getty, but with just one painting" he said.
So even if you can't make it out to celebrate Auvers "In The Footsteps of Van Gogh" during the 2014 season, there may be some even bigger suprises to come. But, one day, do go. You may not find that it is your "place," but Auvers will move you, I promise. And be sure to swing by the Auberge Ravoux and ask for Dominique Charles Janssens. He's as special as the town itself, which you will learn quickly if you're lucky enough to catch him in the house. Trust me.