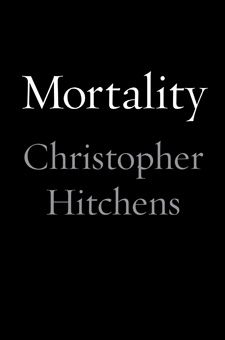 "Like so many of life's varieties of experience, the novelty of a diagnosis of malignant cancer has a tendency to wear off. The thing begins to pall, even to become banal. One can become quite used to the specter of the eternal Footman, like some lethal old bore lurking in the hall at the end of the evening, hoping for the chance to have a word." - Christopher Hitchens, Mortality
"Christopher's charisma never left him, not in any realm: not in public, not in private, not even in the hospital. He made a party of it, transforming the sterile, chilly, neon-lighted, humming and beeping and blinking room into a study and salon. His artful conversation never ceased." - Carol Blue, Mortality (Afterword)
Despite having had a number of friends in common and an intense appreciation for the man in general, I never got to know Christopher Hitchens. In late May of 2010, I was preparing to remedy that, as word came that he had cheerfully agreed to allow me to host a luncheon for him in my office in Washington. We were to celebrate the release of his highly anticipated memoir, Hitch 22, and I was positively geeking over it.
With the shock diagnosis of esophageal cancer a few weeks later as he had just set out upon the promotional tour, the planning stopped and the excitement turned to sadness and concern. I followed news of his condition from friends, but couldn't bring myself to read what I imagined then to be the deeply grim, real-time essays he agreed to write for Vanity Fair documenting his struggle. In general, I find it increasingly difficult to pick up an issue of Vanity Fair lest the vapid get on me -- there is that -- but I think deep down, I just didn't want to think about it. I didn't want to be forced to ponder a Hitch-less world to any further degree than I already was.
Now, nearly a year after his death, comes Mortality -- a 104-page collection of the aforementioned essays plus a chapter's worth of fascinating jots, reminders and musings for future columns that were never to be. Having recently read in a UK newspaper the simple and extraordinarily beautiful Afterword included in it penned by his wife Carol, I really wanted to read it. So when I came across it whilst shopping for old art books in New York City last week, I snapped it up.
I am not a very fast reader, particularly when it comes to writers like Hitchens, whose words I want to savor and style I frequently stop to marvel or gawk at, but I got through the book and had a good bit of time to reflect on it all over the course of the train ride back home to DC (Ha! DC -- where there is certainly not a lot of gratitude or blessing-counting going on -- at least on my part or in my part of town). How we all can benefit at least some from the priority-check that comes with an eloquent inventory of what Hitchens dubs "a very gentle and firm deportation, taking me from the country of the well across the stark frontier that marks off the land of malady."
So then, Mortality is not just for Hitchens' fans, but for all. He didn't have to share this stuff. He didn't have to pay mind to either the kind or the ugly Believers all but placing bets on when he would abandon the Atheism that he so passionately defended throughout his life, but he does here in great depth and, of course, cheek.
Alas, he does. With almost unimaginable clarity, grace and wit, even for the master wordsmith we had grown used to. We see here a very warm and thoughtful human being. Poignant and deeply personal thoughts on the art of writing and the heartbreak of losing his unmistakable speaking voice during the course of treatment. The humiliating physical realities that come with the disease. And so forth.
Deeper thoughts like re-thinking and firmly rejecting the old adage "that which doesn't kill me makes me stronger" to lamenting the "lethal stupidity" of those who strive to forbid the use of already existing embryos to fight diseases like cancer and alleviate human suffering abound as well.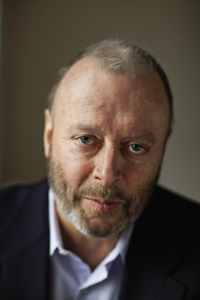 But some of the most insightful -- and dare I say instructive -- pages are devoted to his very real desire to beat the narrow odds and survival, in spite of the fact that all along he was under no guises that such a thing was unlikely. "The thing about Stage 4," he recounts saying on occasion in response to inquiries about his progress, "Is that there is no stage 5." In these passages, one finds a level frankness and a writing generosity (for lack of a better description) the likes of which I am not sure I have come across before.
And all of that is but a glimpse. From this tiny volume comes much, much more.
I would be severely remiss not to mention perhaps the clearest and most revealing portrait of the man and the element that makes this gift extra special: the previously mentioned, magnificent Afterword by his wife Carol Blue. "My husband is an impossible act to follow," she writes, "And yet, now I must follow him. I have been forced to have the last word."
And what a last word it is. Carol's love and admiration is palpable and if it fails to leave you deeply moved, you are likely immovable.
The furthest thing from grim, Mortality is a gift. Not just from Christopher, but from Carol as well. Do pick it up.
Photo Credit: Brooks Kraft/Corbis