"Twenty-one years after his death, Freddie Mercury is still very much alive. He influences and enlightens new generations of musicians and fans alike. He will always be unique. He will always be the greatest - and he will never, ever be boring. And now I want to cry." - Rhys Thomas, from his essay in the accompanying booklet to The Great Pretender DVD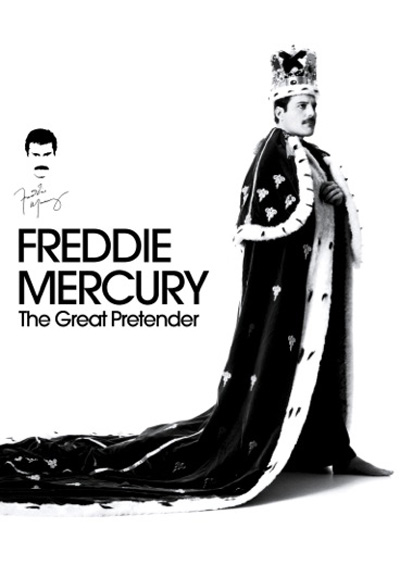 Artist Farrokh Bulsara covered an awful lot of ground in the 45 years that he was with us.
He is best known to the world as Freddie Mercury -- the flamboyant, charismatic frontman and lyricist of the iconic rock band Queen -- but there is much more to the man which, until now, was available to and appreciated by only those closest to him and a relatively small army of his most passionate devotees.
Enter Rhys Thomas. The English actor and comedian / director and producer is perhaps one of the most devoted and knowledgeable experts on all things Queen, and has devoted his eighth Queen-related film project to not just Freddie Mercury and his life with Queen, but indeed to Farrokh Bulsara, the man and the artist, in the just-released DVD "The Great Pretender."
In it, we see the fruits of a great and unprecedented effort, wherein Thomas and his crew have gone back as far as 1976 for extensive and in many cases previously unseen footage -- in-studio audio and video with Rod Stewart, Michael Jackson, and of his great collaboration with Soprano Montserrat Caballe for example; interviews ranging from bandmates and collaborators to friends to lovers; and personal and family material which sheds new and much-needed light on what was truly not just one of the greatest artists of his time, but clearly a treasure of a human being.
In the nearly 31 years that have passed since Mercury's shock death from AIDS, appreciation for Queen as a band has steadily risen via a plethora of fine books, films, re-mixes, tributes and even a few ghastly appearances featuring two of the three surviving members with insulting vocal stand-ins ("Queen + Adam Lambert?" Jessie Fucking J at the Olympics?! Oh, how I digress...I'll write that one though...)
But there's really never been much of a sole focus on Farrokh/Freddie and his broader personal legacy. This, thanks to Thomas & Co, has now been remedied. The record is complete. "The Great Pretender" is not just for Mercury or Queen fans, but for anyone who loves music and appreciates great tales of a great man with a big, beautiful heart.
And now, Mr. Thomas, I want to cry. Thank you.