Sometimes it's easy to sit down in a restaurant, order, eat and leave without really thinking about what really goes into making that experience a memorable one, and there's nothing wrong with that. A good restaurant should make you feel welcome, serve you good food and drink and leave you feeling satisfied and wanting to come back. A great restaurant should make all of that seem effortless.
Last spring, Contigo (in Austin, Texas) asked me to create a series of short films to help tell the story of their restaurant. Contigo is a fascinating mix of rustic fine dining (all their charcuterie is made in-house by Chef Andrew Wiseheart) and a Brooklyn beer garden and in the year that they've been open, they've become an Austin institution.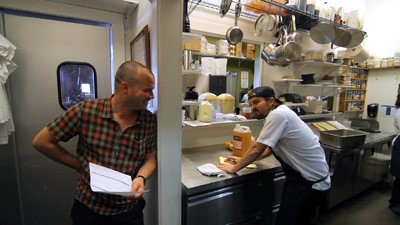 The restaurant is modeled after co-owner Ben Edgerton's family ranch in South Texas and he stresses hospitality and community to his staff on a daily basis. It was those ideas that Ben wanted to feature prominently in the short film series.
The first film we decided to make was a day in the life of the restaurant. We shot for 21 hours straight (their pastry chef, Kendall Melton, gets there at 6am to start baking bread and making desserts) and came away with a short film that will be familiar to anyone who works in a restaurant, but I hope, an eye-opener to people who visit restaurants without really thinking about everything that goes into that meal they're eating.
You can see all of the Contigo short films on Food Narrative.