The second entry in my Staff Meals series features La Condesa in Austin, Texas. Executive Chef Rene Ortiz wanted to bring the flavors of interior Mexico to Austin, a city primarily known for its Tex-Mex cuisine. "Having the opportunity to change how people view Mexican food in Austin was a fun challenge," says Chef Rene. His work earned La Condesa a nomination from the James Beard Foundation for Best New Restaurant in 2010.
In the first installment, shot at Houston's Uchi restaurant, I profiled a place that went out of its way to bring in fresh ingredients for each Staff Meal. At La Condesa, they go for a different approach, utilizing the "trim" from each night's service to create the staff meals the following day. In all restaurants, there is something left over at the end of a service and La Condesa tries to minimize this waste by taking that food and creating something new out of it.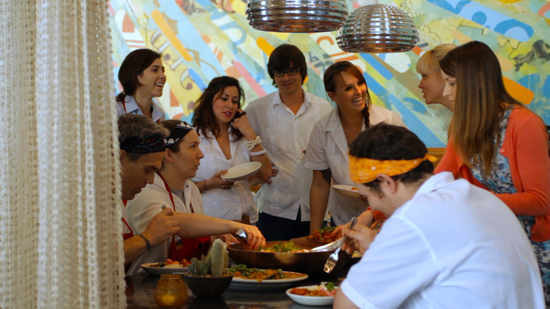 This technique forces the staff to get creative with each meal, making the most out of what's available to them. Executive Pastry Chef Laura Sawicki says, "Everything we purchase has to go to feeding someone in some way, and they definitely learn that from cooking Family Meal every day."
Visit Food Narrative to see more of my food films.