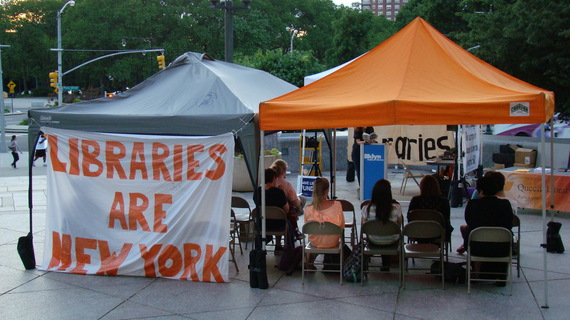 There you are, boldly standing up for libraries in your community. You are part of a solid day of reading, a full 24 hours of it, voice after voice going on in a constant stream around the clock, each person taking it in 15-minute shifts to read. You are standing proud in front of the magnificent Brooklyn Public Library Central Library, your voice stridently going out into the action and excitement of a New York City night. You are making a difference and adding your small note to the grand symphony that is the greatest city on Earth... then that carefully prepared poignant piece by your favorite author EVER is done, and you nailed it, annnnnnnnd you still have five minutes of reading time to fill. The pulse of the Read-In has stopped while you held its heart in your hand and you are watching as panic starts to set in. The intimate crowd suddenly looks huge and that webcam that is going out livecast feels like CNN.
Have no fear, we've got you covered. Reach for The 24-Hour Read-In Emergency Bookshelf.
This is the small collection of ready reading materials we keep on hand for when Everyman (or Anywoman) is caught out in the spotlight at an all-night reading event. It is a small list because too large a library will freak them out all the more. These are what we picked as our go-to books after literally four solid days of live reading. You too can sign up to join us for the reading long haul here. We still have reading slots open.
The Oxford Book of English Verse - This is our No. 1 reached for emergency book. You can literally open it up and start reading and you will be good to go. This is very popular with organizers as you tend to do that exact thing when readers flake (in a delightful way), and walk away from the podium before their time is up. It is easy enough to dash up, grab the OEV and start reading whatever is on the page in front of you to keep that reading going.
World Book Encyclopedia: Volume L - Encyclopedias are great for short self-contained entries that people can read to fill minutes. We like the World Book because it is such a great universal encyclopedia, a family encyclopedia really, which makes it easily read from and easily accessible. Of course each year at least one wiseass librarian reads from the Scholar's Edition of the Encyclopedia Britannica but that usually is reserved for the wee hours. We go with Vol. L because that is where all the library entries are naturally.
Wordsworth Dictionary of Biography - It is always fun to hear about famous people from history and, again, these are tiny short little bios which fit well in a short space. This one is a bit older which makes people reach back into history rather than rehashing pop references (refreshing for organizers if nobody else).
Armloads of Kids Books - It is surprising how many people show up to read to kids without a book in hand. Granted, we ARE having our event in front of one of the largest libraries in the United States. Unfortunately for them we are holding the event hours and hours before the library is actually open on Sunday. We get families who just park for ages during family storytime and 15 minutes is a long time to do picture books. We break our own "small bookshelf" rule during family storytime. This is the time when it is good to have options. This is not the time to read:
The Complete Stories of the Brothers Grimm - Again, this is NOT for family story time. It is to creep the bejeebies out of people at 4 a.m. when they are tired as hell and the weather has gotten through the layers of clothing and the only thing that makes sense is that hypnotic reading voice. The city seems strange and you are exhausted but keyed up on coffee. Suddenly those old German folktales from the Black Forest have a whole new vibe.
Join us for all of the fun, the horror, and the excitement that is the 24 Hour Read-In THIS WEEKEND June 7 & 8 from 4 p.m. to 4 p.m. (festivities kick off before the reading at 3:30). We are going to have a marching band to kick us off, do a tribute to our friend Ned Vizzini, and dogs to be read to by kids on Sunday. It's going to be a blast. Reading slots are still open.
Stand fast and read for libraries in New York City. We are calling for an additional $65 million for library funding which will allow six-day library service across the city.
3:30 p.m. Sat June 7th, Rude Mechanical Orchestra, Balloon Banner Lift
4 p.m. Sat June 7th, Reading Begins With Notables
5-7 p.m. Sat June 7th, New York City Authors
7-8 p.m. Sat June 7th, Ned Vizzini Tribute
12-2 a.m. Sun June 8th, "Dark Hours" Erotica
2-3 a.m. Sun June 8th, Ghost Stories
9 a.m. - 1 p.m. Sun June 8th, Family Story Time
3 p.m. - 4 p.m. Authors & Notables