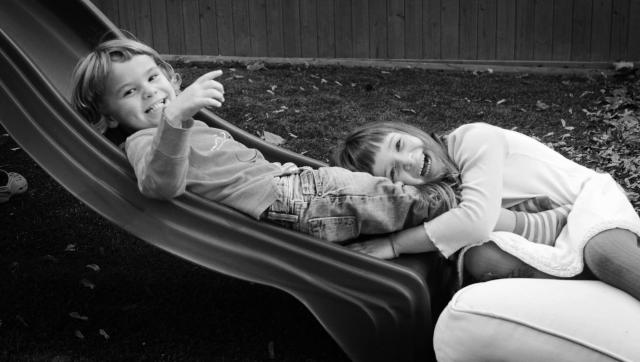 Wednesday Facebook COO Sheryl Sandberg launched the new social network LeanIn.org devoted to helping women encourage each other to "lean in" to their careers. This week and going forward, HuffPost Women will be featuring posts from women reflecting on the moments in their careers when they "leaned in" -- pursued their ambitions despite their fears -- or "leaned back" -- focused more on other aspects of their lives so that they could lean in with more energy later on.
When my daughter was born in 2007, I considered myself lucky to be able to stay home with her while my husband bore the brunt of "bringing home the bacon." Sure, the idea that I'd move so easily into a 1950s ideal of staying home with my kids while my spouse supported our family made me question my dedication to the ideals of feminism. But truthfully, it was an easy decision. I had been teaching first grade through Teach for America for a year and was happy to move the focus from working outside the home to my growing family. After all, staying home with a newborn would be a piece of cake, right? I thought the baby would be like my newest accessory -- she'd accompany me on trips to Starbucks and would coo at me from her stroller while I worked on my blog. How wrong I was. My beautiful daughter was as colicky as they came. In fact, a gastroenterologist told me, with a look of pity in his eyes, that she was suffering from both colic and reflux.
Thanks to a supportive pediatrician, we made it through her colicky phase, enough so to welcome another baby into the world. Our son, born 23 months after our daughter, was the opposite of his sister. Laid-back and easy, he started sleeping though the night at seven weeks. We eased into a routine: dropping my daughter off at preschool, followed by a jog along the beach with my son in the stroller and then any number of errands that always needed to be attended to -- whether it was going to Target to stock up on diapers or heading to the dry cleaner for the umpteenth time to pick up my husband's freshly starched shirts. Sounds idyllic, right? Wrong. I quickly tired of spending my days checking off items on my "to-do list" and started to wonder what else was out there. I had dreams of returning to my pre-baby career as a fashion editor, but wondered how I could. The fact was that while I was spending my days in Mommy and Me classes, my colleagues had stuck it out in an unforgiving industry known for long hours, low pay and high stress. But they were reaping the rewards: Many of the women that I had been in the trenches with as assistants were now directors.
I plotted my return, and after many interviews (where I didn't wear my wedding ring and abstained from mentioning my husband or kids for fear of being deemed disqualified due to my family responsibilities), I scored an amazing gig as an online fashion editor at a Conde Nast publication. I found myself back in the hallowed halls of 4 Times Square ten years after my very first foray into the fashion industry as an assistant at Self magazine. After a year there, I left for a position at The Huffington Post. And what a journey it has been: surrounded by innovators and at the forefront of the latest developments in technology and social media, as well as the brightest journalists and reporters. I reveled in my surroundings.
Though my boss and team are incredibly supportive, the fact of the matter is that as a 24/7 news organization, there are constant demands that must be met. Without realizing it, my life had become ruled by my Blackberry. Each time I'd look at my phone, I'd have at least 20 new emails. My day started at 7 am with getting my kids ready and off to school, and as I pushed though my son's preschool doors, I'd already have my head deep in emails. Forget having coffee with the other class moms to discuss upcoming science lessons, or even signing up for class snack -- those duties were too much on top of my already overwhelming schedule.
This has all come to a head at the same time as Marissa Mayer's work-from-home maelstrom. A year ago, the idea of working from home would have been a pipe dream. But the more I read the fervent responses to Marissa Mayer's edict that employees must report to the office, the more I realize that I am not alone in yearning for a work/life balance.
So, as much as I hate to do it, I am leaning back. Let me be clear about what I mean by that: I love my work, and I adore the supportive team of women who guide me each and every day. But I'm taking stock and figuring out how I can do my job more efficiently. I'm making conscious choices about when I work and when I don't. I dedicate after work hours solely to my family. I don't answer emails on the weekend. I still file the same number of stories and do the same volume of work, but I'm not killing myself. And I'm realizing I don't need to. I'm no longer 22 years old with a burning desire to spend all hours God sends in front of my computer. I did that: I spent my 20s working at Elle and Harper's Bazaar where our days ended at 10PM, and spending Saturdays haggling with international couriers to ensure deliveries to fashion shoots wasn't out of the ordinary. But I've grown out of that phase of my life, and my career should echo my personal evolution.
As a result, my dreams to be a CEO have become much more realistic. Instead, I dream of attending my daughter's ballet class once a week and picking my son up from school a few times a week while continuing to work on things that I'm passionate about. Make no mistake: I still want to work, but it has to fit into the complicated puzzle that is life as a mother of two young children. So I'm leaning back. But rather than opting out, I like to think of it as leaning into the role of a truly modern woman who juggles parenthood with work, with a minimum of stress.
Have a "Lean In" or "Lean Back" story of your own? Please email it it in 500 words or fewer, along with a headshot, bio and personal photo to women@huffingtonpost.com.
RELATED ON HUFFPOST WOMEN:
Sheryl Sandberg Launches New "Lean In" Site For Women
PHOTO GALLERY
11 Quotes From Sheryl Sandberg's "Lean In"