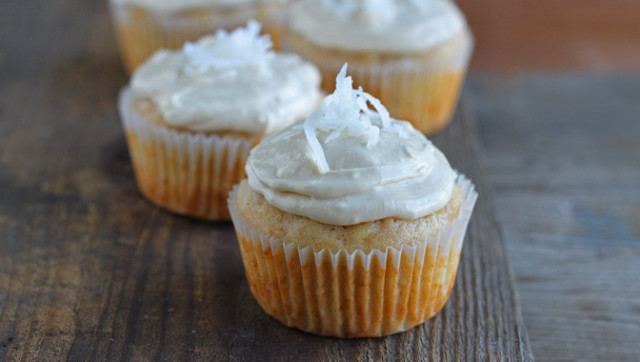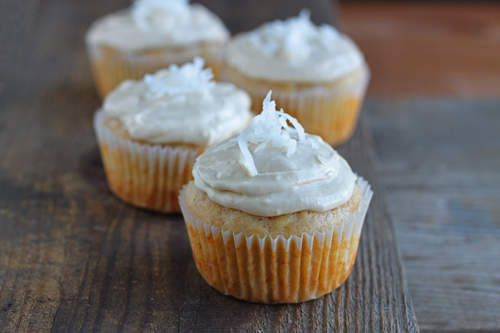 Recipe does not contain actual hummingbirds.
I have to say things like that because unfortunately, not everyone was born in the South and grew up with delicious cakes with seemingly strange names. The origin of the name of this cake is not known, but after you sink your teeth into the sugary frosting and fruity cake, you might feel like a hummingbird ingesting pure sugar.
A hummingbird cake contains nothing less than: bananas, coconut, pineapple and pecans. The traditional frosting is sweet cream cheese.
Like always, I bring you Southern desserts that are scaled down, so you can test out this recipe for 4 hummingbird cupcakes before you make a full-sized 3-layer cake.
Enjoy your cupcakes, birdie.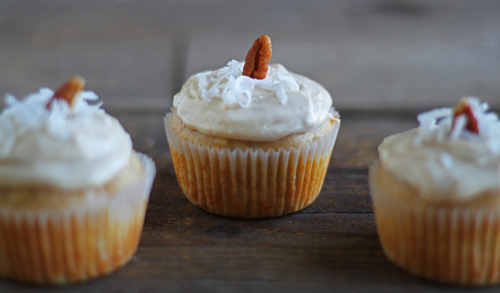 Hummingbird Cupcakes
yields 4 cupcakes
Ingredients:
For the cupcakes:
3 tablespoons canola oil
1/2 small banana
1/3 cup sugar
1/4 cup canned crushed pineapple, lightly drained
2 tablespoons flaked coconut
1 large egg
1/8 teaspoon almond extract
1/3 cup + 3 tablespoons flour
1/4 teaspoon baking powder
1/4 teaspoon cinnamon
pinch of salt
For the brown sugar cream cheese frosting:
3 oz. cream cheese, softened
2 tablespoons unsalted butter, softened
2 tablespoons dark brown sugar
3-5 tablespoons powdered sugar
toasted pecans for garnish
Instructions:
Preheat the oven to 350, and line a muffin pan with 4 cups.
In a medium bowl, stir together the canola oil, banana and sugar. Mash the banana into the oil and sugar mixture. Once it's well incorporated, stir in the pineapple, coconut, egg and almond extract. Mix well.
Sprinkle the flour, baking powder, cinnamon and salt on top. Stir until combined, but don't overmix.
Divide the batter between the 4 cups and bake 18-21 minutes, or until a toothpick inserted comes out clean. Let cool completely before frosting.
To make the frosting, beat together the cream cheese, butter and brown sugar. Begin by adding 3 tablespoons of the powdered sugar and beating it together well. If the frosting is too stiff, add the remaining powdered sugar. Frost the cupcakes and serve.