The story began in July 1923 in Brooklyn, NY. A boy named Leonardo was born to a Sicilian father, Carmelo, and Italian mother, Rose. "Leo," as he was called, was later joined by six sisters and one brother.

My favorite story about Leo's upbringing occurred when he was just a boy, he told me, working in the Soho neighborhood of Manhattan. As a child he spoke Italian, and very little English. One day on the street, members of the Italian Mafia noticed that he had been within earshot of their conversation. "Hey kid, you hear that?!" the Boss asked Leo, in Italian, intimidatingly. "No...." Leo said, hesitantly. "BETTER KEEP IT THAT WAY," Boss said. Leo kept it that way.
D-Day changed Leo's life forever, as a short time later he served in the U.S. Army during World War II. Prior to shipping off to Europe, he was stationed at Camp Reynolds in Western Pennsylvania where he met a charming little lady named Betty who worked in the camp's signal office. They met during a blackout when they both took shelter in a nearby church. (You know what they say, love is blind!) The big city boy in Leo was not initially fond of Reynolds and its sprawling acres of cornfields, but he sure was charmed by all 4 foot 10 inches of this blue-eyed, Bulgarian, Betty.

Shortly thereafter, Leo shipped off to Europe. He and Betty wrote each other letters for the next three years. While Leo was overseas serving his country, he made a promise to the Blessed Mother that if he made it home safely to Brooklyn, he would light a candle every day for the rest of his life.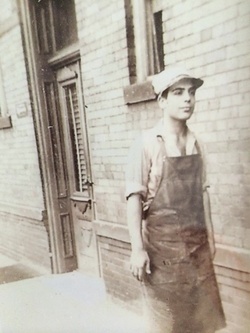 In 1945, he made it home safely, and every day for the rest of his life, he lit a candle.
Upon his return, Leo took the bus back and forth to Reynolds from New York for several months to visit Betty, a 10-hour trip each way. He ended up proposing to her in the middle of a New York City street and in January 1947, they were married at Saint Francis of Paola Catholic Church in Brooklyn. Eventually the couple moved to Reynolds, PA, where they started a family and he opened a photography studio.

Leo and Betty grew very old together, until he had to move to an assisted living home at the age of 88. Betty visited with him all day, every day, without fail. One Valentine's Day when Leo was not able to get around very well, Betty drove him through the McDonald's drive-thru and they shared fries and a milkshake in their parked car. It was the only way they could have a date on the romantic holiday, and their togetherness was all that mattered.

I did not get to meet Leo until 1989 when I was born. Often there is a bond
between grandparents and their grandchildren, but the relationship I had with Leo, my grandfather, was an extraordinarily special one. Together we were the same species of a very rare bird.
From the time I was very young, I had always expressed a longing to live in New York City. It had been quite aspirational for a little girl growing up in a small Pennsylvania town surrounded in every which way by Amish country. I inherited my Grandfather's spark, stubbornness, dry sense of humor, and creative eye, and am, therefore, practically wired for New York. It's in my blood. Genetics are powerful; roots are strong.
The last time I ever got to see my Grandfather was on his 91st birthday this year, proudly wearing a big, bright baseball cap with the letters "BROOKLYN" written boldly across the front. As I turned to leave, he kissed my forehead and then my hand, and told me that he loved me and that I better behave in New York, in his thick, New York accent.

He passed away earlier this month. I was in New York, my home for the past 3 years, when I got the news. I knew the only thing that would console my aching heart was to visit his former Parish on Conselyea Street, just a stone's throw away from the Graham Avenue stop on the L Train, and across the street from his childhood home.
That was the first day since my Grandfather returned home from the war in 1945 that he would not be lighting a candle. I lit one for him in the very church he married my Grandmother, Betty, 67 ½ years ago, who survives at home as a very spry 92-year-old and avid bowler. At the time of my Grandfather's passing, they were still married and very much deeply in love -- a testament to their endless commitment and love for one another, and their strong values.
Living in New York, the city that built my Grandfather, has given way to spontaneous tears over the past few weeks in the wake of his passing. Under the Brooklyn Bridge, in Church, on the train, in Greenpoint, in Little Italy, cannoli and crumbcake in a little Italian bakery -- everything in this bustling town somehow, someway reminds me of the wonderful man I have been blessed to call my Grandfather. I try to honor him -- the man who worked as the sticker greeter at Wal-Mart for fun after retiring to deliver smiles to others -- by keeping his heart of service, lively spirit, and troublemaking ways, alive. Through every good deed, and every well-played (harmless!) prank, I think of him. He taught me well, and I know he is always watching.
They say, "You don't know what you've got 'til it's gone," but I know and appreciate what I have had all along. Unconditional love and lifetime marriage are, perhaps, rare and difficult to find, and I am very grateful to have been surrounded by it for all 25 years of my life in the form of an incredibly loving family, and devoted parents and grandparents, who have molded and shaped me into a young woman with strength, ambition, values, and a heart that has led me home to where the story all began.