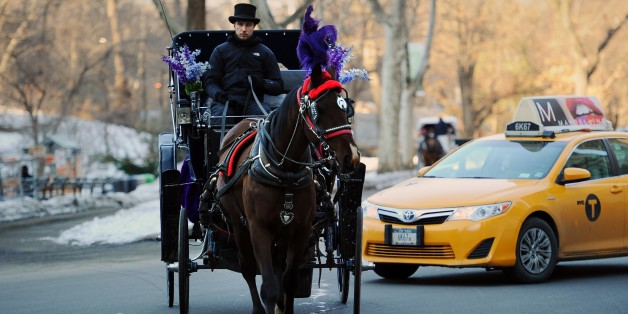 Central Park has been New York City's urban sanctuary for more than 150 years.
In the 1850s, the bustling city was already experiencing growing pains as traffic snarled crowded streets and rapid growth built up every inch of open space. City planners called for the creation of an enormous public park that would offer the people of New York an escape from traffic, noise and pollution.
Central Park was designed by Frederick Law Olmsted to be enjoyed by everyone, and its carriageways were soon taken up not just by the private coaches of the elites, but by public carriages, giving the majority of New Yorkers who could never afford to own a horse the novel experience of riding in a carriage through a country park setting.
Today, Central Park is the most-visited urban park in America. Nearly 40 million people come to Central Park each year for the exact same reasons they have come there since the park opened in 1858 -- to escape the noise and traffic of the city in a green oasis for nature and recreation.
They come for the landscape, the bicycle and walking paths, the wildlife, and the zoo. They come for the boats, the playgrounds, for Shakespeare in the Park, and for the concerts. They come from all over the world for the horse-drawn carriages.
What people do not come to Central Park for is more cars.
As a New York City carriage driver, I have one of the best jobs in the world. My carriage is my desk and Central Park is my 843-acre cubicle. My horse and I spend our days in the park bringing joy to passengers and to passersby. There are 300 working-class New Yorkers who are privileged to get to work with and care for the famous carriage horses.
Most of my coworkers -- my fellow drivers, carriage owners and stable hands -- are immigrants who have worked with horses for decades. It's not what we do; it's who we are. Our horses are not just a job to us -- they are members of our families. No cold, soulless machine could replace the horses, and the relationships they have with us and with the public.
I agree with the many New Yorkers, community boards and groups like Transportation Alternatives who want to see Central Park go car-free. It's a debate that has raged since the 1890s -- ever since the first cars showed up and the first fatal car accident in the United States took place when a man disembarking from a streetcar was killed by an electric taxicab on Central Park West in 1899. Still, despite the carnage of traffic accidents, cars were given free rein in the city for much of the 20th century, due in part to a belief that "progress" -- as championed by the likes of Robert Moses -- meant designing our lives and our city around cars.
Today, we know better. In the 1960s, the movement to push back against motorists in our park began with joggers and bicyclists blocking traffic in protest. That protest was led by a young Democratic Party organizer, Ed Koch, riding at the head of the procession in a Central Park carriage, pulled by a horse named Sunshine. Soon after, the Parks Department began closing the park drives to motorized traffic on Sundays.
Now the Parks Department closes the drives on the weekends, holidays and at certain times of day. Large portions are the drives are off-limits to cars -- as they should be. The park drives are for horses, bicyclists, joggers, and pedicabs -- not cars.
Yet a small minority group of wealthy developers in New York wants to replace the horse-drawn carriages with fake antique electric cars. But no one has been clamoring for these cars; they have not been built or tested for safety, and there is no independent data to show that tourists have any interest in riding them. They only exist to give an easy, careless answer to the question, "What will the horsemen do if their livelihoods are taken away?"
No one has a good answer for how removing an historic and vital part of Central Park's scenic landscape -- the carriage horses for which the park was built -- and replacing them with unsightly motor vehicles and expanding vehicular traffic in the park on weekends, is good for anybody.
As an ecologically-minded equestrian, it makes me optimistic to see that people in cities have been yearning for more sustainable ways of living. Progress in the 21st century means a decreased reliance on cars and an increase in mass transit. It also means greater access to fresh, local food, and a renewed appreciation for agriculture and responsible animal husbandry. That's why some cities, such as Baltimore and many towns in France, are turning to real horsepower to deliver farmer's market produce or collect the recycling. A human-friendly city is a horse-friendly one.
Today's progressive urban planners know that streets are for everyone -- not just for cars. People have a right to use the public way, whether it is with their bicycles, on foot or with horses. New York City is more welcoming -- and safer -- than ever, thanks to pedestrian plazas, a bike share program, more bike and bus lanes, and an increasingly car-free Central Park. Yet there are still almost 300 traffic fatalities each year. We need fewer cars in the city, not more.
Life in big cities remains busy and crowded -- that's part of their appeal, but also why we need spaces free from motorized traffic. Now, more than ever, Central Park must remain a sanctuary to all who visit. The horse carriages preserve the scenic, historic and tranquil nature of the park, and they employ hundreds of New Yorkers.
The idea of destroying the livelihoods of 500 humans and horses just to add more traffic to Central Park in 2014 is outdated, backwards and so last century.