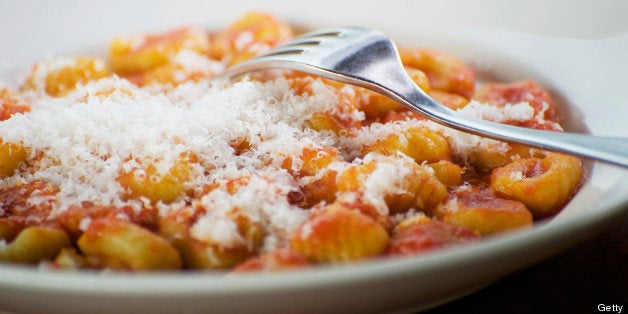 If you're lucky enough to find yourself roaming the Italian countryside this summer, besides the scenery and history, there will be one thing on your mind: Italian food. While it's hard to go wrong with any kind of Italian food, some cities are known for types of specialties. Make sure not to miss these menu items on your Vacanza Italiana.
When in Rome...
When it comes to food, culture and history, the capital city of Italy can do no wrong. While any menu item here will most likely be bellissimo, Rome is where you should indulge in the 'traditional' Roman plates such as spaghetti carbonara, lasagna bolognese, insalata caprese. The list could go on for days but if you only have one meal in Rome, make it a carbonara. The creamy egg-based sauce will leave you full for the rest of the day. (With the tiniest room left for gelato of course).

A Little Taste of Florence...
Florence is known for happy hour or 'aperitivo'. A little different than the US happy hour, local restaurants offer a wide selection of traditional Italian appetizers with every drink purchased, similar to the idea of tapas in Spain. Most happy hours in Florence run from 7-9pm. The best aperitivo places are the buffet ones, where you can sample a little bit of everything. Check out Dolce Vita Bar for great views of the city as well as a great meal. Or, if you're up for BYOB, get a nice bottle of wine and some cheese from any of the many local supermarkets and take a couple of glasses up to Piazzale Michelangelo, better known as 'the hill' for the most spectacular view of Florence.

Gnocchi in Naples
While the southern tourist destination of Naples is known for seafood too, you'll find yourself pleasantly surprised by the amount of other menu items as well, including gnocchi. Tiny potato dumplings in marina sauce, pesto, carbonara and many other options will leave you full and ready for a walk along the picturesque Naples shore.
Pizza in Pisa
But of course one would need to indulge in Pizza while in Pisa. Try to avoid the classic American round pies. Square pies/slices are all the rage in Pisa. Make sure to try the Prosciutto based slices for that authentic Italian taste. There are dozens of outside pizzerias to choose from. Plan your trip to Pisa on a sunny day (when possible) to get the most out of this leaning tower-boasting town.
Seafood in Venice (duh)
This one may seem quite obvious considering the entire city is surrounded by water but make sure you don't miss this opportunity to sample some of the world's finest seafood. From mussels and clams to lobster and shrimp, there are few wrong choices you can make with Venice seafood. Grab a seat in one of the restaurants outside the Ponte di Rialto and try the seafood linguini for a taste and view of Venice that is truly unforgettable.
The Sweetness of Verona
The city of love will have you falling for much more than Juliet's balcony, including her gelato. While this dessert is done well all over Italy, it seems that Verona has found the secret to perfecting this delicious, creamy and sweet treat. Check out any of the local gelateria's near the Roman Arena (second only in size to Rome's coliseum) or have a seat in the Piazza delle Erbe where you can sample the finest gelato and enjoy an afternoon cocktail called Spritz, a bright orange drink that all the locals will indulge in after work.
No matter where you find yourself in this great country, make sure to indulge in a bottle of vino and take in the countryside. And remember, a bad meal in Italy is still a meal in Italy.