The world now knows Mitt Romney's choice for vice president--a decision that might be considered boldly conservative. But what about that other telltale yet less public decision that a candidate makes during these hot summer months along the campaign trail: his favorite ice cream flavor.
The answer can be found in the governor's vacation-hometown of Wolfeboro, New Hampshire. It is a quaint spot on Lake Winnipesaukee where families dock their Chris Crafts along Main Street and head to Bailey's Bubble for ice cream after dinner. It's so popular that lines form three-lanes deep and snake into the street. Bailey's Bubble also happens to be a staple of any Romney vacation here.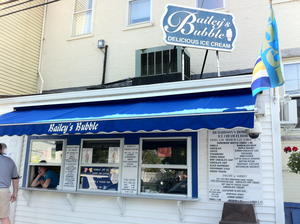 "Vanilla soft-serve!" was said almost in unison, when I asked the young staff what Governor Romney last ordered. Then they looked at one another, clearly uncomfortable, and expressed their concern as to how this might be interpreted to reflect his politics. After all, it's an easy order to parse when there are 23 other flavors to choose from. One might see it as boring, without so much as a rainbow sprinkle or chocolate dip for edge. To another, it's a tried-and-true classic with nothing to prove.
The staff at Bailey's Bubble was quick to point out that other Romneys like peppermint stick with hot fudge--a gutsier, off-season choice with enough crunchy-sweet spice to make you think that Santa might kayak in for their next lakeside barbeque.
But here is the truth: Romney's vanilla soft-serve is good. Actually, it's an excellent, tall swirl of pure, milky flavors that is neither too sweet nor marred by those precious little vanilla flecks that make their presence known among more artisanal brands.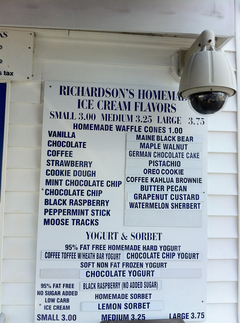 So what is the official line from the campaign on ice cream? The governor's spokesman, Ryan Williams, was not able to comment on any specific orders, but did admit that while he supports Governor Romney on most everything, he prefers Moose Tracks--a vanilla base with thick fudge ripples and peanut butter cups.
In fact, when the press corps followed the Romney campaign up to Wolfeboro during the Fourth of July holiday, they were treated to a trip to Bailey's Bubble. While no formal poll was taken, Mr. Williams believes that Moose Tracks won out. Generous servings and oversized waffle-cones were likewise appreciated.
Does Mitt Romney's choice of ice cream give us a window into the candidate? Mr. Williams believes that what the governor values most are the generous servings, stating he is "a fiscal conservative, after all." Vanilla soft-serve, Moose Tracks, and Peppermint Stick aside, maybe ice cream is just a way for everyone to forget their differences in light of what really matters: huge portions.