What is going to happen to Rosie and Opal?
This is a nagging question for those who are following the tale of these two female elephants.
Since 2012, Rosie and Opal -- a pair of middle-aged, retired circus elephants -- had been living at Hope Elephants, a facility in Hope, Maine. Jim Laurita, veterinarian and former circus elephant trainer, was the non-profit's founder and he lived by Hope's mission "to provide a unique and caring home for injured and aging elephants."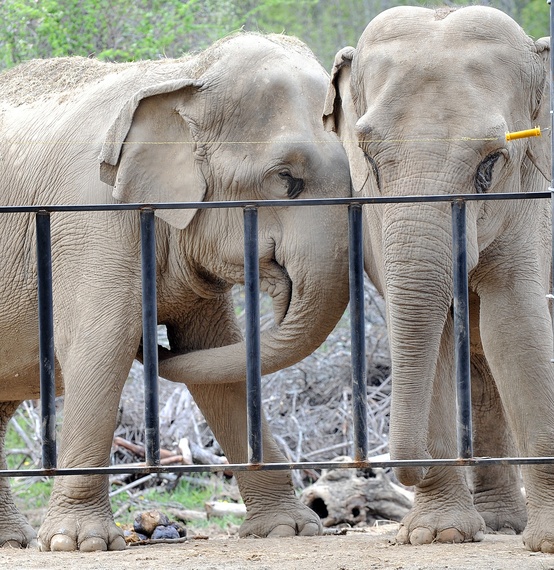 Photo credit: Russ Dillingham/Sun Journal
But Rosie and Opal's storyline took an unexpected turn in the early morning of September 9, when Jim Laurita was found dead in Hope's elephant paddock.
Although there were no witnesses, officials believe Laurita fell and hit his head on the paddock's cement floor -- and one of the elephants, in an effort to save him, inadvertently crushed him to death. "The elephant was not aggressive in any way. It was clearly an accident," said Mark Belserene, administrator for the state medical examiner's office in an AP article.
Soon after Laurita's death, Hope Elephants' Board of Directors wrote a Facebook note explaining that Rosie and Opal would be returning to their original owners: the Endangered Ark Foundation (EAF) in Hugo, Oklahoma. Rosie and Opal had been living there after they were retired from Carson & Barnes circus. Laurita leased them from EAF and moved the pair to Hope in 2012.
Rosie and Opal were quickly spirited the 1,800-mile journey from Hope to Hugo. According to Arlinda Copeland, director of the Endangered Ark Foundation, they were transported by semi-truck, and arrived in Oklahoma on September 15. (You see photos of Rosie and Opal's on the EAF Facebook page; EAF is also open to the public.)
"They are adjusting very, very well," says Copeland. "They have come back home and are familiar with their element and environment. I was there the day they arrived and they really are fascinating. They greeted each other and there was trumpeting and rumbling and they locked their trunks." Copeland describes EAF as a 200-acre circus elephant retirement facility Although Copeland says EAF doesn't explicitly breed its elephants, she also says that one of the males provides "stud service" and the fee goes back to the EAF.
Although Copeland stresses that EAF and Carson & Barnes circus are "separate entities" there is a significant amount of overlap between the two organizations. EAF was established in 1993 by D.R. Miller and his wife, Isla; the Millers are the founders of the Carson & Barnes circus. They are situated on the same exact street in Hugo. All but one of the elephants currently residing at EAF are former elephants of Carson & Barnes circus, according to Copeland. Moreover, 2013 tax documents show the listed board members of the EAF include top officials at Carson & Barnes. Lastly, the USDA confirms it does not have a separate inspection license for EAF: it falls under Carson & Barnes.
It is this close relationship between Carson & Barnes and the EAF that has some animal welfare advocates particularly worried about the future for Rosie and Opal. Especially since the USDA has cited Carson & Barnes for violating the Animal Welfare Act (AWA violations can be found here). Born Free USA has a page dedicated to Carson & Barnes' "failures." In Defense of Animals also targets Carson & Barnes for its treatment of elephants, highlighting that it "routinely tears elephant babies and mothers apart."
Brittany Peet, counsel for the PETA Foundation, sees very little distinction between the two organizations:
Elephants who live at the Endangered Ark Foundation are not carted from town to town as the elephants in Carson & Barnes, but this is not a retirement facility... elephants at EAF are still chained and still handled using direct contact. They are never without bullhooks.
Direct contact is a training method commonly used in circuses and some zoos. In direct contact, there's no barrier between the handlers and the pachyderms, and the handlers sometimes -- but not always -- use what's called a bullhook to train the elephants (a bullhook looks a bit like a fireplace poker). Opponents of the bullhook often refer to it as a tool of abuse; defenders consider it a guide. By all accounts, Jim Laurita did not use a bullhook at Hope Elephants.
"We absolutely use an elephant guide," says Kristin Parra, the road officer manager for Carson & Barnes. Parra's family owns Carson & Barnes and she spoke on the phone during a circus tour. "The guide is an accepted tool that has been used with elephants for thousands of years. It is a guide to move the elephants toward you -- or away from." She adds: "We have to have some means to maneuver the elephants and control their movements."
Parra says the notion that any of the elephants at EAF or Carson & Barnes are being mistreated is absolutely false:
I can assure you that all of the animals of both Carson & Barnes and the Endangered Ark Foundation -- even though they are two separate entities -- the elephants are not being beaten or abused. They are loved and vital part of our family. That I can say without hesitation.
Catherine Doyle, Director of Science Research and Advocacy at Performing Animal Welfare Society (PAWS), a wildlife sanctuary in California that is home to three former circus elephants, says Carson & Barnes is "known for its abusive tactics" and nods to an undercover video shot by animal welfare activist Bryan Monell at Carson & Barnes in 1999 as a particularly explosive scene.
Monell now works at Farm Animal Rights Movement (FARM), but says he worked undercover for PETA while being employed as an elephant groom at Carson & Barnes intermittently from 1998-2002. "My job was to move the tubs around during the [elephant] training session, to clean up and to pack [the elephant's] bleeding wounds during sessions," he wrote in an email. Most people, he says, didn't have access to the training sessions, which occurred behind "the famous black door."
"The life of the circus elephant is ... inherently abusive," he says. "Elephants in the circus are constantly being chained up in trucks or on concrete floors or windowless barns. They are beaten with bullhooks, baseball bats and fists. I have seen elephants jabbed with pitchforks." He adds, "The trainers were smart enough to beat the elephants in the trucks late at night or behind the scenes after the public had left."
Monell claims he worked with both Rosie and Opal during his time at Carson & Barnes: "Rosie was very sweet. It's a cliché, but she really is a gentle giant." According to Monell, the two elephants worked regularly: "Rosie was crippled on her front leg so she didn't really perform all of the tricks," he notes. "She was used mainly for giving rides, which happened pretty much every day. Opal worked every single day, as far as I remember."
Both Rosie and Opal, he says, "endured countless beatings" at Carson & Barnes.
In an affidavit supplied by Monell, dated February 2002, he is quoted describing one session where an employee shocked Opal 171 times with with a hotshot device -- similar to a cattle prod -- all over her body, including left rear leg, left foreleg, trunk and face.
"This occurred," the affidavit reads, "over only a couple minute span."
Kristen Parra at Carson & Barnes outright dismisses Monell's years-old claims. "I don't believe this incident ever took place." She says, "I have heard about this affidavit. But if you are standing there and witnessing it -- why aren't you going to get someone? Why would you stand there! That makes no sense to me at all!" she notes, incredulous. "I think he is a disgruntled employee."
Monell maintains that when the video was released, circus employees threatened him and he was chased out of Hugo. He says watching the story of Rosie and Opal is heartbreaking: "[While undercover] I gave each and every one of the chained up elephants a hug, looked each of them in the eye and promised them I would free them one day. I have failed miserably because they are still there. This has been one of -- if not the biggest -- failures of my life."
"People" he says, "have no idea how bad it really is."
You can read the rest of the article -- and see more photos of Rosie and Opal - by clicking here. This article was published with permission from The Dodo, where it originally appeared.