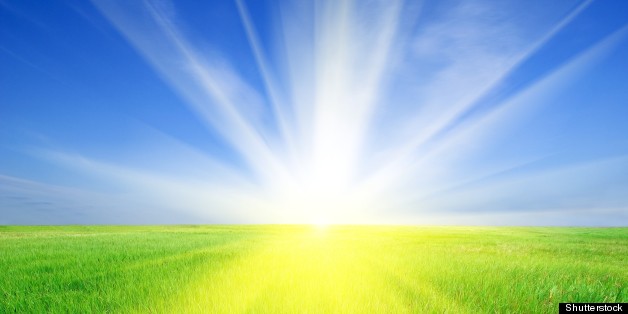 By Christina Weiss Lurie and Tim Sexton

Rarely do we think of professional football and protecting the environment in the same context, but could our country's passion for football help save the planet? We think so! In sports, we dream big. On the playing field, we work at getting the little things right while keeping our eyes on the prize -- the NFL's Lombardi Trophy. At home and in our businesses, we too can work on the little things that can make an enormous difference in gaining the biggest prize of all -- a planet safe from extreme weather and climate change for our children.

Ten years ago what started as a modest recycling program by the Philadelphia Eagles has grown into a groundbreaking and award-winning environmental initiative that touches our fans, our NFL family, and our world.

Today, our 10th Earth Day since the Eagles organization decided to fully commit to reducing our carbon footprint -- the first team in professional sports to do so -- we are wondering how football and the power of its brands, fans, and partners can become a stronger platform to bring sustainable change to our community. The Philadelphia Eagles' Go Green team recognizes the 70,000 unique fan opportunities each game (plus millions more each and every day through our TV, web, mobile, and social media audiences) to reach, educate and perhaps even influence our fans to think about the environment and the little things we can all do to protect it.

It has been said that football is a game of inches and that field position often determines who wins and who loses. Is not the same true when it comes to protecting the planet? We need look no further than the increase in extreme weather over the past few years for evidence of the impact a few inches can have on our "field position" and life itself.

If one believes that recycling, conserving and buying green are the cornerstones in the environment's game of inches, then there are many opportunities for everyone to play. Small steps add up to making a real difference, as best said by Aristotle, "the whole is greater than the sum of its parts." And sports' most successful players and coaches see their efforts as part of a team, not as individual achievements. The only way to win, be it on the field or in protecting our world, is when we act together as a whole. We win when we understand that we are each a part of the whole Earth, and that our own small actions as individuals, coupled with the small actions of many others, result in large efforts with real impact. This is how we can and should protect our fragile home and reverse the change in our climate.

We must become more conscious, everyday, of the way we use our resources and can conserve them. The best part is that conserving only means thinking about what we are doing, it doesn't mean giving things up or making big sacrifices. For example, we still brush our teeth, but we just shouldn't let the water run while we're doing it. We still go to Eagles games with our friends, but we should get together and take one car instead of three or four. It's all in how we think and see things.

Last year, Lincoln Financial Field reduced the wattage of 250 emergency lights. Seems like nothing right? That one small act, and others like it, cut the team's annual energy use by half. Try it at home! The Eagles switched plastic drinking cups to ones made from corn. Last year, that choice helped to recycle and compost more waste than the trash created by nearly 2,000 Americans, and diverted more than 1,500 tons of trash sending zero percent of waste to landfills. Try it at home! Use refillable water bottles instead of plastic throwaways. Recycle and compost your garbage. Again, the small steps add up.

The Eagles are now running its operations, home games, and stadium on 100 percent clean, renewable energy, powered by wind and the sun. This means the organization uses no coal, oil, or other fossil fuels that contribute to climate change. There is even a public matrix website for all to view that helps us monitor the energy we generate onsite every day.

So, can you do this at home? In some ways, the answer is yes, depending on where you live. While not affordable by many, solar panels are continuing to come down in price. And, many local utilities offer consumers the option to purchase "green" renewable energy as part of their utility bill. In fact, the U.S. Department of Energy has a website devoted to helping consumers find clean energy suppliers in every state.

Sports are a great unifier. Sports transcend political, cultural, religious and socio-economic barriers. Sports also wield a unique power to influence culture and economics, and to bring much-needed and stronger leadership from policymakers who can more proactively help defend Mother Earth. We need to make our local governments understand that we worry about our children, the air they breathe, the water they drink, and the food they eat. If together, we could all focus half of the energy and spirit that ignites the football stands on any given Sunday back onto our planet, there is no doubt that what is happening in Philadelphia with the Eagles can happen anywhere.


Christina Weiss Lurie is a co-owner of the Philadelphia Eagles, President of Eagles Youth Partnership, Eagles Social Responsibility, and an Oscar award-winning film producer. The work of the Philadelphia Eagles earned the team the coveted 2011 Beyond Sports Team of the Year award, and Philadelphia will serve as this year's host city for the 2013 award.

Tim Sexton is the co-founder of the Make Good Group in Los Angeles. Make Good is a social impact company that helped design the Go Green program for the Philadelphia Eagles and assists its employees with implementation and messaging. Sexton is an Emmy Award winning producer and is the Southern California co-founder of Environmental Entrepreneurs.