Last week I spoke at TED@NYC, TED's annual salon of six-minute talks.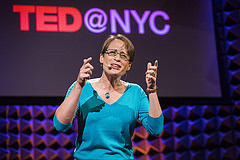 It was an honor to be on a TED stage, but the rehearsal the day before was perhaps even more worthwhile -- not just for the event, but for all of us who hope to have an impact by sharing our stories.
Two points came up repeatedly as each of us rehearsed our talk in front of TED's chief curator Chris Anderson, content director Kelly Stoetzel, and independent communications consultant Gina Barnett. ("This is very American Idol," one of my fellow speakers said nervously.)
Great story, but what's the broader message? What principles from your world can be applied to other areas? Jarrett Krosoczka wrote a graphic novel series about the Lunch Lady Super Hero; the power in his story wasn't just about the adorable tributes that kids across the country were inspired to create for their cafeteria staff, but about gratitude and recognizing invisible heroes. (Another speaker, David Zweig, was focused exactly on such "Invisibles.") Ben Weston teaches men to dance not just to pick up chicks, but because, as he said, "Dance is your presence to a beat."
The written word is very different from the spoken word. For those of us who write, or spend time in labs, giving a great talk is not about reading our latest article, no matter how brilliant it may be. Practice sitting down at a meal and explaining your topic to your dining companion; guarantee it will come out differently than your written draft.
There are more tips on the TED blog, but of course hearing it straight from the TED mouth was another experience entirely!
The TED team will take a few months to put a selection of the night's talks on TED.com. In the meantime, let's keep talking...