Imagine driving through the parched Arizona desert, seeing no sign of human life for miles upon miles. Suddenly, you spot a lone billboard for a Shell Gas Station that touts it is home to Dwaynes Fresh Jerky, a store that sells mouthwatering gourmet olives, honey and nuts. Of course you are going to stop for gas to check it out. That's what I did and that's where one of my favorite road trip adventures began.
I have spent most of the past year trying to find inner-peace through driving the US highways without an itinerary or a plan. For the first five solid months of my travels, my dog Yoda and I called my Prius our home. We didn't know from one day to the next where we would land. I liked it that way. I've always been an uber-responsible overachiever, so I've used my road tripping as a way to recondition the way I approach life.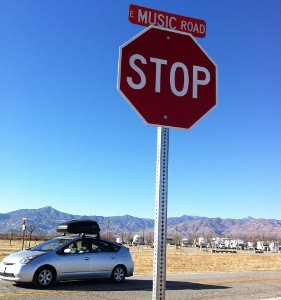 Part of that reconditioning is striking up conversations with any random stranger who will engage with me. So, after I filled my car with gas, I found myself talking with Dwayne Witty, the owner of Dwayne's Fresh Jerky. It turns out he is from Southern California, a place that, until recently, I called home. One of the nice things about connecting with strangers on the road is that you often discover local gold nuggets that never make the travel guides. That's exactly what happened during my conversation with Dwayne. Dwayne mentioned a nearby isolated RV park that is home each February to a group of 70- and 80-year-old former Country Music Swing Hall of Famers. For the past 27 years these seniors have annually road tripped from all over the US to gather in the Arizona desert for a month-long jam session. They call their gathering Sideman Jamboree, because most have had enviable careers touring as side men and women to some of the world's greatest country music stars. Long ago they decided that each February it is their turn to take center stage. I felt my heart race with excitement and begged Dwayne to take me to them. Lucky for me, he agreed.
Dwayne took me straight to Judy Hall, who along with her husband John, has owned this Bowie, Arizona RV park on "Music Road" since 1982. They live in Alaska in the summer, but call the RV park home during the winters. Judy's illustrious music career started at the age of 14. She has toured with Sara Vaughan, Ernest Tubb, Merle Haggard, Waylon Jennings, George Strait, Jimmy Buffet and Tennessee Ernie Ford, among others. Judy and her husband became homesteaders in Alaska about 50 years ago. Because they didn't have a phone, Judy never quite knew when she was going on tour. She kept a suitcase packed so that she was ready whenever a helicopter came to pick her up for the next leg of each tour. Without warning, of course.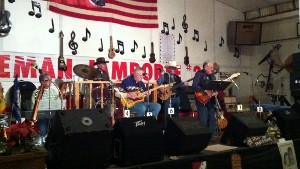 After speaking with Judy I wanted desperately to hear the nightly jamboree that takes place in a barn they built on the property. Judy's young friend Shaw, a former Alaska State Trooper, kindly offered to let me and Yoda stay the night in a spare camper. At 5 p.m. each night, all of the musicians and their spouses gather in the barn for a potluck dinner. I brought nothing but my smile and a camera, but apparently those were good enough for everyone to generously feed me their mouthwatering homemade dishes until I was so stuffed I feared I wouldn't be able to roll myself to my camper at the end of the night.
After dinner, the Sideman Jamboree began. The barn's walls are decorated with musical instruments, cowboy gear and stuffed moose heads hanging every which way. Rows of folding chairs face the stage behind an area cleared for dancing. Just as the music began, Shaw plunked a cowboy hat on my head and I couldn't help but slap my knee in rhythm to the music. They promised me a show, and I got one. 50 to 60 of these senior citizens, decked out in their country music performance attire, had the energy of people a third their age. They played traditional country, big band, jazz and some rock. The music continued for almost 3 hours.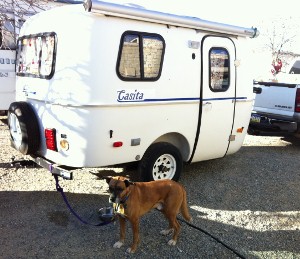 The next morning as I said my goodbyes, Judy was quick to point out that they are accepting recruits for next February. Each year they lose more and more musicians to old age, and they want to replenish the group. So all one need do is show up with an instrument and a desire to jam! Musicians of any age are welcome.

Getting There: From I-10, exit #366 (near Bowie, Arizona). The Alaska RV Park is on the south side of interstate.