On the day I started to draft this blog, I realized it was the one-year anniversary of submitting my application to become a Fuse Corps Fellow. I knew the fellowship could change my career trajectory, however I didn't know how much at that time: I have since joined two growing movements, met leaders from the government, business, and social sectors, and had my career path illuminated.

Sparking Movements
Last summer, I learned about ReWork via Twitter and applied to become a member of its talent pool composed of people who are interested in finding meaningful work. In my application I explained that through my studies, community service, and work experience, I had come to believe the potential for transformation is greatest at the intersection of the government, business, and social sectors. A few months later, I saw a posting on the ReWork Facebook page about applications for a fellowship program called Fuse Corps. I was attracted to Fuse Corps because it places mid-career entrepreneurial professionals with visionary mayors, governors, and community coalitions. Fuse Corps' tagline is "Spark a Movement," signifying that fellows bring innovation to cities, states, and communities through their placement projects. Then on the day of my first Fuse Corps interview, I read Ryan Scott's Stepping Away From the Rat Race to Give Back... for a Year and knew I wanted to be part of this movement.
Prior to the second Fuse Corps interview, I received a list of potential placements and I was immediately drawn to the placement entitled "Scaling a Movement" because it involves working with members from different sectors to address children's health and education issues. On April 1st, I began my yearlong placement working with Ted Lempert, Brian Kennedy, and Jelena Hasbrouck on The Children's Movement of California, a statewide advocacy initiative of Children Now. The Movement connects organizations and people who are "Pro-Kid" and enables their collective impact. Members of the Movement include over 700 organizations (businesses, nonprofits, community-based organizations, congregations, parents groups, direct service providers, etc.) and thousands of individuals, which demonstrate to policymakers the diversity and breadth of support that exists for kids.

In addition to working with members from different sectors, as the outreach strategy manager I am applying my cross-sector experience to help grow The Children's Movement, such as:
• Change management experience assisting government clients implement new systems at a technology consulting firm to plan and institute systems to streamline Movement processes
• Relationship management experience researching, cultivating, and maintaining relationships with profit-for-purpose and nonprofit organizations at a start-up children's website to reach out to prospective and current Movement members
• Communication and marketing experience helping launch a cause-marketing campaign at an early education nonprofit organization to utilize online tools to increase awareness of the Movement
Igniting a Cross-Sector Career
Last month I attended the Forum on Cross-Sector Leadership, co-hosted by the Presidio Institute and the White House, in conjunction with the Presidio Trust, Fuse Corps, and McKinsey & Company. During an innovation lab session, I found myself discussing a fellowship program to bring people from different sectors together to solve issues with representatives from corporations, nonprofit organizations, and government agencies - I was energized by being surrounded by people who recognize that cross-sector experience is valuable, as well as necessary, to address entrenched, complex societal issues.

In Triple-Strength Leadership, Nick Lovegrove and Matthew Thomas highlight the need for leaders who can navigate between the sectors. In addition, they discuss how cross-sector leaders need to be cultivated, such as through fellowship programs and formal training. As a lifelong learner and former trainer, I was also interested in becoming a fellow because of the Fuse Corps Institute, which is held every six months (at the beginning, middle, and end of my fellowship). I describe the fellowship as an inverse graduate program: as a graduate student, you study theory for a year or more and complete hands-on projects and internships to apply the theory; as a Fuse Corps fellow, you gain hands-on experience for a year, while also learning tools and strategies to apply at your placement. Furthermore, all fellows work with a mentoring coach throughout the year, participate in monthly calls, and learn from one another. The Presidio Institute is also cross-training professionals to take on the challenges of the 21st century through leadership academies and online learning.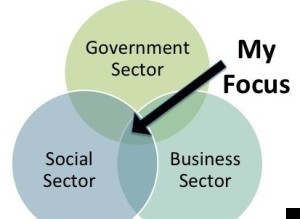 A few days after the forum, I met with Jessie Rubin, who recently completed her master's degree in public administration after working at public and nonprofit organizations. She had contacted me about cross-sector careers via LinkedIn (where a Venn diagram showing I am focused on the intersection of sectors is posted on my profile). I explained to Jessie I did not consciously set out to have a cross-sector career, which Lovegrove and Thomas found is often the case. Rather I followed my interests and passions, such as during my freshman year of college when I registered for PAF 101: An Introduction to Policy Studies. Professor Bill Coplin urged us to "Do Good and Do Well," which struck a chord in me and I changed my major. I then pursued my master's degree in public administration, which led to working as a government consultant for over a decade. After volunteering and participating in fundraising walks, I decided to study public and nonprofit management and became interested in reducing the opportunity gap in education, which eventually led to my fellowship at Children Now.
Blazing a Career Path
Throughout my career, I have not focused on one role and/or sector; instead I focused on building cross-sector skills and my Fuse Corps fellowship has validated this choice. Even though my career path may not be typical or as sequential as others, I would not change a thing because I have had opportunities to gain experience in all sectors. In addition, I believe I learned more about myself along the way than I would have if I had taken a more direct path.
Even though there is still work to be done to have cross-sector experience be understood, valued, and desired during the hiring process, I am encouraged by the number of networks helping people build impact careers (which often involve working across sectors), such as ReWork, Net Impact, and Echoing Green.

I recently passed the mid-year mark of my fellowship year and although I do not know where my cross-sector career path will lead to next, I know I am on the right path. Also while drafting this blog, I was further inspired to continue blazing my cross-sector career path by the message in a Dove Chocolate wrapper: