On a side street in Sedona, Arizona, behind the adobe-style shops and the Pink Jeeps that take tourists to the area's abundant natural wonders, Felipe and Marcela Roldan in are making a new life for themselves in a tiny kitchen of the Oak Creek Brewing Company.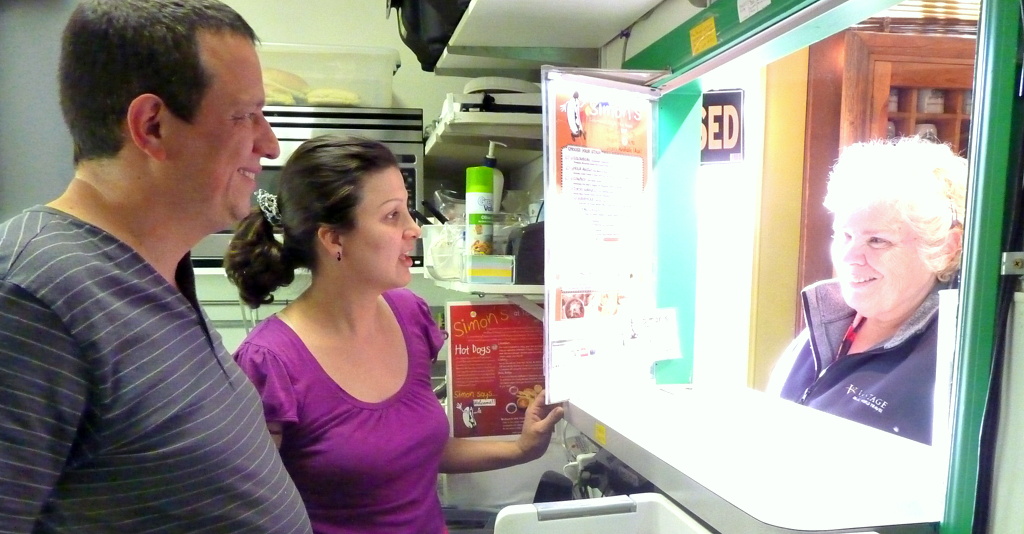 Recently, my husband Jim and I ordered a selection of four dogs, the Colombian, the Cowboy, the Wunderhund and Tokyo Madness. I'll admit, when I read the combination of ingredients, some didn't sound too tasty. Pineapple and potato chips? Dill pickles and bacon? Wasabi mayo and sushi nori?
In fact, these odd creations were delicious, which, if you are interested in road food, makes the little hole-in-the-wall that is Simon's worth a visit. What I really like about Simon's is the back story, because this is the hot dog stand that is offering the Roldans a second chance.
Prior to the collapse of the United States housing market, both Roldans worked in real estate in Las Vagas; Marcela as a mortgage broker, Felipe as a salesman. When the market dried up like a dog left too long on the grill, they continued to pay off their monthly bills as long as possible, until finally with just thousands left of their savings, they were forced to declare bankruptcy and move from Nevada into the home of Felipe's mother in Sedona.
Finding work was difficult. When Felipe learned that there was an unused kitchen available at the Oak Creek Brewery, he suggested to the owner that the couple lease the little space and sell hot dogs prepared with pineapple -- a sweet savory combination that hearkened back to their native Colombia. One bite, Felipe told me, was all it took to convince the brewery owner the Roldans were onto something.
"The owners of Oak Creek Brewery have been very supportive," Felipe told me, as he watched Jim and I polish off the last of our dogs.
Customers may come to the brewery for beer and then be seduced into ordering a dog by the magnificent smell wafting out of the kitchen. Or, as appeared to be the case the night I was there, people may be coming for the dogs and buying a beer to go with it. Either way, the separately-owned hot dog stand and brewery work very well together.
Immigrant stories are circuitous. Success is unpredictable and the Roldans are no exception. But when I say that I like the way they have incorporated the flavors of the world with the classic American hot dog, I mean that figuratively and literally. I hope that little kitchen window is the doorway to their big tomorrow.